Google Pay Cake Offer, Google Pay 2020, Google Pay 2020 Cake Stamps, Google Pay 2020 Offer. Hello Trickyworlds Readers, its Christmas 2019 time And Google Pay Is Come Back With The Biggest offer For All Their Users on This Christmas. We Already looted Google pay Rangoli Offer And Got Rs.251 In Bank
Google Pay is Going to Be Santa Clause for all their Indian Users this Week. Google Pay Offer is live for all Indian User and Every User will Going to Send you ₹202 To ₹2020 In Bank After Completing All stamps in Google Pay 2020 Cake offer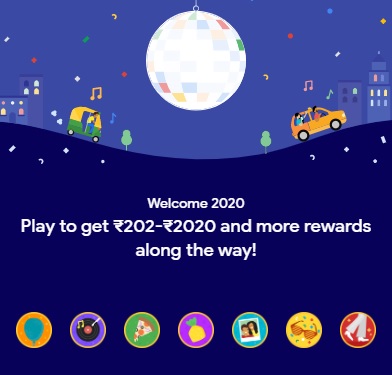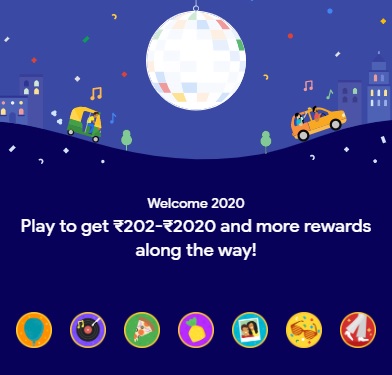 Content
Google Pay Offer In this Post, We will try to give you a working trick to collect Google Pay 2020 Cake Stamps. follow all the steps for Google Pay Cake Offer.
---
You Must See:-
---
What is Google Pay Cake Offer?
Google Pay is Comming up with a new Game to Earn Real cash of Rs.202 to Rs.2020 By Just Collecting Google Pay 2020 Cake Stamps. Google Pay Cake Offer is going to start on 23rd December. You Can Collect Stamps By Doing Transactions Like Send Money to Friends, Merchant Payments, Recharge & Bill Payments & Referring to Your Friends. Daily 5 Stamps can be collected. Google Pay Cake Offer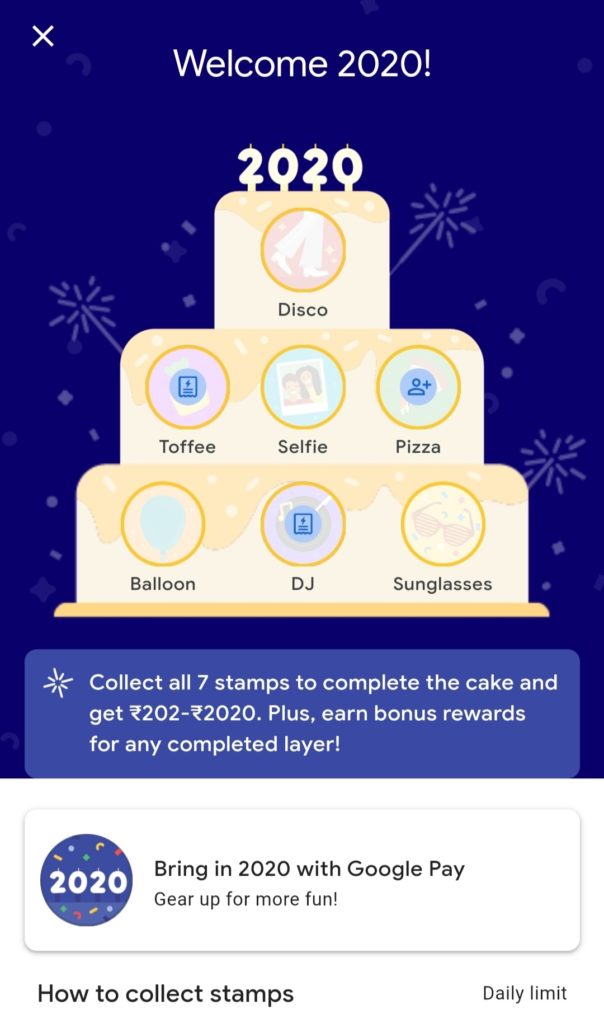 How to Participate in Google Pay 2020 Offer & Collect All Stamps
1. First of All Download or update Google Pay App From Playstore – Download Now
2. Now Complete Your Signup process, Link Your bank Accounts.
3. Now on the Google Pay Homepage, You can Find the Offer icon.
4. Open the Icon & You will see the offer Details.
5. Now Collect All 7 Stamps & win assured Rs.202 to Rs.2020 Cashback Directly in Your Bank Account.
How to Collect All 7 Google Pay 2020 Cake Stamps
1️⃣ All Exiting Google Pay User Visit To Google Pay App Home Page
2️⃣ There You Will Show "2020″ Promotion Offer – Tap On That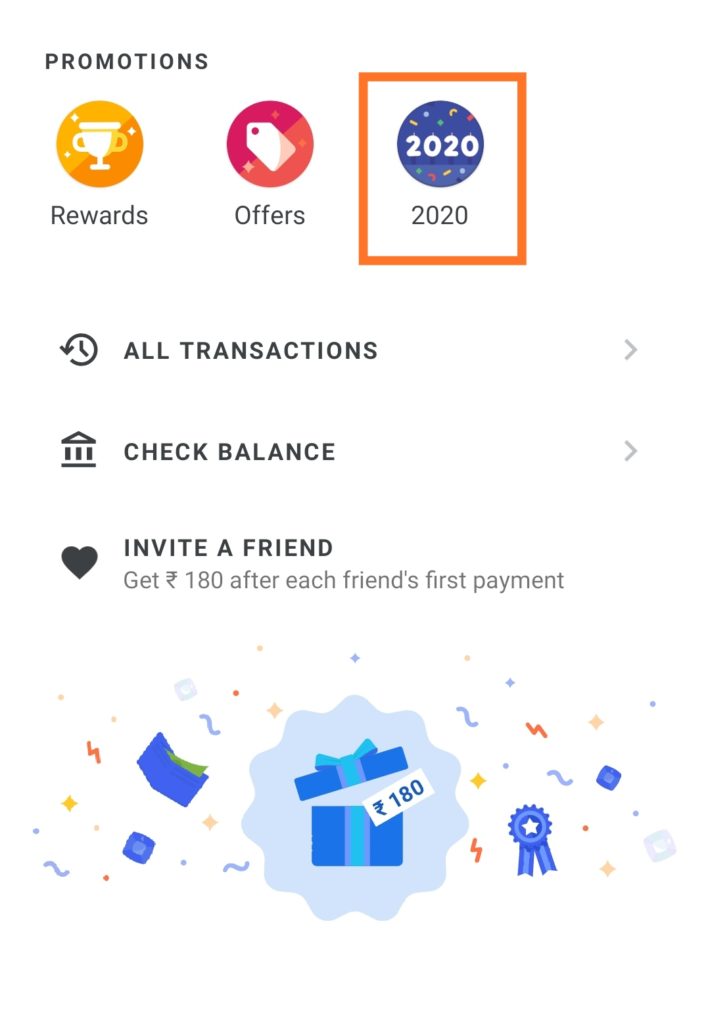 3️⃣ Wait For Loading & There You Will See A 2020 Cake. Under The Cake, You Will Get Start Button – Click On That
4️⃣ Now Started To Collect All The Stamps (Balloon, DJ, Sunglasses, Disco, Toffee, Selfie, Pizza)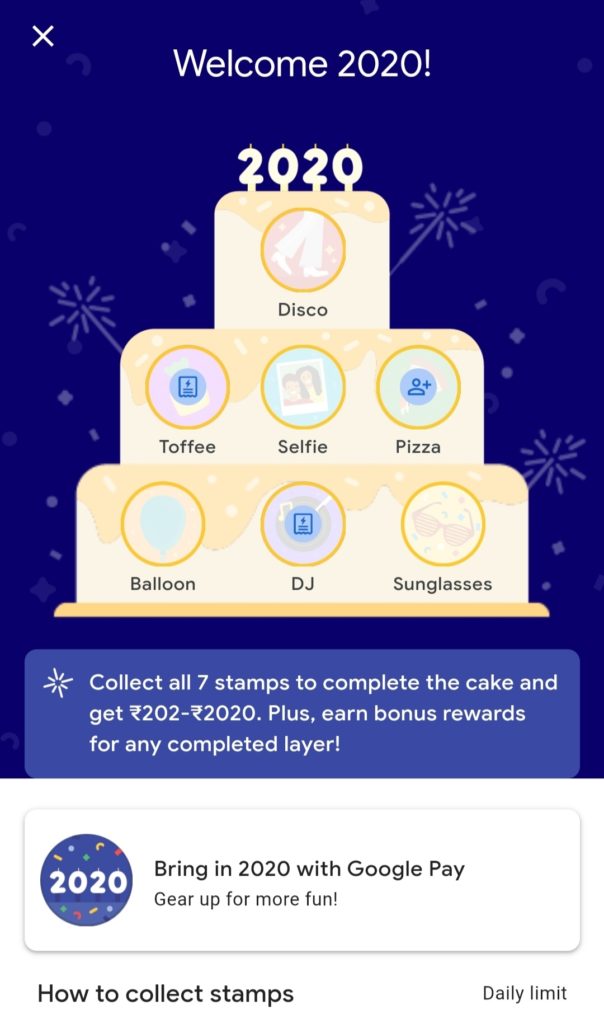 5️⃣ There You Can Collect Total 15 Stamps Daily & Some Stamps Can Be Same
6️⃣ Get 5 Stamps / Daily – Pay ₹98 Or More To A Pay A Business, Spot, Or Google Pay User With Google Pay
7️⃣ Daily 5 Stamps By – Pay A Bill Or Do A Mobile Recharge With Google Pay Max 5
8️⃣ Get 5 Stamps Daily – Invite A Friend To Google Pay With Your Unique Referral Code
9️⃣ This Above Way Get 7 Unique Stamps & Earn ₹202 To 2020 Assured Rewards
🔟 Here Rewards Mean Cashback Will Credited To Your Bank Account
Some Advance Method for Collecting Stamps in Google Pay 2020 Offer
Make Unique Transaction Like Pay On Any Fantasy App / Or Shopping App Like Flipkart
Try This Method By Changing Your Google Account. Means Change Your Google Pay Registered Mail
Recharge Minimum Amount ₹49
Refer To Your Friends & Get ₹202 (Welcome Offer Cash) + ₹180 (Refer Amount) = 382 In This Offer Period
You Can Share Or Send Or Gift Your Extra Gift To Your Friends
Get 5 To 15 Stamps Everyday From The Offer Till 31 December 2019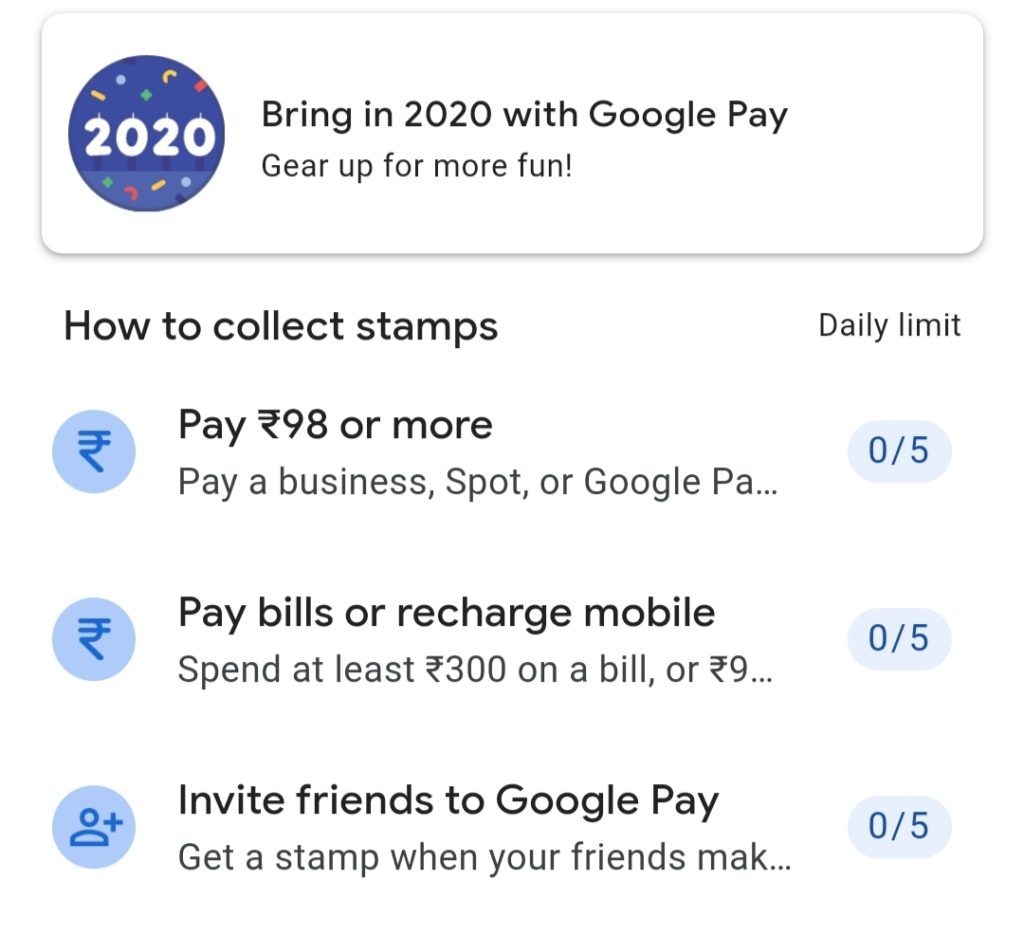 Best Method – Pay Your Credit Card bill on Cred App / Deposit Money in PayTM
1. Download Cred App Download Now | Download PayTM app | Airtel Money App
2. Now Pay Rs.98 or more Credit card bill Using Cred App. Choose the Payment method as Google Pay or Deposit Rs.98 in Your PayTM App or Deposit Rs.98 or More in Airtel App [ You can Transfer to Bank ]
3. Make Rs.98 Payment in Google Pay. Done You will get a Stamp
In this game, Balloon is equal to Diya.
Trick 2 – Do a DTH or Mobile Recharge to Get High Demanding Stamps
1. Click on New Payment & Choose Bill Payment for DTH Recharge
2. Make DTH Recharge of Rs.98 or More. If You don't have DTH then Please Choose TATA SKY & Do Rs.98 Recharge for
( Remember You are Spending money if you don't want this amount is not refunded which means you are spending Rs.98)
3. Once Recharge is Done there are High chances that you will get a Disco Stamp.
How To Collect Google Pay Stamps By Merchant Payment
You can Collect Google Pay 2020 Stamps By Paying to merchants. We have Already Posted about steps to Open the Google Pay Merchant account also. You can Open Google Pay Merchant Account on Your own. Now You just need to make Rs.98 Payment to any Merchant.
1. First of All Open Google Pay QR Scanner.
2. Scan any QR Code & Pay Rs.98 or More.
3. When You Pay Rs.98 or More You will Get a Stamp instantly.
4. In This Way, You can Collect a maximum of 5 Stamps Daily.
How To Collect Google Pay Stamps By Recharge & Bill Payments
1. Open Google Pay App.
2. Open Recharge Section & Enter The Mobile Number that You want to Recharge.
3. Pay Using UPI & You will Get Scratch Card at The Completion of Transaction.
Gift or Request Stamp –
You Can Gift Stamp to One of Your friends & Accept Stamp From Friends
When a friend accepts Your gift stamp from you will earn one stamp on your Gift board.
You can earn a maximum of 1 stamp per unique friend, and 5 stamps daily. If you gift multiple stamps to the same friend, you are only eligible for 1 bonus stamp no matter how many gifts that friend accepts.
Scan the number '2020' near you using the 2020 scanner
You Can Scan 2020 Images Nearby you & Earn Stamps. You can Get Maximum 2 Stamps for this task. Please visit google for 2020 Images.
Listen to On-Air ads –
You can listen to Google Ads on Your Android App of Google Pay & Get Free Stamps.
---
Games Rules
Collect all 7 different Google Pay 2020 Cake Stamps to complete the cake by 31 December 2019 and get an assured gift from google pay in Google Pay 2020 Offer
you also earn 1 bonus reward per layer for the cake layer you complete. the more layer you complete, the more reward you unlock!
Collect all these assured Google Pay 2020 Cake Stamps the first time you perform the following during the game period 23 December – 31 December 2019

pay a bill ( Toffee stamp )
recharge your mobile ( DJ Stamp ) or,
Invite a friend to google pay who makes first payment using your referral code ( pizza stamp )

Other than the above, all other stamps will be variably distributed. you could collect any one of the 7 different Google Pay 2020 Cake Stamps through the different collection methods.
There is a daily limit per collection method. see "how to collect stamp " section.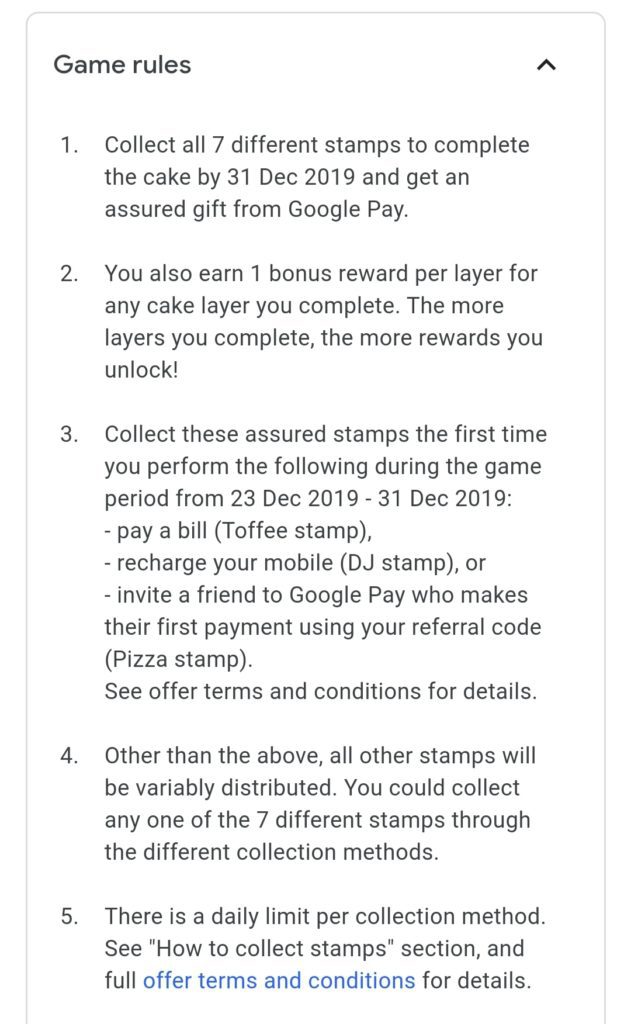 What You Get in Google Pay 2020 Offer
Get a Scratch Card with an assured gift card Google pay worth Rs 202 to Rs.2020 when you complete the cake by collecting all 7 Google Pay 2020 Cake Stamps in Google Pay Cake Offer
you also earn a bonus reward for any cake layer complete. choose your own bonus reward from a selection that includes a voucher, scratch cards, and lucky draw tickets worth up to rs.20 lakh
Claim and choose your rewards in the Google Pay 2020 Offer by 31 December 2019
Your claim reward will appear in the reward channel.
you can earn a maximum of 1 bonus reward for each cake layer and 1 scratch card for completing the task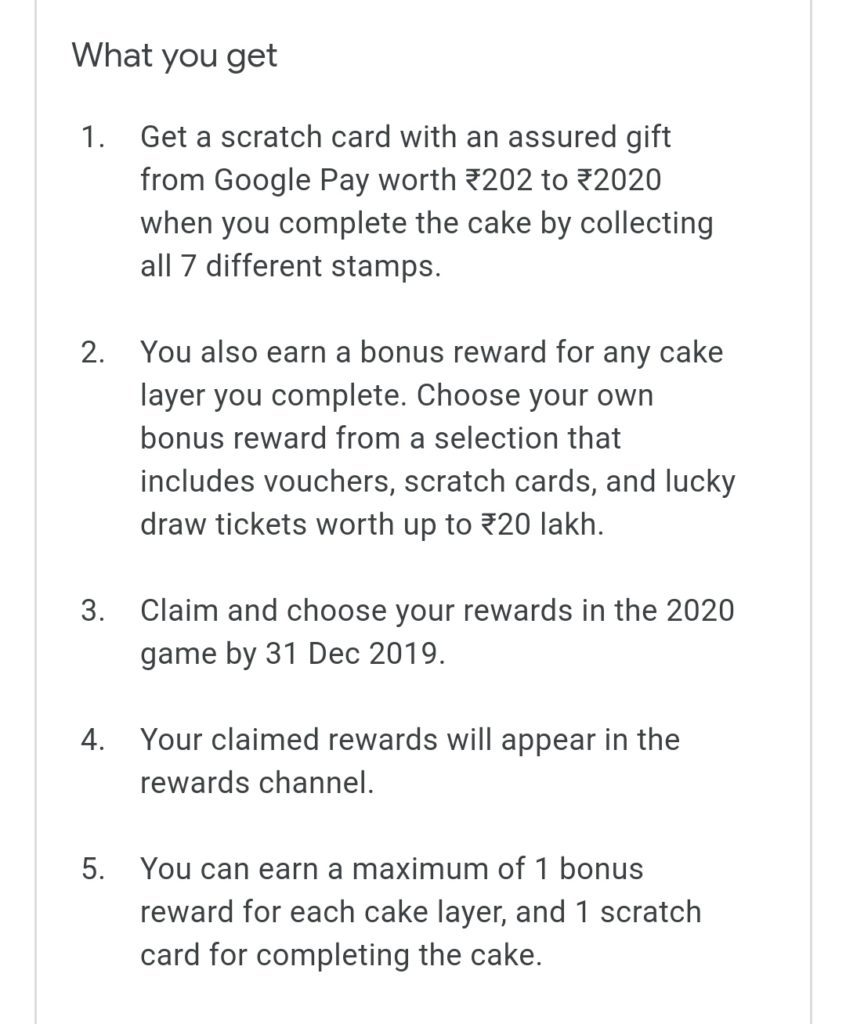 Terms And Condition
This Offer Is Not Available to Residents Of The State Of Tamil Nadu.
You Are Not Eligible For This Offer If You Have already earned Over INR 9000 during the current fiscal year ( 1 April To 31 March ) Across All Google Pay Offers
Any Reward Money You Earned Will Be Deposited To Your UPI Enable Saving Account In Google Pay. If Your Don't Link Your Upi Id To Your Google Pay Account Within 45 Days Of Clamimg The Reward, The Reward Will Be Removed
Offers Subjects To Full Terms And Conditions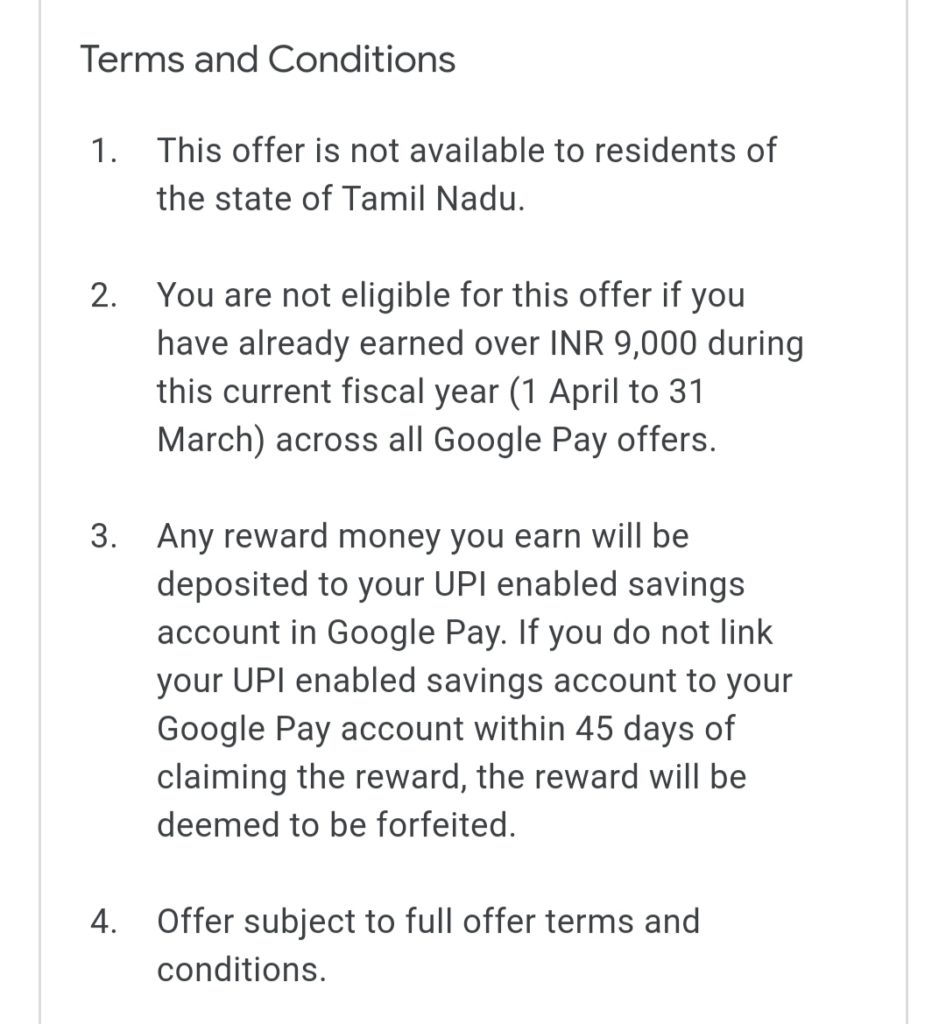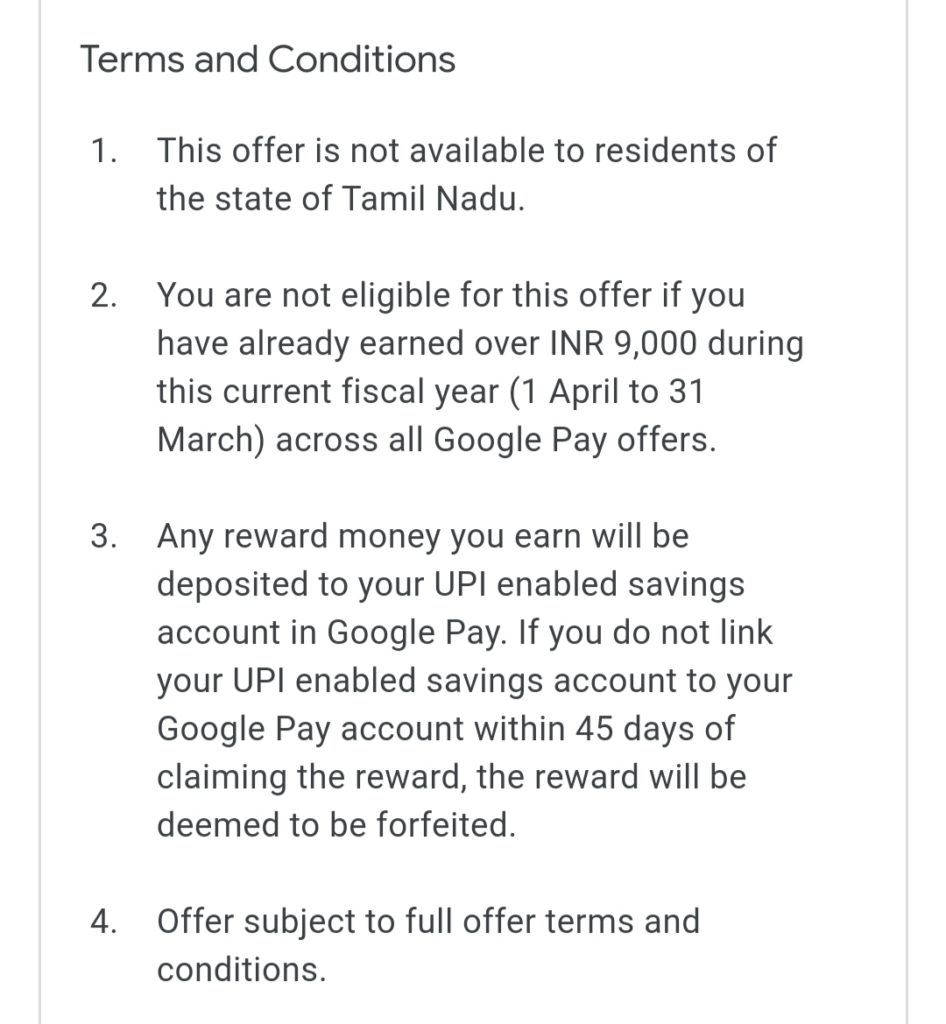 ---
Some Asked Questions
Is Google Pay Safe?
You're probably wondering if Google Wallet is safe for your debit card information. The short answer is "Yes." It is very safe; at least, it is much safer than Google Checkout. It gives you the option to secure your private information whenever you're paying for a product on the internet
What are the benefits of Google pay?
Quick and Easy way to send and receive money. Encryption and multiple layers of security by Google to secure transactions. Pay Utility bills, recharge your mobile and do online shopping using this app. This app can also be used for business purpose
Is Google pay insured?
The money in your bank account is typically covered by federal insurance, but your internet payment services typically aren't. If PayPal or Venmo went belly-up, you'd probably lose your existing balance. That won't be a problem if you're using Google Wallet, though
---
You Must Visit