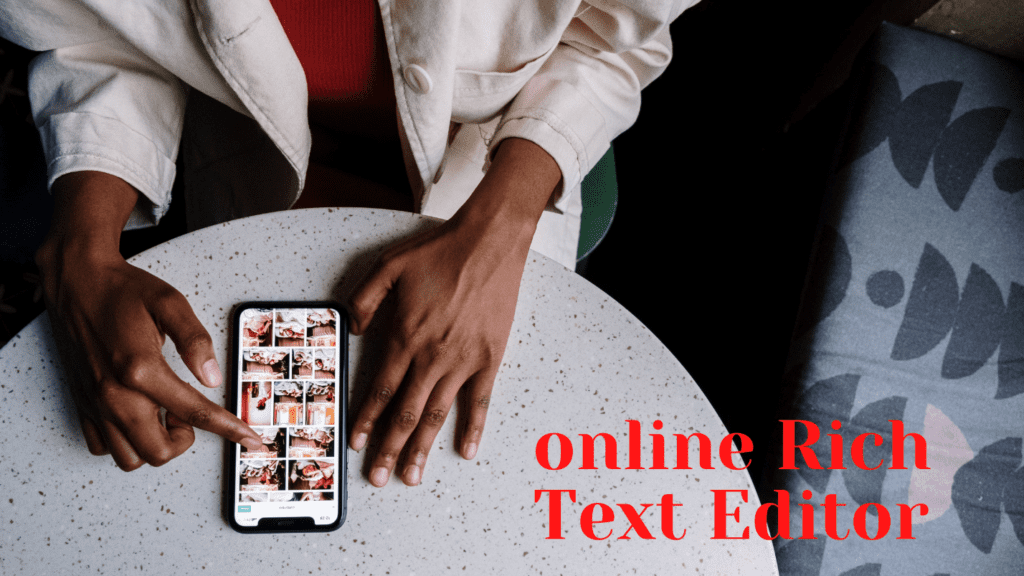 It is common for people to be busy with different writing tasks in different professions.
It is necessary for them to create and edit documents with programs like MS Word and WordPad.
Generally, such software requires installation to be able to edit files. Also, the software must be compatible with the device in order to install.
To overcome this problem, there are several online text editing tools that do not require installation. Online notepads allow users to edit plain text files hassle-free.
I will list a few of the most popular online text editing tools with their features in this post.
Here is list of 5 online text editing tools
Free text editors are excellent for editing text. Below are some useful websites for editing text files:
1. Editpad.org
You can use this platform to use several online tools, including a plagiarism checker, a paraphrasing tool, and a rich text editor.
Editing your text here does not require any registration or login. The only thing you need to do is open the editor on the web-browser and edit the text.
Why use this rich text editor?
Bloggers can use this utility because it offers the following features listed below:
Allows editing of plain text files without requiring any login or installation.

Ability to upload files from the system to edit them quickly.

Helps the user to check the number of characters and words in the entered content.

Provides an option to save notes.

Provides a fantastic option to download the edited file in the format TXT.

Also helps users to check the plagiarism of the edited file

Completely free and safe to use for all users
2. Rapidtables.com
Just like the above platform, Rapidtables also offers an easy-to-use text editor with useful features.
With this tool, writers can edit their important documents without installing MS Word or WordPad.
With this online tool, you can edit files in real-time using the copy/paste function.
It works just like WordPad and does not require installation to edit documents.
Why use this online tool?
Writers can use this tool for the following reasons:
Offers to open files from the system.

Provides a quick undo and redo feature.

Users can zoom in and out their document using this quality tool.

Allows bloggers to copy text in real time.

Provides a handy feature to save the modified text file
3. Hemingwayapp.com
Hemingwayapp simple text editing tool might be the most convenient option for users to edit simple text documents in real time.
The editor offers several unique features that help users edit their important documents and tasks.
It provides the option to insert a heading in the content and allows the insertion of numbered bullets and bullet points.
Apart from these amazing features, it also displays the readability of the edited text document.
Why should you use this text editor?
Some of the main reasons for using this online editor are:
Provides the ability to bold and clearly display text

Also allows the user to insert links in an anchor text in real time

Counts the exact number of words written in the input field

Highlights the basic grammatical errors in the edited file
4. Madeintext.com
Just like the platforms mentioned above, Madeintext also offers an excellent utility for editing text files online.
It offers a simple online WordPad that allows you to write and edit any document without requiring any installation.
Users can also upload files in TXT, HTML, DOC, DOCX and RTF formats and edit them quickly without any hurdles.
Why should you use this online tool?
Developers and other users can use this online utility because it offers the following best features:
Allows you to upload text files from the system

Provides simple to use interface

Requires no installation or registration to modify text files

Also provides the ability to download the modified text files within seconds
5. Onlinenotepad.org
Onlinenotepad provides a simple and easy to use online notepad with numerous features.
It works just like MS Word and offers the ability to insert dates, characters and emojis into the text.
With this online text editing tool, you can also change the font style of the plain text with a single click.
The best thing about this free utility is that it also provides an option to search and replace a particular word in the written text.
All you need to access this online editor is a simple internet connection.
Why should you use this online text editing tool?
You can use this online tool because it offers the best features listed below:
Allows writers and developers to write and edit simple text in real time.

You have the option to upload text documents from the system.

Provides an amazing option to check the spelling of the edited text file.

Helps users to perform undo and redo functions quickly

Just like the above-mentioned tools, it also allows users to copy the modified text file in real time with just one click

Provides a great option to save the modified text file
Final words
With online text editors, you can easily edit your important text files with ease.
With Editpad's free text editor, you can edit and save your text documents.
Hemingwayapp's online text tool helps users edit simple text with bold, quotes and headings features.
You can also use Onlinenotepad's simple text editor to check the spelling errors of the modified text documents.