---
Hello, Friends welcome to Tricky Worlds, I hope you all are liking our previous earning tricks so today I am back with another great post-Mobikwik Grand Slam through which you can earn rs-202 mobiwik cash
About Mobiwik and its offer
MobiKwik is an Indian company founded in 2009 that provides a mobile phone-based payment system and digital wallet. Customers add money to an online wallet that can be used for payments.
In 2013, the Reserve Bank of India authorized the company to use MobiKwik Wallet and in May 2016 the company began providing small loans to consumers as part of its service.
Here is Another Chance to Win ₹202 In bank From Mobikwik By Collecting Letters in Mobikwik Grand Slam. Same Like Google Pay Rangoli Offer, You Need to Collect Here 9 Letters [ MERRY XMAS] To Get Assured ₹202 Reward From Mobikwik. There are Different Ways To Collect This Letters and earn rs-202 mobiwik cash and Earn mobiwik cash

Steps to earn RS-202 Mobiwik cash from Mobikwik Grand Slam contest
1. First Of All, Just Download / Update the Mobikwik App From Playstore.
2. Now Open The Homepage & Click On the "Grand Slam" Button, As shown below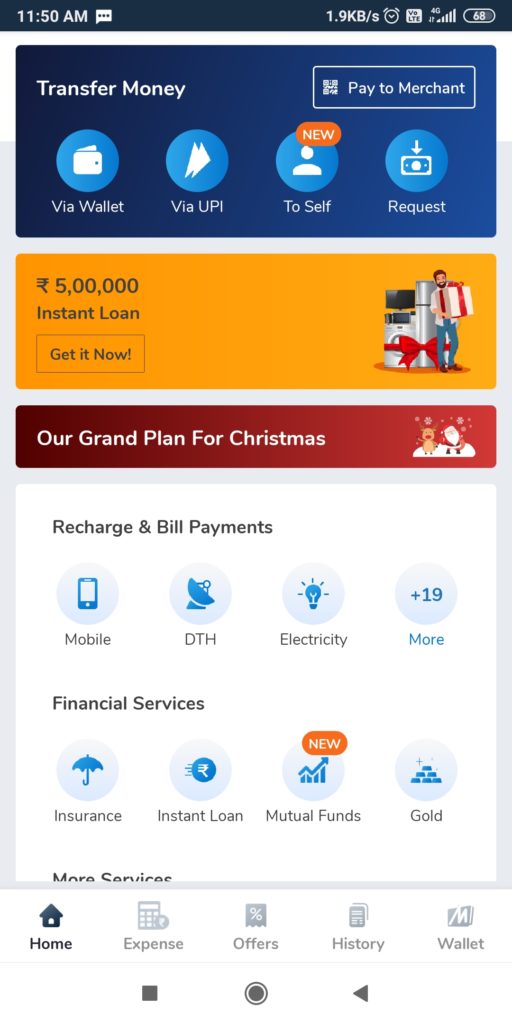 3. Now Watch The Video (Not Compulsory)
4. Now There Are Certain Tasks You need to Perform To Collect All 9 Letters Of M, E, R, R, Y, X, M, A, S
Tasks through which you can earn letters
Recharge & Bill Payment – Higher Chances Of Getting "M"
Refer Your Friends – Higher Chances Of Getting "Y"
Merchant Transaction –  Higher Chances Of Getting "R"
Money Transfer –  Higher Chances Of Getting "E"
UPI Transfer –  Higher Chances Of Getting "S"
Gift Card – Higher Chances Of Getting "Y"
Insurance – Higher Chances Of Getting "A"
Gold Purchase – Higher Chances Of Getting "S"
Mutual Fund Purchase – Higher Chances Of Getting "X"
Complete Your KYC – Higher Chances Of Getting "X"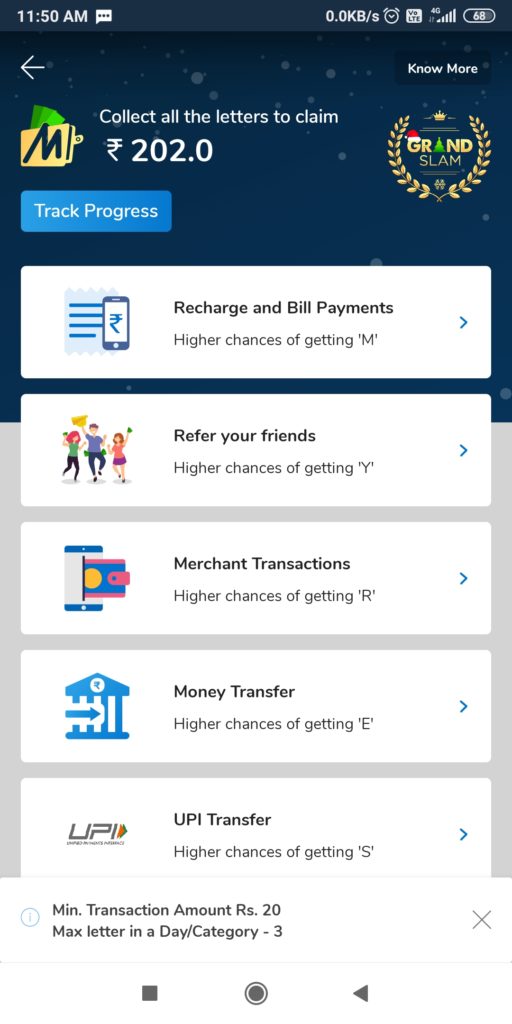 5. Minimum Amount to perform any task and earn a letter is RS-20.
6. Per day You Can Collect Max 3 Letters.
7. Once You Collect All 9 Letters Of The Phrase "MERRY XMAS" You can Claim Your Price Of ₹202.
8. offer is valid from 15 DEC to 25 DEC.
---
The trick to receive secret Santa card:
Secret Santa is Special Card You Receive During Transactions In Mobikwik. This is a Rare Card. This Secret Santa Card Allows You to Gift a Letter to Your Friend.
---
How to Exchange Letter With Friends:- 
Same Like Rangoli Cards, You can Exchange Your Letters In This Mobikwik Grand Slam Offer.
You Need Atleast 3 Same Letter to Exchange [ Eg. If You Have 3 Extra M, You can Exchange them and Receive Random letter Other Then M].
There is an option to gift this letter to your friend & help him to collect 9 letters.
On every transaction complete you will get a Secret Santa Card. Under this Secret Santa Card, You Will Get The Letter. You can send this Santa Card to your friend & help him to collect this offer and Earn mobiwik cash
Remember do minimum Rs. 20 transactions to collect Letter Card.
Terms And Condition
1. This Mobikwik Grand Slam Game Will Be Live From 16th December To 25th December
2. The User Must Collect All The 9 Letters Of The Phrase 'Merry Xmas' In Order To Complete The Game And Claim The Reward
3. Users Can Collect A Letter Only On Successful Payment. In Case Of Delayed Payment Success, You Would Receive Notification From Us Once You Get The Letter.
4. In Case Of Transaction Refund, The Letter Received By The User On That Payment Will Be Taken Back
You Must Visit
5. User Must Make A Minimum Transaction Of Rs 20 To Get A Letter
6. Users Will Get A Letter Only Through Payment Against Those Services That Are Listed On The Home Screen Of The Game
7. A User Can Get Maximum Of 3 Letters A Day Through A Particular Category Of Service
8. The Letters Received On Any Payment Will Be Completely Random. Mobikwik Does Not Guarantee The Receipt Of Any Particular Letter On Any Payment
9. A Secret Santa Card Won On Any Transaction Can Not Be Used For Self. User Can Only Share It With Friends
10. Users Can Only Use A Secrets Santa Card That They Receive From A Friend
11. On Claiming The Reward, Rs 202.0 Will Be Credited To The Users' Mobikwik Wallet
12. The Users Must Complete Their KYC To Claim The Reward. If Users Do Not Complete Their Kyc, The Prize Will Not Be Credited To Their Mobikwik Wallet
13. Once A User Completes The Game And Claims The Reward, They Can Not Play The Game Again
14. This Offer Is Applicable Only To The Mobikwik App, Android Version. 1os Users Must Stay Tuned For Updates.
15. Mobikwik Reserves The Right To Discontinue The Offer Or Modify/change These Terms And Conditions Anytime During The Offer Period Without Any Prior Notice.
Thanks, We hope you all appreciated the offer. Complete this offer before 24th December & Get Rs.202 Cashback. Stay with us and enjoy all the upcoming offers. Get Check our site daily for the latest online offer. You must Join Our Telegram Channel & Follow Us On Facebook.
---
Frequently asked questions of Mobiwik
1-What is Mobiwik wallet
Mobikwik Wallet is a prepaid financial instrument approved by the Reserve Bank of India. It allows Indian consumers to store money in a virtual wallet and then use it on channels (mobile, desktop, tab, SMS, IVR) to pay merchants… MobiKwik Wallet has only one goal – to make it easy and fun for every Indian to pay.
2- is it important to do KYC in mobiwik
KYC update is mandatory for all users: facts
As per RBI guidelines, it is mandatory to add your Aadhaar number to your wallet. We recommend getting your KYC done, however, not doing so will not affect all the services you can take on MobiKwik.
3- How to complete KYC in mobiwik
MobiKwik Wallet users need to follow 3 simple steps to complete e-KYC. The user has to log in to the app and enter their Aadhaar number to start the e-KYC process. After the Aadhaar details are recorded, the customer gets an OTP over the phone. The client uploads this OTP upon completion of e-KYC.