Hello Tricky Worlds Readers!!!! I Hope You Are Good And Reading And Sharing Our Posts. So Today We Have Comeback With Another Latest post In Which You Will Get To Know Top Best Indian Apps List That You Can Download After The Indian Government Banned The Chinese Apps. We, Will, See Best Chinese Apps Alternatives That You Can Use In India.
The Indian government's decision to ban Chinese apps has set attention on Indian apps that work as alternatives to the banned apps. Many Indian apps have seen an overnight rush in the number of downloads ever after the ban was declared. So We Have Decided To Share You With Top Indian Apps List That You Can Download And Use In India. These Apps Don't Have Any Chinese Investments.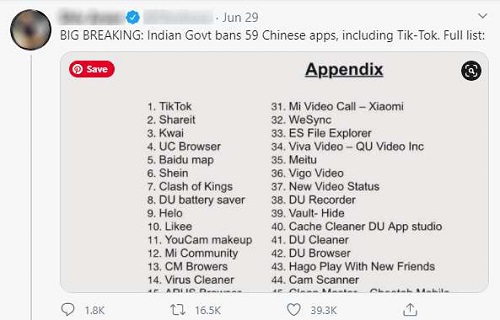 As You Can See Above In The Image, The Chinese Apps Banned News Are Trending On Twitter. So, let us take a quick look at the Top 25 Indian Apps List that you should surely try.
*Please note that the apps listed Below Are Based On categories.
Top 25 Indian Apps List You Should Try
After Chinese Apps Was Banned Mobile app developers have also maintained to keep up with the latest trends and built a number of wondrous apps for the Indian customer. So, let us get a flash at the Top 25 Indian Apps List that you should try.
Music And Entertainment Apps
1. Gaana
Gaana is one of the biggest Indian music streaming app right now. The app has over 3 million songs of multiple kinds and the music catalog is also available to users globally. This App is one of the most downloaded Indian Music apps with more than 150 million monthly users.
Gaana highlights music from 21 languages such as Assamese, Bengali, English, Gujarati, Hindi, Kannada, Urdu, Odia, Marathi, Punjabi, Tamil, Telugu, Maithili, Malayalam, and other Indian local languages.
2. Wynk Music
Wynk is a free app that gives limitless streaming and free unlimited song downloads across Bollywood, regional and international music. This is another famous music app that allows you to enjoy over 1.8 million Indian and international songs.
This app also enables people to read the lyrics while playing a song. Get the latest hits of Bollywood, English, Indipop, Tamil, Telugu, Kannada, Bhojpuri, Punjabi, Bengali, Malayalam, Gujarati, Marathi & Rajasthani songs.
3. Hotstar
Disney+ Hotstar also known as Hotstar is an Indian subscription video streaming service app that lets users see their favorite TV shows, latest movies, sports, and live news in one place. The app comes from Star Network, one of the biggest cable networks globally.
Hotstar is India's largest streaming platform with more than 100,000 hours of drama & movies in 17 languages. You can Stream The Movies And Tv Shows On Both English And Hindi Languages.
4. BookMyShow
Bookmyshow is India's biggest entertainment ticketing gateway. From movies to events, plays & concerts to sports, This App brings them all to you. This App main focus to always delivering the very best entertainment experience to our customers.
BookMyShow has partnerships with all over Indian production houses and studios like Inox, Big Cinemas, Cinemax, Fun Cinemas, etc. 85% of all the tickets sold online are booked from Bookmyshow. This App has 50 million Downloads Globally And 10 million-plus tickets sold per month.
Files Sharing Apps
1. Share All
Share ALL is the Indian variant of the SHAREit App, produced by Indians. The application is a quick resolution to all the sharing peoples. You can share any type of files (Apps, videos, photos, music, office, PDF Etc ) Offline in any area at any time, without using mobile data.
You can transfer files to friends mobile anywhere. No limit for any file type or size. Despite how large, Share all can finish the file share as fast as possible. you'll also protect your files by password, whether they are music, photos, documents, videos, etc
2. Smart Share
This is another famous app that can be used on both Android and IOS for file share and transfer. This Application Is Free To Use. This App can be used to share audio, video, and picture files. This app supports Secure Share your Photos, Video, Music, Doc to your families, Friends.
You Can Securely share your media without the Internet and send and receive big files without dropping the quality of media and its transferring speed is 100 times faster than others. This App Is Personally Tested By Me And I Am Using it for a very long time.
Travel
1. Make My Trip
India's 1 Travel Booking App MakeMyTrip is trusted by 5 Crore Indians to organize their holidays. Obviously, one of the most widespread apps when it comes to planning travel. The app gives exclusive discounts to users and also works an optimized browsing experience on 2G connections.
You can search for flights, hotels, train or bus tickets, taxi cabs, rental cars & activities on this app. You Can Also Save Some Money with deals & earn a reward bonus on your bookings. The app's interface is very simple and fast which lets users search and book flights in a comfortable way.
2. IRCTC
IRCTC Connect is an Android app from the Government of India and Indian Railways which allows people to book train tickets in a few easy steps. The app also grants users to plan their travel by booking expensive travel packages. Aside from railway tickets, users can also book tickets for flight and bus.
It has Advanced security features of a self-assigned PIN to login without inserting a username and password on each login. You Can Search Train, Train Route, and Train Seat Availability. This App Is Combined with an IRCTC e-wallet for faster and hassle-free transactions.
3. Ola
Ola has changed how people travel in India. You Don't need to do anything just download the app and book a personalised taxi. Ola provides users with the option to choose a car or even a bike and auto-rickshaw to take you where you need to go. The Ola app gives the safest and easiest way to ride, with various travel options and well-protected rides.
With more than 3,00,000 vehicles in 100+ cities including Bangalore, Chennai, Delhi, Mumbai, Hyderabad, Kolkata, and Pune, Ola is the most famous riding service in India. All the vehicles come are outfitted with GPS for route navigation. You can view all your available ride options in the app.
4. Red Bus
India's no.1 online bus booking app gives a fast and simple booking process to get bus tickets on luxury buses and at a low price. With redBus, you will find the definition of luxury transport services that are given by the top bus Service in India. Ranked as the best app to book bus and Volvo tickets.
The Redbus app allows you to search and book more than 10,000 routes included buses like KSRTC, VRL, SRS, KPN, Orange Tours, Neeta, etc. It also lets you find and travel to your boarding point on a map as well as track your bus on a map using real-time location.
Online Food Apps
1. Zomato
Zomato is an Indian restaurant app which guarantees to give the best service into local restaurants in your area. It also gives you menus and user-reviews for millions of restaurants over the world. Zomato also offers food delivery options from partner restaurants in several cities.
Serving more than 70 million users monthly, zomato helps them discover high-quality food at restaurants within its search and gives online food delivery in India. You Can Easily track your order with live tracking on the app. Get an accurate time of your delivery after placing your order.
2. Swiggy
Swiggy is one of the biggest food ordering and delivery platforms in India, delivering around 1.5 million food orders daily in the country, as of last year. The app lets you order food online from various restaurants in your city and also gives you real-time updates on the food ordered.
This app has no minimum order limitations, Order As Much As You can They Will deliver it to you. You can Also Get freebies, cashback, discounts, and other deals sponsored by the app, and online wallet partners. They accept VISA/MasterCard Credit or Debit Cards, Net Banking, PayTM, FreeCharge, Mobikwik wallet, cash on delivery, and credit services like LazyPay.
3. Dominos App
The Domino's Android App is like holding a Domino's shop in your pocket, anywhere at any time. With more than 1.5 million possible pizza combinations, the Domino's App brings order to the next level. users can pick their choice of pizza crust and order it from inside the mobile app.
After Ordering The Food You can pay with cash, credit card, debit card, or Domino's gift card. Now, Users can also track the live status of their order from within the app itself. You Can Also Use a voice ordering assistant, Dom, to add items to your cart and to select a coupon. This Is One Of The Best Indian Food Ordering App.
Payments Apps
1. Paytm
Paytm is a broadly used e-commerce payment system app that also lets users shop online aside from transferring money, mobile recharge, and payments. It is one of the most downloaded Indian apps and has over 350 million users, as of last year. It also has given Indians the advantage to go cash-free and move towards a digital Country.
Paytm enables users to transfer money from any bank account and so, made life much easier for the people of India. The app can also be utilized to book cabs, as well as to pay the insurance, book tickets, etc. You can also do utility bill payments on your phone like Water, Gas bills & Electricity Bills, Credit card bill payments, challan payment, fee payment & more.
2. Phone Pay
PhonePe is one of India's greater Payments Apps and intends to give a cashless and seamless payment experience. You Can Transfer money with BHIM UPI, Send and request money from your contacts anytime, anywhere. You can directly transfer money to any mobile number with UPI and also send money to any bank account using an IFSC code.
It also permits you to use BHIM UPI, your credit card and debit card or wallet to recharge your mobile phone, pay all your utility bills, and also make faster payments at your preferred offline and online stores. You can also invest in mutual funds and buy insurance on PhonePe.
3. Google Pay
Google Pay is a digital wallet platform and online payment system produced by Google for in-app and tap-to-pay purchases on mobile devices, allowing users to make payments with Android phones and tablets. It Also Has coupons, event tickets, movie tickets, public transportation tickets, and loyalty cards.
It is a fast and simple method to pay online, in stores, and more. You Can Also Book a trip, take a meal, see a show, and enjoy new experiences. Google Pay protects your payment with various layers of security, using one of the world's most excellent security support to support keep your account safe.
4. Mobikwik App
MobiKwik is a truly Indian payments app. It allows users to shop cashless and earn cashback. The app can be used for mobile prepaid recharge, postpaid bill payment, utility bills, electricity bill payments, water bill payment, DTH recharge, merchant transactions & Insurance payments.
You Can Transfer money from bank to bank instantly. MobiKwik is taken at all brand stores including Reliance Fresh, Samsung & JIO stores, Apollo pharmacy & more. You Can Also Instant personal loans online up to ₹5 Lakh. You Can Invest in the best mutual fund including Axis Mutual Fund, HDFC Mutual Fund, ICICI Prudential Mutual Fund, and more.
Online Shopping Apps
1. Flipkart
Flipkart is India's biggest e-commerce shopping platform that gives a very useful app and offers everything, including mobile phones, fashion (clothing and accessories), electronic items, grocery, home appliances, furniture, and jewelry. The app also offers some exclusive discounts when you buy an item using the app.
It has an online music store "Flyte" from where you can download songs after paying for it. Their payment options include net banking, debit/credit card, cash cards, and even Cash On Delivery. You can check ratings and reviews provided by other customers with seller ratings, price, and description of the product while ordering the product.
2. Myntra
Myntra is one of the most famous Indian fashion e-commerce shopping platforms that offer a broad range of clothing and fashion accessories. The app lets you use various filters to look for an excellent style in a second. It Has More Than 7 lakh+ products and 3,500+ brands which are really amazing.
You can choose from the most famous fashion brands like UCB, Nike, H&M, Roadster, and many more. Shop men's and women's clothing, beauty, hair care, footwear, accessories, and home furnishing products for men, women, and kids, all at the one app. Shop online or on mobile to see the latest fashion securely delivered to your home.
3. Big Basket
Bigbasket is an online supermarket for all your everyday needs with over 20000+ products from 1500+ brands. The app highlights a wide range of goods including fruits, vegetables, groceries, pet care needs, organic products, beauty and hygiene, and much more. Enjoy hassle-free online grocery shopping.
You can Buy at low prices with great offers including discounts and, promotions. Big Basket Payment Method Includes net-banking, credit and debit card options, and e-wallets. They source most of the fruits, vegetables, and private label staples (bb Royal, bb Popular) directly from farmers. This app is trusted by 6 million+ happy customers and counting.
4. SnapDeal
Snapdeal is one of India's largest online marketplaces and normally has what you're watching for. This is another e-commerce app that guarantees to deliver a great online shopping experience to users. The app also offers all discounts on a number of products if you shop from the app and on the website.
You can find the newest offers in this online shopping app on over 85 million products. They give us free shipping to more than 6000 cities in India. You can Order safely, with a 100% payment security guarantee by TrustPay. Complete Your transactions via credit/debit, EMI, NetBanking, UPI, Cash-on-Delivery.
Top Indian Apps List Conclusion
Well, we have served best to research, write, and share this list of Top Indian Apps List that are produced in India. And there are still several Indian apps for the Android stage we haven't included in this Top 25 Indian Apps List, so do let us know which is your own personal favorite app and also comment below if we have dropped any famous Indian app, we would like to include it in our next list. Please don't ignore to share this article on social media. Thank you.
---