Undoubtedly, bloggers create a variety of content on a regular basis. For sure, the very first requirement to create quality content is uniqueness, and this is where it becomes challenging. The majority of bloggers look for AI solutions such as Best Plagiarism Checker to ensure that their content is free from plagiarism.
I have found the five best online plagiarism checker tools that detect duplicate content and help bloggers to achieve their writing goals in a lesser time.
Sounds Good? Let's go ahead to learn about the best AI-powered plagiarism checker tools.
Best Plagiarism Checker Tools
Quetext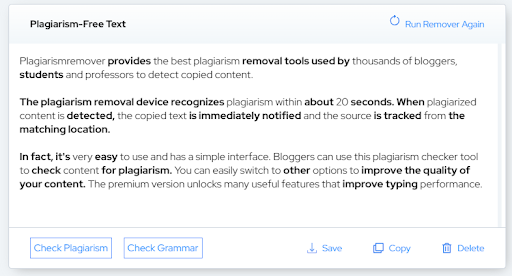 Quetext is a well-known plagiarism detection tool, and millions of users worldwide use it. It is used to check plagiarism in your text, helps you review other writing issues, and assists you in building citations.
If you need to check for plagiarism in your content, then you have to copy the text that you have written paste it into the Questext and wait for accurate results.
Ouetext takes around 15 seconds to detect plagiarism in the given content. Thanks to its highly functional interface, it detects plagiarism with 10% accuracy and efficiency.
The best thing about this tool is that you can avail yourself of it for free; you don't need to pay to check the plagiarism of your content.
If you are looking for a free and reliable plagiarism tool, this is the best option to leverage.
PlagiarismRemover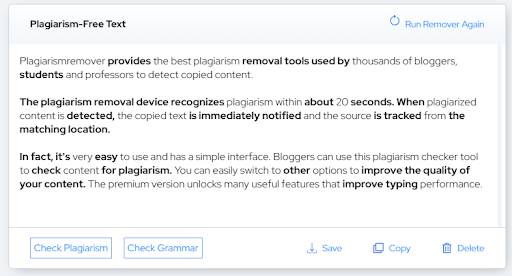 Plagiarismremover offers the best plagiarism remover tool that thousands of bloggers, students, and professors use to detect copied content.
Plagiarism Remover detects plagiarism within 20 sec, approximately. If any plagiarized content is spotted, it quickly notifies you about the copied text and tracks the source from where it matches well.
Indeed, it is very effortless to use and has a simple interface. Bloggers can use this plagiarism checker tool to find out whether their content is plagiarism-free or not
If you use its free version then you'll be allowed to check plagiarism in unlimited words at a time. You can easily switch to other options to use for better content quality. The premium version unlocks many other useful features that boost your writing performance.
Copyleaks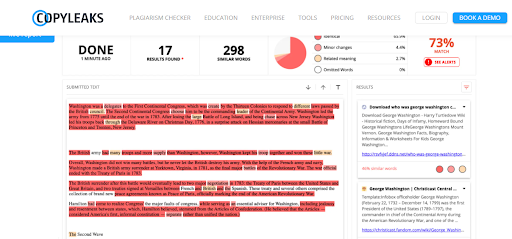 Copyleaks is powered by advanced AI technology that detects identical, similar, and paraphrased text. It is a web-based plagiarism checker tool that professional writers, professors, students, marketing agencies, publishers, and other organizations use on a global scale to detect duplicate content.
As it is easy to use, you can easily detect plagiarism in your text. All you are required to do is: copy your blog content and enter it in the text box. In a few seconds, it will detect plagiarism in your content. Along with this, it will create a plagiarism report as well. It will highlight the plagiarism percentage, copied sentences, plagiarism statistics, source links, and much more in the report.
There is no doubt that Copyleaks detects plagiarism very accurately and deeply but it is a paid plagiarism checker. It only allows 20 pages in a month for a free trial and after that, you'll have to pay for using it.
Quillbot

Quillbot features a powerful plagiarism checker tool that assists millions of people in ensuring content uniqueness with ease. Its advanced AI technology helps you to detect plagiarism in a few seconds, cutting down your time to half.
It is a premium plagiarism checker. Its premium version allows you to check 6000 words in one attempt. Along with detecting duplicity, it will enable you to find and correct grammar issues as well.
All writers and bloggers can use this plagiarism detection tool to ensure that their content is unique and well-optimized.
In short, if you are looking for a reliable plagiarism checker tool that makes your work easy and quick then this is a perfect option for you.
Copyscape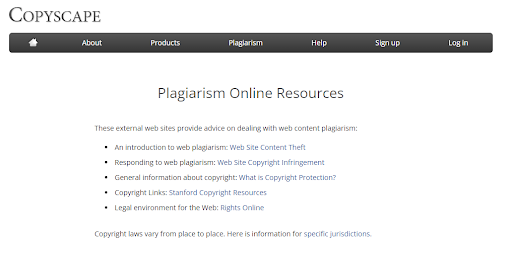 Copyscape is a plagiarism detection tool that is available for free. Millions of content creators, marketers, and students use it all across the world. It detects duplicate text and checks within a few seconds to find out whether your content is unique or copied.
This free plagiarism checker tool is mostly used by bloggers and writers. Its AI technology performs a thorough and accurate plagiarism check. Furthermore, it will give pertinent writing suggestions to help you improve the quality and value of your blog content.
If you want to check whether your blog posts are unique or plagiarized then all you need to do is enter your content and let it run. This powerful plagiarism checker will quickly follow your command to detect duplicity and trace source links as well.
Why Plagiarism Checking Is Important?
In case you are wondering why to go through so much trouble just for plagiarism checking then let us tell you why it is necessary.
Take into account that if even a minor trace of duplicity is found in your content then it will never rank on search engine result pages. So, in order to rank, and drive more traffic to your site, you have to ensure that all of your web pages contain unique content.
There shouldn't be any duplicate content on your website because not only you'll lose your rankings but you won't be able to approve Google Adsense as well. Unfortunately, without ranking and ads, you can not generate any revenue.
Other than this, users also don't like when they come across duplicate content repetitively. It badly affects the user experience which in turn lowers the rankings.
Ultimately, plagiarism-free content is crucial for success in the digital market. You can level up this success if you use a paraphrasing tool to make your content unique with more clarity and creativity.
Summary
Duplicate content badly affects the search engine rankings and leads to AdSense rejection as well. Therefore, if you want your blog to achieve a higher rank, reach a broader audience, and be more profitable then you need to ensure that your content is free from duplicity. Therefore, you must check your content from a plagiarism tool. Keep in mind that an effective plagiarism checker must be AI-powered and perform a quick deep search to spot duplicate phrases and sentences. Furthermore, it should track down source links and provide citations to assist you thoroughly.