If you are curious to know How Hackers are Hacking Facebook Accounts so, that you can keep your account safe, then this article is for you.
In This Article, I am going to share 2 Methods Of How hackers are hacking your Facebook account. And I am pretty sure that after reading this article, you will understand how someone can hack your Facebook Account.
Disclaimer: Please keep in mind that it is illegal to Hack Facebook accounts, and unless you have the permission of the account owner and the parties involved do not attempt to hack Facebook. This post should be used as a guide to understand how hackers are accessing your accounts and different passwords. The TrickyWorlds team will not be held responsible if any criminal charges are brought against anyone who misuses the information on this website for violating the law.
How Hackers Hack a Facebook Account
There are various ways Hackers use to Hack Facebook accounts. But, I only know one famous method that they are using. Yes, I am talking about phishing attacks. In this attack, the hacker will send you the link to the Facebook login page and ask you to enter your login details and whenever you enter the login details, he will get all your information.
Below, is a practical demonstration to understand this clearly.
Step 1:- Open Anomor Website
1. Go to the official website of the Anomor.
2. Once you open the website, you will see the options below. Click the "Sign up here" button to start the signup process. You must sign up to get access to the phishing dashboard and links.

Step 2:- Sign Up For Anomor
1. Click on the "Sign up here" button and fill in the form that will appear on your screen. Enter your username, password, email address, age, country, etc. When your signup process is complete, you will get the username and password for your account. Do not use your real email ID to sign in. Use a fake email to create an account.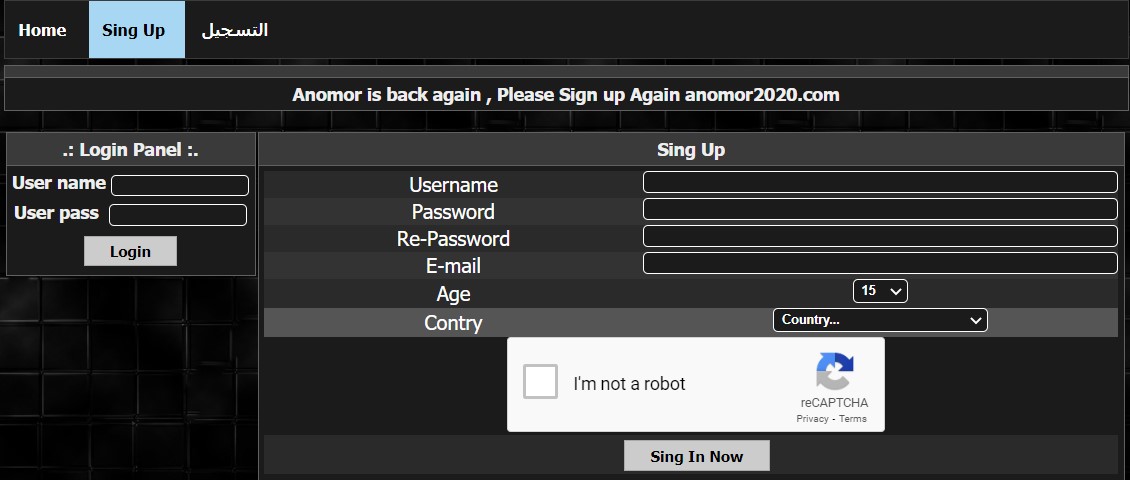 Step 3:- Login With New Username And Password
1. log in to this website. You will see Scam 1 and Scam 2. You can copy phishing links from either of these two. In the left sidebar, there is a list of total victims, total phishing pages, and victims hacked today. All the data of your victims along with their email ID, password, IP address, etc. will be displayed to the total victims.
Step 4:- Sending The Link
Copy any link given to your liking and send it to your friend. Choose any link that looks interesting and attractive.
For example. Give a candy link to a Candy Crush player, the crush invitation will be more solid.
Note: Do not send this link to many people as Facebook will think about it as spam and it will be blocked and reported.
Step 5:- Check Your Victim
Once your friend logs in through the link. His login details will be added in the "My victim" section. All your hacked victims will be displayed on this page.

How Does Anomor Work?
Anomor is based on phishing and sending links to victims.
Phishing is the process of obtaining a victim's username and password. In this method, hackers build a phishing page, which is a malicious copy of the original page. You can create a fake phishing page on any website like Facebook, Instagram, etc. The success rate of phishing hacks depends on the quality of the phishing page.
So what Anomor does is that it gives you a free ready-made phishing page. So you can easily copy the phishing link and send it to the victim's phone or PC. Now when the victim clicks on the link, he thinks it is a real Facebook page and gives his username and password.
This is how Anomor works to get your Facebook usernames and passwords.
Final Words
I hope you got the information about what you are looking for. Do not use this for any illegal purpose, this is just for educational purposes on how hackers use this method to hack Facebook accounts. If you found this article helpful please share it with your friends and others.
FAQs
Q1. Is This Hacking Tool Legal To Use On Anyone?
Ans:- No, it is not legal to use Shadow Wave to hack people. If you use it to Hack your Facebook Account and Instagram accounts, then it is a criminal offense. But you can use it for testing and knowledge purposes.
Q2. Is Anomor Was A Safe Website?
Ans:- No, this is not a secure website. Do not use your real email ID on this website. Do not enter your personal details on this site. This website does not use an SSL certificate and thus can be easily hacked.
Q3. Why is Anomor a better option to hack Facebook?
Ans:- There are many reasons, but the most important is that it does not require any technical knowledge. The links are updated every 6 hours. Therefore, it becomes difficult for Facebook to restrict links.
Q4. Are there any alternatives to Anomor?
Ans:- Yes, there are many. The most famous is the z shadow and shadowave. You can also use the Kali Linux Hack Facebook Account to create custom phishing pages.
Q5. My links are being blocked on Facebook; what do I do?
Ans:- Facebook security improves every day. When you send many links from your Facebook account or Facebook page, Facebook will get suspicious. They will try to detect and block these phishing links.
what can you do:
You can send a phishing link to your friends via WhatsApp.
Send a phishing link to your friend's email address (eg. Gmail)
Send phishing link via msg
All you need to do is some social engineering and convince the victim to click on the link.