How To Download Instagram Videos, Hello Tricky Worlds Readers!!!!!! I Hope You Are Liking Our Posts. So Today We Have Come Back With Another Latest Android Trick How To Download Instagram Videos From Android Or Pc.
In this Post, We Will See How To Download Insta Videos With Android Apps And Without Android Apps. We Will Also See To Download Insta videos In Iphone And Pc Or Mac. So Without Getting Any Time lets Get Started and see How To Download Instagram Videos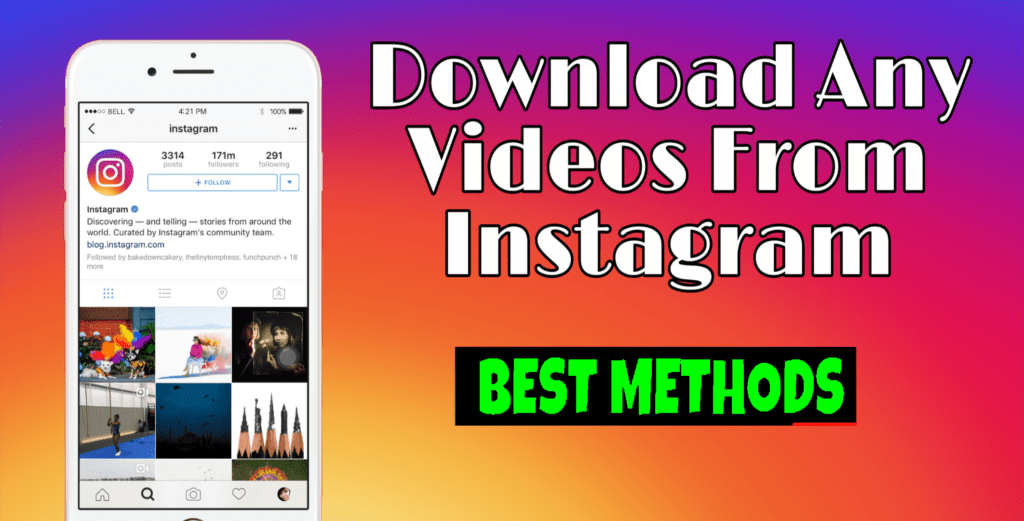 1. Download Instagram Videos From Android Phones
How To Download Instagram Videos In order to download Insta videos to your Android device, We Will See With two Methods.
With Android Apps
Without Android Apps
So, the first step is to head to Google Play and get the app. You can download the app by clicking on the link below that will take you straight to Google Play.
✅ With Android App
1. Firstly you have to Download The App From The Given Link Below. Click on The Download Button And It Will Redirect You to Download Page.
2. Open Instagram on your phone and navigate to the post you want to download. Just like on your desktop, video posts will have the video-camera icon in the top-right corner.
3. Tap on your chosen post and open it.
4. In the upper-right corner of the post, you'll see three vertical dots. Click on these three dots and a menu will appear.
5. On the menu options that appear, tap the option that says "Copy Link".
6. As soon as you do, Video Downloader for Instagram will automatically save the video to your phone's gallery.
7. Downloaded videos are in your phone's gallery in a new album which has automatically been created, called "InstaDownload."
8. You can also find your downloaded Insta videos by going to opening the app itself.
9. When you tap on "History" you'll see all the videos you have saved using the app. To share any of these videos on your own account, tap the button that says "Repost."
✅ Without Android App
For this purpose, I like the free online tool DownloadVideosFrom. In my experience, It's a bit intuitive than others and adds a few extra features that you may find interesting. Here's how to use it:
1. Open the Instagram video that you want to download and copy its URL By clicking On Copy Link.
2. Now open this link given below and paste the URL into the text field.
3. Below, click on Download MP4 to convert and download the video.
It Has also options to download Instagram photos.
2. How To Download Instagram Videos From Iphones
The options are very limited when it comes to iOS, but I know a good repost app that also downloads the photos and videos. Regrammer is a completely free app (ad-supported) that will help you download any video from Insta to your iOS device. How To Download Instagram Videos
Its usage is the same as video Downloader for Instagram Android App. Simply copy the video's URL from Instagram and paste it into the Regrammer app. Afterward, tap on Preview to open and download it. The video will be automatically saved in the camera roll and you'll see options to repost it. How To Download Instagram Videos
3. How To Download Insta Videos from Pc Or Mac
The internet is full of tools to help you save your favorite videos forever. All you'll need to do is copy and paste the link!
Here I'll show you how to do so using Downloader4Insta. If you're looking for other tools to use on your desktop, consider DownloadGram, GramBlast, or DreDown.
1. Start by going to Instagram on your computer, and logging in if necessary.
2. Navigate to the post or Video you want to download it. Notice that Instagram posts with video have the video-camera icon in the top-right corner.
3. Once you click on the post, it will pop up in a new window. When it does so, you'll see a custom URL appear at the top of your screen. Copy the Link
4. In a new window, go to your free Instagram download tool of choice. As a reminder, here I'm using Downloader4Insta.
5. Paste the link you copied in step No.3. Then, click the search icon, or simply hit enter on your keyboard.
6. After clicking enter, the video you appear on your screen underneath the search bar. Click the "Download" button.
As soon as you do, the video will begin downloading.
Once it has finished downloading, you can find it in your computer's "Downloads" folder.
Ending words
I believe using a third-party is a much easier way to download videos. All you need to do copy/paste the link to get your video. Although the manual methods can also work well in certain situations. For example, if you want to download videos from your history of viewed videos, then the manual Android phone method is a great option. How To Download Instagram Videos
A disclaimer when using apps to download Instagram videos
Most apps give you the ability to download Instagram videos for free. However, "free" and "unlimited" mean two different things. Some apps will charge you a coin or credit for each video you download, and you only get so many credits before you have to pay.
Read the app information and customer reviews to see if you'll be limited to the number of videos you can download from Instagram. How To Download Instagram Videos
In addition, look out for pop-up ads, such as this one from DreDown. Close these pop-ups before pasting your Instagram link. (It's best not to install anything on your computer unless you are positive it's safe!) How To Download Instagram Videos
---
People Asked Questions
1. How To Download Instagram Videos?
Ans. Yes, you can Download Videos Easily. Read This Post To See How To Download Instagram Videos.
2. How can I download Instagram videos without the app?
Ans. You Can Download Instagram Videos Also Without The App We Have Discussed In This post go And See.
3. Is It Safe To Download Videos From third Part Apps Or Websites?
Ans. Yes, It Is Completely safe To Download Instagram Videos From Any Third Part Apps Or Websites. But Be Sure It Does Not Want the Password Of Your Account.