The latest Android devices are used to save a lot of sensitive data, including personal photos, payment apps, and many other personal items. So, setting up a screen lock on an Android phone is the best way to protect your personal, work, and financial details from unauthorized access. But there may be some points when you forget the lock screen password. During that time, you might need to reset your Android phone. If you are suffering from this tragedy then you know that it's very frustrating. And Now you are curious and looking for advice on How To Reset Android Phone When Locked, then this post will help you out.
Android operating system is one of the most powerful OS in the smartphone industry. The security feature of phone locking is helpful, but sometimes if you forget your lock screen password, can create a lot of problems for you. Fortunately, there are methods to reset the password when the device is locked, allowing you to set up a new password for your android device.
Is It Possible To Reset your Android Phone When Locked
Of course Yes, All Android phones can be reset when it is locked. This feature is important to assure that no one is locked out of their android phone permanently. A hard reset will also erase all data and locks from the phone. So it should not be done unless very necessary.
If you decide that you don't have any other better option, you can easily do this process yourself without any technical knowledge. You have to simply follow the methods given in this article.
How To Reset Android Phone When Locked
There are various methods to factory reset an Android phone if you've forgotten the lock screen password. In this article, we will discuss some of the methods one by one. Before resetting your android device make sure that you have created the backup because in this process everything will be deleted from the phone.
1. Perform a Manual Factory Reset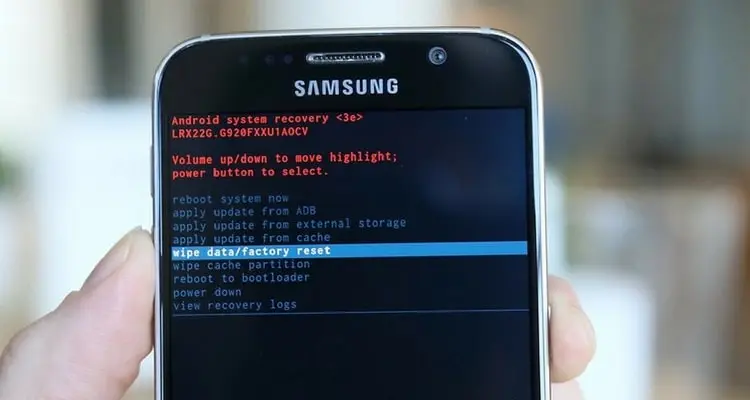 Android devices are created in a way that they can be factory reset without unlocking your device. The process is commonly known as a manual hard reset. It is the simplest and fastest way to get rid of the lock screen and the answer to the question of How To Reset an Android Phone When Locked.
The steps to factory reset Android phones vary with different Android brands. But general steps are the same on all Android devices. You can visit this article to get a detailed guide on How to Boot into Recovery mode on different android devices/brands.
After you entered recovery mode, simply follow the steps below.
Press and hold the volume up button and the power button on your phone at the same time. Wait until a recovery mode opens.
Now scroll through the various options using the volume buttons till you see "factory reset" or "Wipe all data" and then press the power button to select it.
Select Yes and allow a few minutes for the factory reset process to complete. Once finished, select Reboot system and the phone will reboot.
2. Reset your Android Device Using Google Find My Device
The second method you can try to reset a locked Android phone is to use Google Find My Device to erase and unlock the phone. Google Find My Device, is a built-in Google function created to ring your lost phone, lock it and wipe all data on it to protect your privacy. By signing into the find my device you can wipe a locked Android phone. However, you can only use this method when you have enabled the Find My Device feature on your Android phone before lock.
Let's see How To Reset Android Phone When Locked using Google Find My Device.
First, open android.com/find. in any web browser on your computer or android device, and then log in with your Google account currently that is active on your locked android phone.
Now select your device at the top of the screen and then click on the "ERASE DEVICE" option.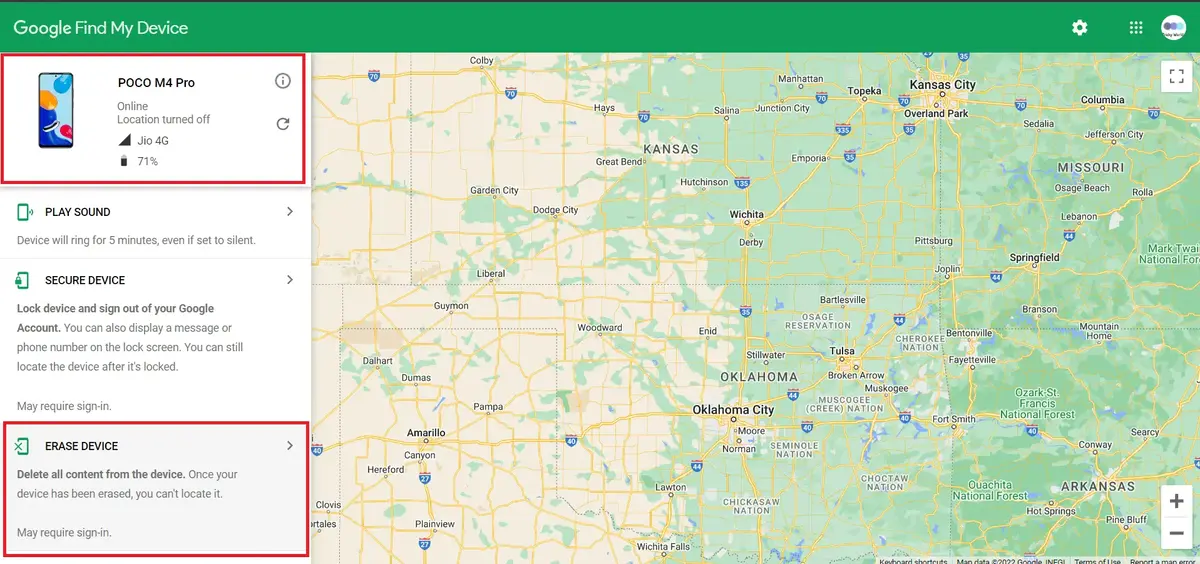 Then click on "ERASE DEVICE" again and sign in to the Google Account once again.
Now, wait for the erasing and resetting process to complete and your phone turns back on.
3. Reset a Locked Android Phone Using Google Account
The last method on How To Reset Android Phone When Locked only works for Android devices running 4.4 or below. With the inbuilt "Forgot Password" feature, you can reset a locked Android phone by using this feature.
To do so, the steps are as follows.
Enter the wrong password more than five times until you see the "Forgot pattern" at the bottom of the lock screen.
Click on forgot pattern option, Then the phone will ask for entering Google account login details.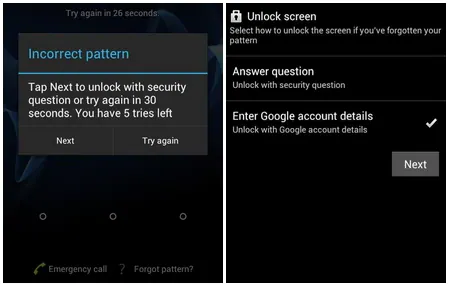 After you enter your google account email and password You'll get an option where you can create new screen lock passcode.
Confirm the passcode and your device unlock password will be changed.
Wrapping Up
Forgetting the lock screen password of the Android device is problematic. If you have forgotten your Android phone lock screen password, you can select one suitable method to reset your locked Android phone. The methods that I have given here will help you to answer your question – "How To Reset Android Phone When Locked?"
Also, if you face any problems using these methods, feel free to leave a comment below.
Also, Read Our Other Articles