Hello Tricky Worlds Readers!!!! I Hope You Are Good And Reading & Sharing Our Posts. So Today We Are Comeback With Another Latest Post In Which You Are Going To See How To Lock Drive in Windows 10. This Is Not A very Big Task. So, If You Want To Know How You Can Lock/Encrypt Drive in Windows 10 Then Must See This Full Article.
We all have Personal files and we'll want to keep hidden from the people but, Just locking your PC with a password isn't sufficient, as people can still find methods to bypass the lock screen and see your personal files. So to be safe from this some people are locking their drives with the password, but not everyone Knows How To Lock Drive in Windows 10.
Luckily, in Windows 10, you can keep those files in a secret drive that is password-protected, and you can do it without purchasing any additional software. So, here are some of the methods that you can use to Lock/encrypt Drive with Password in Windows 10.
How To Lock Drive In Windows 10 2 Easy Ways
Before Proceeding to the methods, we should know how many ways are we using to lock drive in this post. For this, we are using 2 easy ways to lock drive in windows 10. we will see How To Lock Drive in Windows 10 with Software and How To Lock Drive in Windows 10 using Bitlocker. So, Let's get started.
Using Software ( With Downloading Software )
Using Bitlocker ( Without Downloading Any Software )
1. Using Software ( Hidden Disk )
Hidden Disk is the best software that lets you easily create password-protected disks or drives that can be used to hide personal or private files or data. Although, password protection is optional and can be completely removed if you don't need it. Hidden Disk is additionally 100% compatible with all of your other installed software and programs. So, Let's See How To Lock Drive in Windows 10 with Software.
Features of Hidden Disk
Creates a personal hidden disk to store your secret files in a secure place.
100% compatible with the other program on your computer.
Great for shared computers.
It Has Optional Password Protection.
How To Use Hidden Disk Software
1. First Of All Download The "Hidden Disk" Software From Below Download Button.
2. After a successful installation, open it from the desktop icon. You will see an option of "Add Partition" at the bottom right corner. Click on that.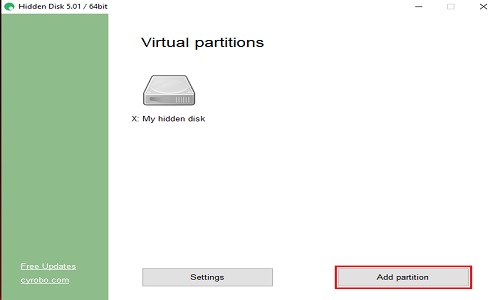 3. when you click on the "Add Partition" button, you will get a warning note that reminds you to not format or reinstall Windows otherwise all the files in the hidden disk will be lost. Click on the "I will remember" button.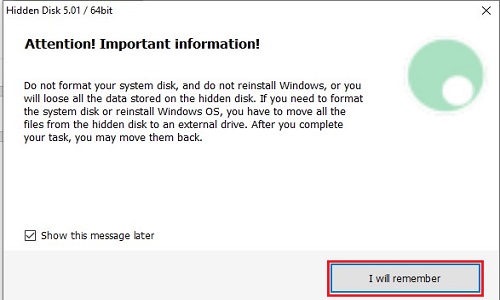 4. Now your hidden drive is created as a separate drive on the file explorer. Add the files and folders that you want to hide.

5. Once you are finished adding the files and folders to the hidden disk, Open the software double click on the disk and there you will see "set or change password" click on that and create your password.

6. After adding the password, Click On the " Close The Disk" option. and your hidden drive will be removed from file explorer.

7. whenever you want to open your hidden disk, just directly open the Hidden Disk software. Double click on the drive letter and click on the "Open The Disk" button. That will open your hidden disk and you get access to that hidden disk.
You are set. you've got a hidden drive that's also password protected.
2. Using Bitlocker ( Without Downloading Software )
BitLocker is an encryption feature built into computers running Windows 10 Pro—if you're running Windows 10 Home you'll not be ready to use BitLocker. It is created to protect data by implementing encryption for all volumes and drives.
When encrypted, other people cannot see your data even if the computer had been stolen or the hard disk was taken. In order to access an encrypted drive, users must log in to access the data.
Now Let's See How To Lock Drive in Windows 10 using Bitlocker. Follow my steps below.
1. To set up BitLocker Drive Encryption, open Start, and search BitLocker, then click Manage BitLocker.
2. Now, Select the drive that you want to encrypt, and click on "Turn on BitLocker"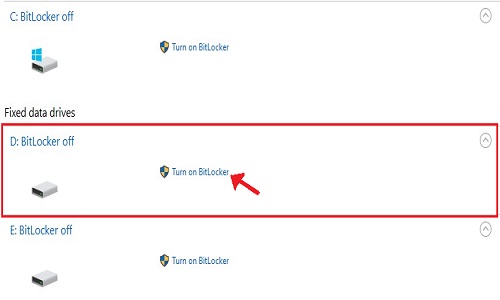 3. Now, tick the option "use a password to unlock the drive" and enter your password and click on next.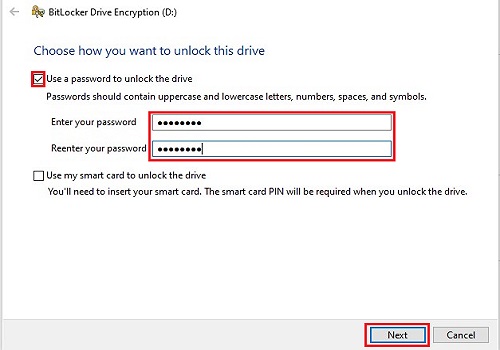 4. Then choose where you want to keep the recovery key in case you forget your password.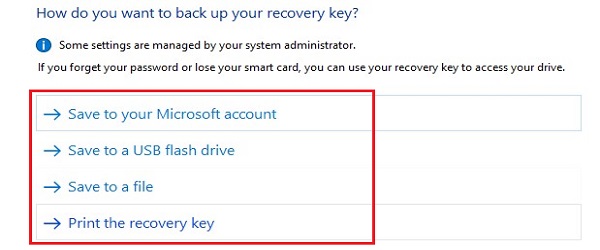 5. After That Choose whether you want to encrypt the entire drive or only the used space. Click on Next.

6. Now, Click On Start Encrypting. Windows will run on securing your drive. Once complete, only people with the password will be capable to access the drive.
How To Lock Drive In Windows 10 Conclusion:
So, These are the two easy ways How To Lock Drive In Windows 10 with which you can password-protect your drive and hide your data. However, these are not fake proof, These all are working and real proof. Make sure you use a different and unique password so it makes it difficult for someone to crack your password. But yes, these methods help a lot in supplementing additional security layers.
And yes, If you are happy with this article and help you a lot, then feel free to share with your friends and bookmark our site for future post updates.
---