If You Are Searching For The Solution For Play Store Download Pending? And Read Many Articles But Still Haven't Found Any Working Solution And Now, You Have Landed On This Article? Then This Article Is Very Helpful For You.
The Play Store Download Pending is one of the pending issues when installing new applications from the Google Play Store on your Android device. When the error occurs, it causes your phone not to download any new applications. Whatever you try to download remains pending without you doing it.
Pending or stuck downloads by Play Store users are some of the most common issues. There can be a lot of reasons behind this, But I am here to help you. In this Guide, I Have Provided the 7 common Solutions to fix the Play Store Download Pending error.
8 Ways To Resolve The Play Store Download Pending Error
1. Stop Auto-Updates and Pending Installations
The basic idea behind the error is that Google prioritizes background updates and installations for more recent downloads. Clearly, to allow downloads, earlier processes have to be shut down first. As soon as this is done, you can once again come back to install the app you want.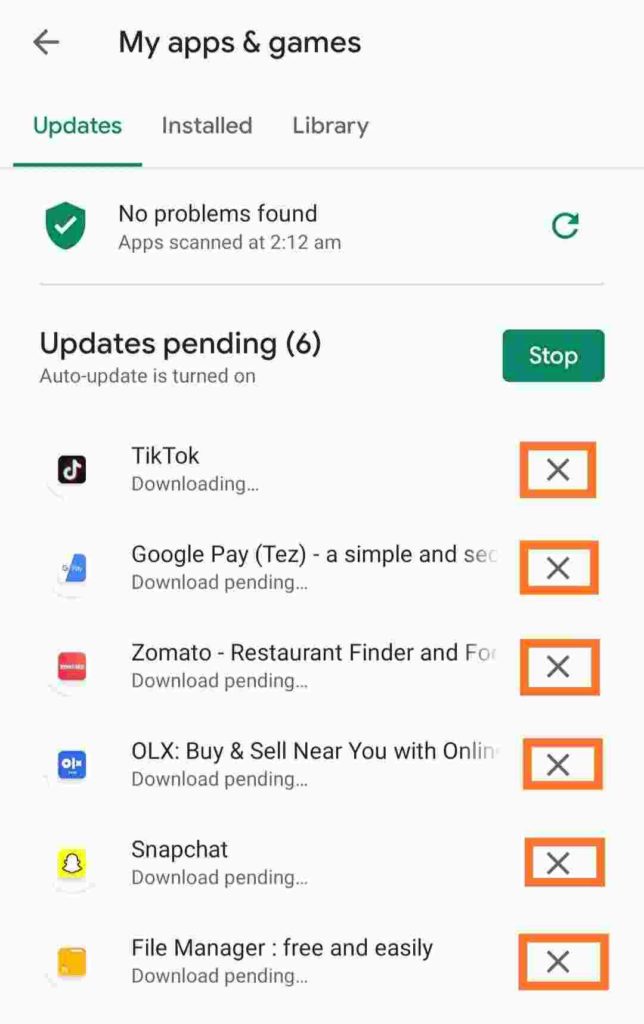 To avoid such issues in the future, go to the Play Store settings and either disable auto-updates or limit them to WiFi. To Stop The Auto Updates Just Follow All The Below Steps-
Go to Google Play > Menu > My apps & games.
You will see which applications are in the process of being updated or downloaded.
Just press the X next to them to cancel the download and proceed with getting the app you urgently need
To free up space on Android, it's always a good idea to disable auto-updates and manual updates.
2. Check your storage and SD card
If you do not have the minimum required storage space on your phone, the Play Store will stop all downloads. For starters, the minimum of 300 MB is free which Google Playstore has set for downloading applications from the platform. So, keep track of available space on your Android device.
Having insufficient storage can be the cause of the pending downloads issue in the Play Store. If you still want to make sure storage is not causing the download pending error, there are a couple of things you can do.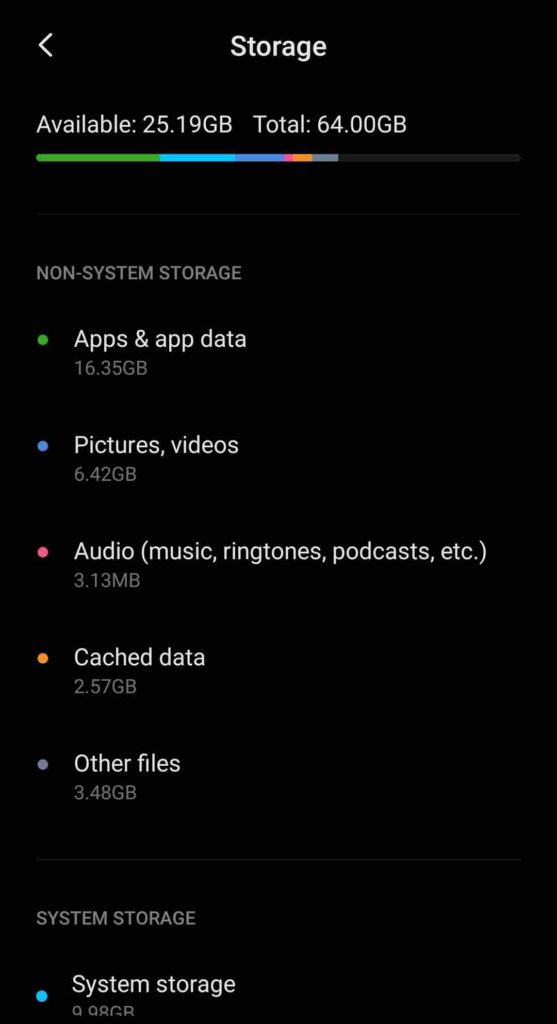 Check how much free storage you have manually by going to Settings> Storage.
Free up some space by uninstalling unused apps or removing old photos and videos that you have backed up elsewhere.
Try your download once again.
If it is still pending, your SD card may be at fault – it may not be posted or set properly. Cancel the download, eject the SD card, then carefully insert it and Download The App Again.
3. Clear cache/ Clear Play Store Data
Like other apps on your device, the Play Store app also stores its configuration and settings in temporary files on your device. Sometimes, these files may be why you have problems in the store.
However, you are looking at a confirmed solution, so be sure to try it out. Follow these instructions to clear the cache and data from the Google Play Store and downloads:
Open Settings.
Choose Apps and then Apps Manager or Manage apps.
Tap on the 3-dot menu and Check that System apps are shown as well.
Locate and Go To the Google Play Store.
Click On Clear Data And Clear cache and confirm when prompted.
Now, locate the Download Manager, or just Downloads.
Clear Data from it as well.
Reboot your device and check for improvements.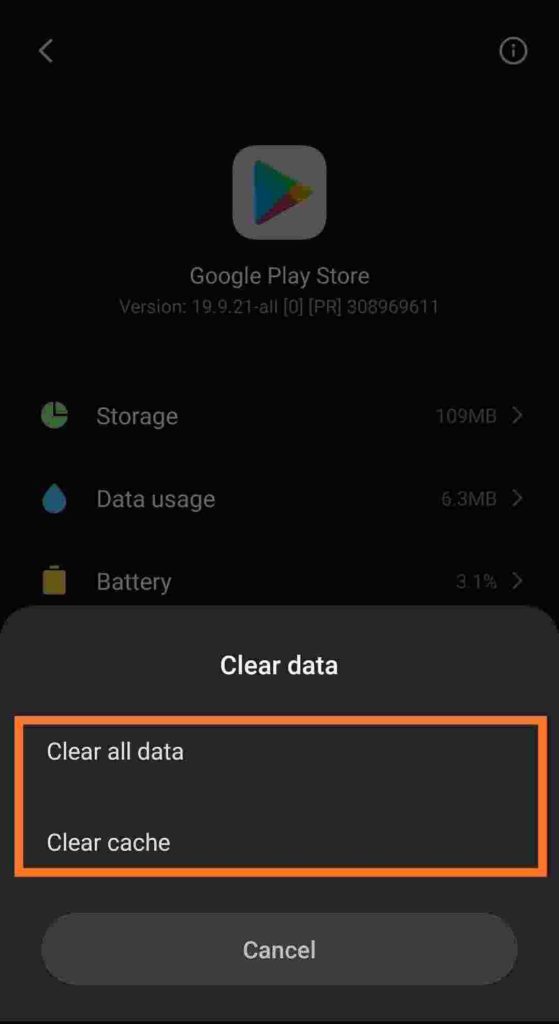 So, if you are facing a pending download issue even after trying all possible workarounds, it is advisable to clear the cache and data for the download manager, Google Play Services, and Google Services Framework. Finally, you should restart your device. Once your smartphone or tablet reboots, the download should no longer be pending.
4. Uninstall Play Store Updates
If the Play Store download pending issue has been revealed after the recent Play Store update, the update may be the culprit here. Fortunately, your device allows you to reverse these updates and this should fix the problem for you. That way, the play store will reset and, once the Google Play Store gets updated again, you shouldn't have Download pending issues anymore.
Here's how to uninstall Play Store updates on Android:
Open your device, open the Settings app, tap on Apps and notifications, and choose the Google Play Store app.
Tap the three dots on the top-right corner of your screen and uninstall updates.
A prompt will appear on your screen. Tap on OK to continue.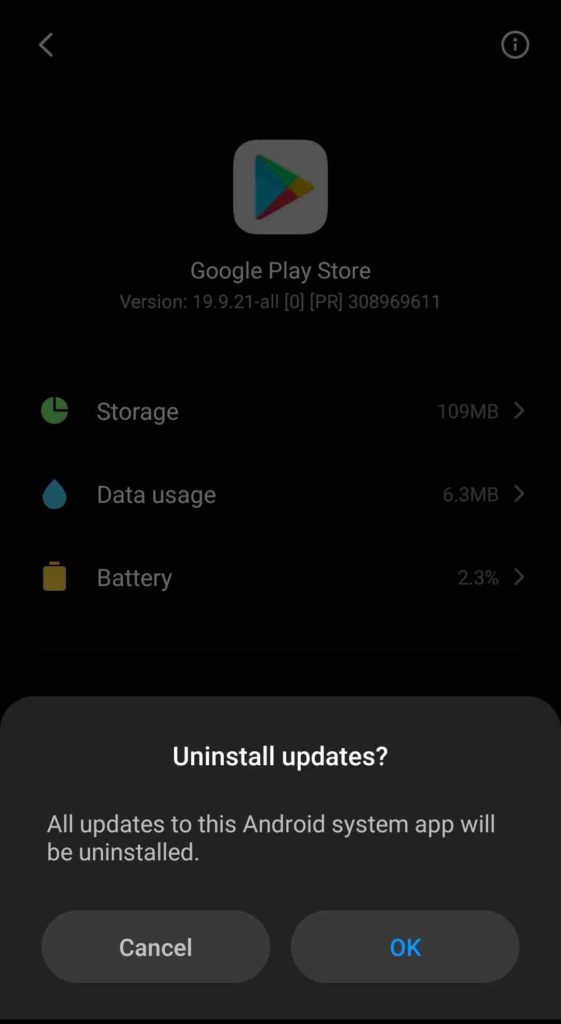 After That open Google Play and retry your download. Don't worry too much about Downgrading your Play Store though! The application will automatically update itself to the latest available version. If for some reason you need to manually update or install it.
5. Reset Your App Preferences
When you install an application that can open particular file types, your device lets you set it as the default app for that typical file format. While this has nothing to do with the issue of your pending download directly, it is worth prioritizing this app to see if it helps solve the problem.
You can always set an app as a default opening tool for your files even when preferences are reset. To-Do This Just Follow All My Below Steps-
Launch Settings on your phone.
Tap on Apps & notifications Or Manage Apps
Click On Three Dot And Select reset App preferences.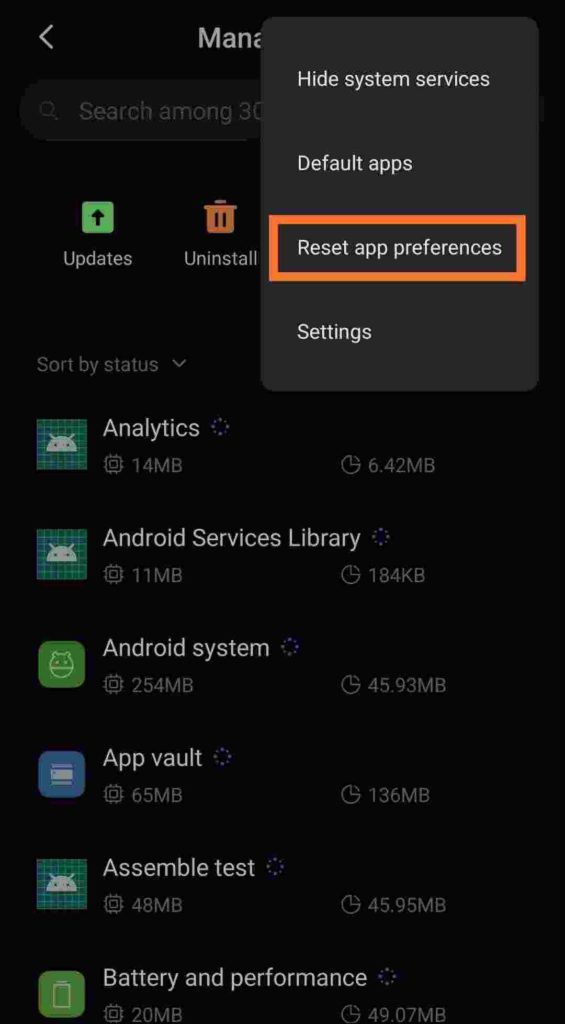 Once Again restart Your Android Devices And Download The App Again, I Hope This time Works.
6. Change Your Google Account
One of the other ways that can help you avoid a download pending error is deleting or changing the Google account associated with the Play Store. Follow My Below Steps To Do This
Go to Settings and scroll down until you can find accounts and sync. tap it.
Find your Google Account on the list.
Tap it and select Remove account.
Restart your device.
Once it is backed up, go to Accounts and sync, and scroll down.
You should see the Add an account option. Tap it and re-add your old account or add a new one.
Retype your download
7. Check Your Internet Connection
This should always be the best action you take, as the issue may not be with the Play Store. It is always a good idea to ensure you are connected to the Internet and the internet is working. If you're using Wi-Fi, try opening the website and see if it loads. You can also check your internet speed here. If nothing is working or loading, you probably have an internet connection problem. Try restarting your mobile data and router. After that try again.
8. Restart Your Device
If you are unable to download anything from the play store and your connection is fine, but your download is still showing pending, you should try restarting your device. It might be another simple step, but it's surprisingly useful. Just press the Power button, then tap Restart.
Wrapping Up
When the Play Store Download pending message lingers longer than it should, it usually goes away with some basic fixes. So it was all about the things you can do to fix the problem pending download in the Google Play Store. By the way, what method worked for you? Let us know in the comments below. Also, feel free to reach us in case of any doubts or questions.
People Asked Questions
1. How do I fix pending downloads on Google Play?
Ans- just read My Above Post And Follow All My steps.
2. What does it mean by download pending?
Ans- The basic idea behind the download pending error is that Google prioritizes background updates and installations for more recent downloads. Clearly, to allow downloads, earlier processes have to be shut down first. As soon as this is complete, you can once again come back to install the app you want.
3. What happens if I clear data on the Google Play store?
Ans– The data used by Play Services is mostly cached data for these APIs, which are duplicate data from your phone and Android Wear applications synced with some sort of search index. If you delete this data, then chances are that Google Play Services will recreate it. But you will not delete any of your personal data by deleting Play Services data