Are You Suffering From Slow Internet Speed And Have Tried Many Things To Increase Your Internet Speed But None Of Them Work? Then This Article is For You. In This Article, You Are Going To See How You Can Actually Increase Your Internet Speed.
Nowadays, Many Users Were getting a Slow Internet Speed problem And You Know That The Internet Is The very Necessary Thing For us. All sorts of work and activities can be done with the help of the Internet as the connection has succeeded in bringing the different corners of the world together.
Speeding up the internet isn't easy, as when you're suffering from a slow connection, lots of things could be the culprit. In this article, I'll show you many ways to Increase Your Internet Speed.
What Is Internet Speed?
Internet speeds refer to the speed that which the data travel or goes (WWW) it means the world wide web to your home or to your computer, tablet, or smartphone. And high-speed Internet connection is known as a broadband high connection.
Instead, internet speed is your located bandwidth. What is bandwidth? it is the amount of data that will be sent to you like 10MB the downloading you will have (10MB per second). It means per second you can download 10MB.
How to test your current internet speed
The Internet speed test will show you the connection speed between you and the connected server to test your internet speed. It will find the average of the fastest download/Upload burst rates during your internet speed test from your location to the location of the test server within your web browser itself. Your test results may vary at different times of the day due to network congestion, the web browser you choose, etc.
There Are Many Apps Available On Playstore To Check Your Internet Speed. These Apps Will Show Your Current Downloading And uploading Internet Speed. Just Download One Of The App And Check Your Internet Speed. But I Personally Recommend You Do Download Speedtest by Ookla. This Is The Best And most genuine App Available On Playstore.
Problems You Are Facing With The Slow Internet Speed.
Slow downloading speeds
websites loading super slowly (or not at all)
lagging online games
videos that won't stop buffering
Ping High Problems
Problems In Chatting On Whatsapp, Facebook, etc
Social Media Apps Opening Very Late
And Much More
How To Increase Internet Speed With This In-Depth-Guide
Some of these tips might not necessarily 'increase' your internet speed. However, it would help you browse the web quicker and more efficiently. So without much further do, let's check out these tips to speed up your internet on Android.
1. Using Apn' Settings
There are different APN Settings that you can configure to increase your Internet Speed. Many Users Do Not Know How Apn Setting Works. I will share this method and hope that it helps you.
To use this method, you will have to first find the APN Settings on your mobile. Normally, the path for APN Settings will be SETTINGS > SIM CARDS & MOBILE NETWORKS > (Your SIM) > ACCESS POINT NAMES.
You already have one saved APN Settings on which your phone is now running. You have to create a new APN and apply it on your phone to check if the speed is increasing. To Create A New Apn Follow These Steps.
1. Click on the "New APN" option to create New APN Settings.
2. Now You Have To Fill up The Required Details In Below Given Fields. Just See The Below Settings And Apply them on Your Device.
Name:- Ninja XT14
Apn:- JioNet
Proxy:- Default
Port:- Default
UserName:- ninja4gspeed
Password:- Default
Server:- www.Jio.com
MMSC:- Default
MMS Proxy:- Default
MMs Port:- Default
MCC:- Do Not Change The Code it Is Your Area Network Code
MNC:- Do Not Change The Code it Is Your Area Network Code
Authentication Type:- Default
APN Type:- Default
In APN Protocol:- IPv4/Ipv6
APN Roaming Protocol:- IPv4/IPv6
Bearer:- LTE
MVNO Type:- Default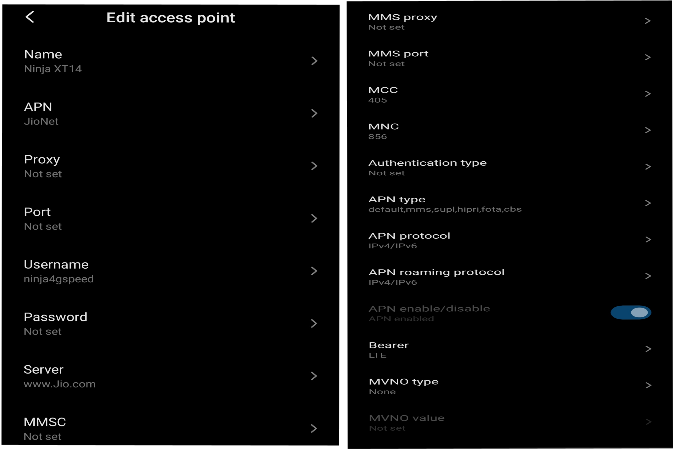 3. Save the APN with the above settings And Select this APN setting for your mobile phone.
4. After Selecting The APN Restart Your Android Device And Check Your Speed. I Hope This Will Work For You.
2. Clearing the Cache Of Your Android Device
If you are experiencing slow internet speed on your phone and do not know how to speed up the internet of your phone, then you should initially check the cache on your smartphone. Many times, after accessing various websites and downloading different apps on the phone. the internet speed in the smartphone slows due to the filling of cache memory on the mobile phone.
Therefore, users should clean the cache memory of their mobile phones to boost mobile internet speed. To Clear, Cache Just Go To Settings> Storage > cache data Click On cache data And Click Ok.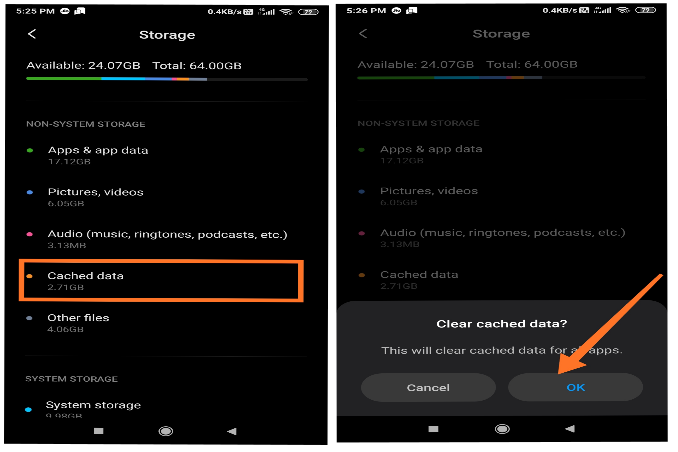 It Will Remove The Cache Data Of Your Android Device And helps You To Improve Your Internet Speed.
3. Uninstall The UnNecessary And Unused Apps
While this might not be linked to internet speed directly, chances are that a few rouge apps might be using up your bandwidth in the background. Some apps constantly run in the background and utilize the internet. This, in turn, might be the reason why your internet might seem slow. If you do not know how to speed up mobile data, then you must look into the app list of your mobile phone and should analyze which apps are essential for you and which are not.
The presence of several useless and unwanted apps in the smartphone tends to lower the performance of the mobile phone in terms of speed and Internet connection. Therefore, to speed up mobile data, users can delete or uninstall all unnecessary apps from their mobile phones.
After this, you can refresh your smartphone by clearing the excess cache memory. This process will ensure better internet connection in terms of mobile data and enhance internet speed in the smartphone.
Just Go To Settings > Apps > Select Unused Apps > Click On Uninstall
4. Using Third-party App: NetOptimizer
Net Optimizer promises to enhance your internet browsing experience by automatically Selecting The Best DNS Server. It optimizes commands to get the most out of your ISP's internet speed. By optimizing your device's DNS records, you can find the fastest routes for your data packets to take when traveling the Internet. It won't boost your download/upload speed, but in some cases, it can result in quite a noticeable improvement in web browsing time.
Features Of this app
Find & Connect the fastest DNS server based on your location & network.
Improve web surfing speed with a faster response time.
Fix lag and reduce latency (ping time) on online games for a better gaming experience.
Now Let's See How To Use This App And How To Increase Internet Speed.
1. Download The Net Optimizer App From The Below Given link.
2. After Installing The App Click On The Activate button And it Will Automatically Choose The Best DNS Server For You.
3. But If You Want To manually Select The DNS Server Then Just Click On the "Finger Icon" Above And Click On Scan DNS. After That Select The fastest DNS Server You Want And it Will Load That DNS Server For You.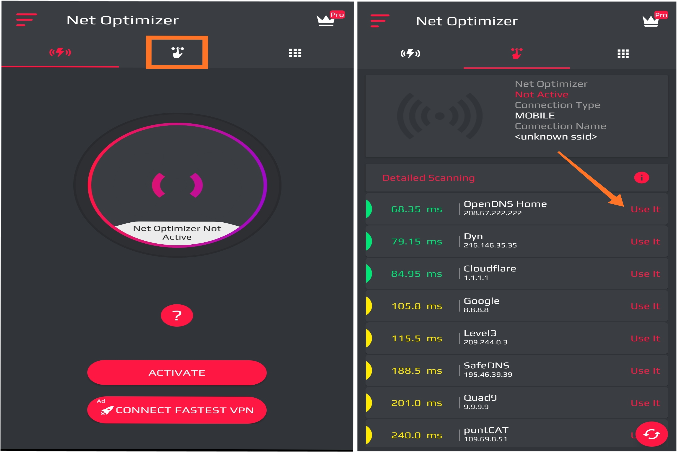 4. Finally, You Will See Some Increase In Your Internet Speed. Its Main Use Is To Help You To Fix Your Ping Problem In Online games Like Pubg Mobile, call-off Duty Etc.
5. ISP Internet Plan
This is probably the most obvious of all the ways to increase your Internet speed. If you have subscribed for a slower net connection, you will get a slower net connection! So, if you are not happy with your net speed, check with your ISP and find out if they have better plans. Of course, plans with higher Internet speeds will cost more. So, you should select a plan that offers you the best reliability and speed at an affordable cost.
Most service providers place a data cap on your data plan. This means that your Internet speed will slow down after you exceed a specified limit of the data you consume. Usually, your ISP will not disconnect you completely, but they will reduce the speed. Therefore, contact your service provider. The allowance for the remaining billing period reduces the speed of the punishment. See if you are punished.
How To Increase Internet Speed Some Extra Tips
Install IDM (Internet Download Manager) or any other free download manager. It's a great software that can easily increase download speed.
Prevent unwanted programs from using internet bandwidth.
Block ads from web pages by installing Some BlockAds pp From the play store
Browse top software downloading websites for the best downloading speed
Take help from ISP. It can be a technical problem on ISP's end.
Conclusion
How To Increase Internet Speed Here I Have Provided the Best methods to Increase Your Internet Speed. Most of the common & available solution has been provided in the above list. That's all for how to increase internet speed on Android phones and tablets. If you have other good tips, you are appreciated to leave a comment below.
People Asked Questions
1. What is a good internet speed?
Ans:- A good internet speed is at or above 25 Mbps. These speeds will support most online activities, such as HD streaming, online gaming, web browsing, and downloading music. How To Increase Internet Speed
2. What is a good download speed?
Ans:- 4-6 Mbps: Will provide a good Web surfing experience. Often fast enough to stream a 720p high-definition video, and it's possible to download some videos within about 20 minutes at this speed. But 4 Mbps can still be sluggish. 6-10 Mbps: Usually an excellent Web surfing experience.
3. How do I improve my ping?
Ans:- Just Follow All my Above Steps And Your Ping Will Automatically Will Be Improved
Also, Read Our Other Articles