Looking for how to search mobile number details without using the app on Truecaller online? If yes, Then you're in the right article. In this guide, we'll go through the process of using Truecaller online to search for mobile number details without the app.
Truecaller is an application that provides caller information like name, email ID, address, etc. It has been developed to help users identify incoming calls from unknown numbers and prevent unwanted calls, spam, and fraud. But to use all these features you have to install the application and login to the app.
But some people don't want to install applications due to some reasons like low storage, privacy, etc. and they want to get caller information without downloading the app. Luckily there is a way to do this.
Truecaller has introduced a new feature called "Trucaller Online". In Truecaller Online you can search mobile number details without installing any application. By using this, you will get all the mobile number details in one click.
Steps to Search Mobile Numbers in Truecaller Online Without Using The App:
Step 1. First of all, go to the True Caller official website from the below button.
Step 2. Now enter the mobile number you want to know the details. If the mobile number is not from your country, select the country code from the drop-down list and then enter the mobile number.

Step 3. After entering the number, click the "search" icon.
Step 4. Now, it will ask you to sign in, and it will show you two options, Google+ and Microsoft account. Sign in with any option you like.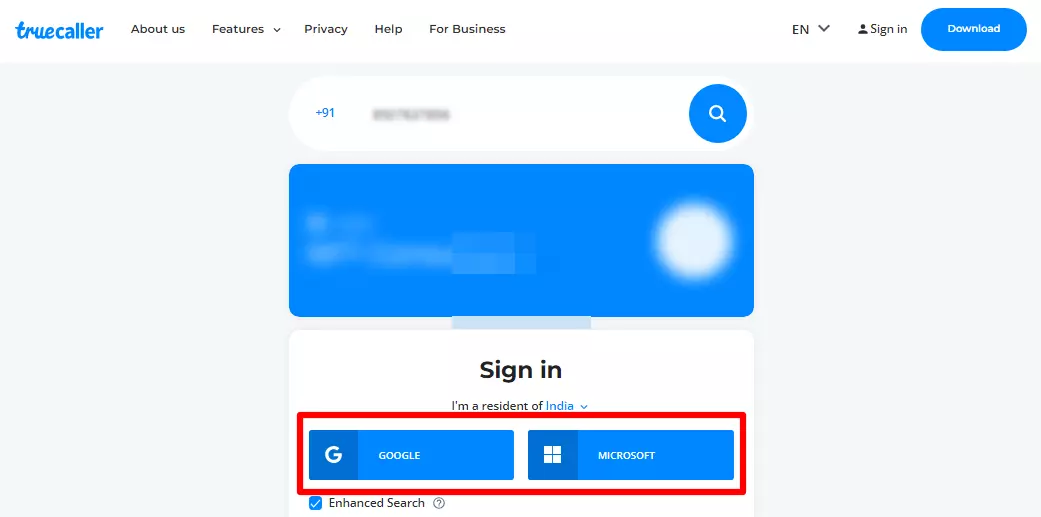 Step 5. After sign-in, Truecaller will check for the details in its database and show you all the number details for the given mobile number.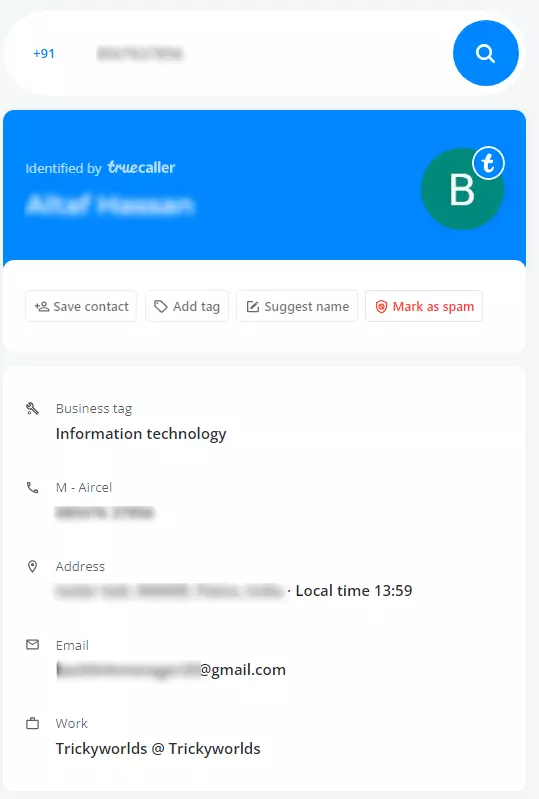 That's it, you are done, you have successfully found all the details of Truecaller online. This was the simple and easiest step-by-step guide to finding phone number details in the truecaller online search number without login.
FAQs
1. Can we search for anyone's number on Truecaller?
Yes, you can search for anyone's number details in Truecaller online.
2. What are the advantages & disadvantages of using True Caller online?
Advantages:
You do not need to install any application on your device.
It will also save your device storage.
The information will be as accurate as you'll find in the app.
Details like name, email ID, and address are available.
Disadvantages:
The only disadvantage of using true caller online is that it does not provide exact location, and is limited to city or state.
3. Can I Remove My Number from Truecaller?
Yes, Truecaller provides a useful feature that allows you to remove your number from its database. This assures that your information is not visible to other users. Also, if you want to change your name on Truecaller, you should definitely check out that article.
Conclusion
So, after you are done reading this article I assume that you have learned using Truecaller online to search for mobile number details without the app. The Truecaller website is not as popular as the Truecaller application, but it is easy and reliable to find caller information.
I hope you like the article. Feel free to comment on your reviews in the comment box. I will be very happy to read all your comments.
Suggested Articles