Facebook is an online social networking site that lets users create their personal profiles, share photos and videos, and communicate with other users, users also get to like and comment on a post from friends. Many Users Have Created the Page on Facebook And Now they Want To Change The Name Of Their Page.
But They Don't Know How To Do That. So, In This Post, you are going to learn How You Can Change Your Facebook Page Name With Your Android/Ios Device and Pc/Laptop.
You can change the names of the pages but remember that there are some conditions to do so. To rename a Facebook page, there should be no restriction on your page.
Why did You Want To Change your Facebook Page Name?
To rebrand your Facebook page, you need to change your Facebook page to inform your followers. Therefore, sometimes you want to improve your marketing you need to make changes and that may include page name changes. While rebranding is the main reason why you want to rename Facebook pages, there may be other reasons.
However, it may be the case that the name of your Facebook page is incorrect and you want to correct it. You want to add or remove information about the page name.
How To Change Facebook Page Name
In the past Changing The Facebook Page Name was somehow difficult but in 2023 this method is very easy and simple. For now, you need to know that if your page has 200 or more likes, you will have to administer the page to submit a request for a Facebook page name change.
If you have less than 200 likes, you may be able to change it without the need to be an administrator. So, let's go to the main point How To Change Facebook Page Name In 2023
Points to be noted
Changing a name is quite easy. So one should intimate the thing to the audience through posting or something.
You must be an admin of that page in order to do the changes.
Make sure about your new name.
Requesting a new name for the page is always better than creating a new one if you are up for Facebook page guidelines.
It's not simple as typing a new name in the box, Facebook checks the necessary of your request and then it approves it(If you have more than 200 Likes on the page)
How To Change Facebook Page Name On Android Or Ios
1. First Login Your Account In Facebook App And Go To Your Page. On your page, find the Setting Icon On The Top Right Corner.
2. After Clicking On The Icon You Will See A Setting List. Click On "Page info"
3. In The Page Info Menu You Will See The Page Name Click On That And Change The Name What You Want To Change.
4. Now Click on Save And Your Facebook Page name Has Successfully Changed.
Note:- You'll need to be an admin to request a change to your Page's name
How To Change Facebook Page Name On Pc Or Laptop
Before changing your Facebook page name, make sure you are logged into your page and have admin privileges.
1. First Of All, Go To Your Facebook Page And Click On The About Section on The Bottom Left Side.
2. In the General Section, edit the name of the page.
3. Click the Edit option and a window will pop up where you can type the new name. This window also includes guidance on the Do and Don'ts of creating a page name.
4. When you have selected a new name, click the Continue option at the bottom of the page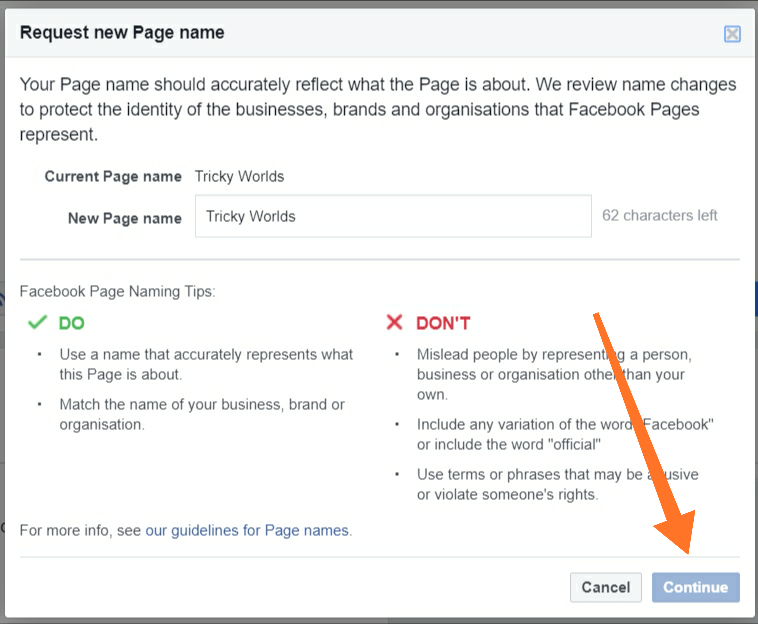 5. After Clicking On The Continue Option A New Page Will Open Click On the Request Change option And Your Has Finally Changed.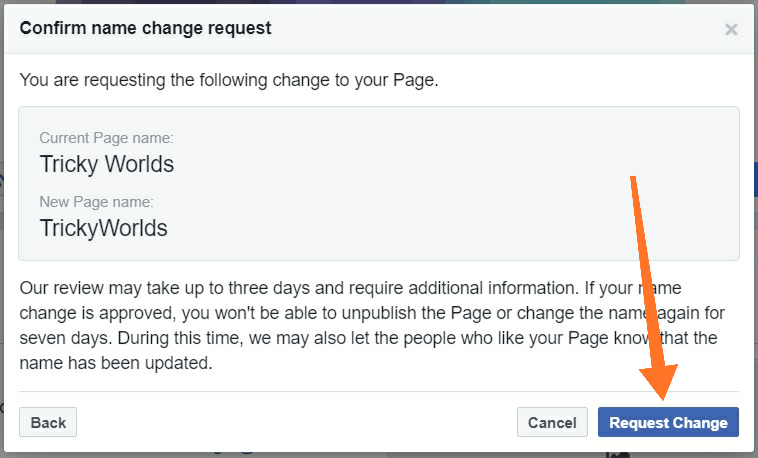 Some Tips For Changing Facebook Page Name
The name of your page should reflect what your business page is about. Choose a name that reflects smartphone accessories if you are focused on a single niche such as iPhone accessories. Be specific as Facebook tends to disable updates from pages that are too generic.
Choose a name that matches your branding.
Keep it simple and short but also markets to your target consumers.
Never include the words "Facebook" or "official" in the name of your page.
Never use words that are abusive, biased, discriminatory, violating, or contain "hate speeches".
Avoid a name that is misleading and may appear too "spammy".
Do not use improper capitalization. A page name should not have all capitalized letters except for acronyms.
How often can I change my Facebook page name?
Usually, Facebook allows admins to change their page names once a week. This means that if you've misspelled the new name or changed your mind about it, you won't be able to change it again for another seven days. Mind you, Facebook may start seeing your page as spammy if you rename it too often. Therefore, think about the right name for the content you're posting, and once you're sure about it make the change.
Conclusion:
So, That's For Now. I Think You have to Learn All The Things which Are Required To Change your Facebook Page Name With Android, ios, Or Pc. If You Have Any Problem Regarding Anything Then Feel Free To Comment Down Or You Can Also Contact Us From The Contact Us Page.
Frequently Asked Questions
1. How many times can I change my Facebook name?
Ans. Like I said earlier, Facebook's review may take up to 3 days and require further information. If your name change is approved, you won't be able to change the name again for 7 days.
2. Will my page followers receive information about the name change?
Ans. I can't really say, but according to Facebook, they may also let the people who like your Page know the name has been updated.
3. I mistakenly used the wrong Facebook Page name, How do I revert this?
Ans. You can make changes immediately, You would have to wait for a certain period before you can change your Facebook Page name.
4. Why can't I change my Facebook page name?
You don't have a Page role that allows you to change your Page's name.
You or another admin recently changed your Page's name
There may be limits on your Page
You can't change the name of a regional Page if it falls under a global Page
Also, Read Our Other Articles