Are You Searching For Methods For How to hack wifi password on Android 100% working? on The Internet And Haven't Found Any Working Methods. Now, You Have Landed On This Article? Then This Article Is Very Helpful For You.
Today in this article I will tell you all the methods to hack wifi passwords. Many people are asking How to hack the wifi password on Android 100% working and whether it is possible or not. The honest answer is "yes". You can hack Wi-Fi passwords on Android devices by using some tools and knowledge.
If you have a very strong WiFi signal near your home, college, cafe, and other places and its speed is also good, and you don't remember its password. So do not take the pressure, In today's post, You should understand from this article how you can hack wifi passwords from your PC and Android phone.
How To Hack Wi-Fi Password On Android 100% working
Disclaimer: Please I And Our Team won't be held responsible for any illegal activity. These WiFi hacking tricks are used for, It's just for knowledge and education purposes, just use this for educational purposes.
Before proceeding to the main article I would like to share some necessary wifi information with you guys. If you already know, then you can leave this part.
Types of Wi-Fi password protection?
1. WEP (Wired Equivalent Privacy)
The most famous in the world and still usually uses Wi-Fi security. But also the most insecure. You can easily hack such as Wi-Fi Security.
2. WPA (Wi-Fi Protected Access)
WPA is an updated version of WEP security. It was launched in 2003. But an American hacker found some unusual security defects in the WPA network keys. Which will also make it easier to hack.
3. WPS (Wi-Fi Protected Setup)
Last but not least, it is the only Wi-Fi access that is not easy to hack. Yes, In some cases, people could do this but this needed advanced hacking skills. So if someone uses WPA 2PSK security then it can be a little difficult to hack.
Method 1:

Windows Commands to Get the Password
This method only works to recover Wi-Fi network passwords only if you have previously connected to Wi-Fi. In other words, it only works if you have forgotten the password you used earlier. To use the command follow the below steps.
First, open Command Prompt With administrative privileges.
Now type this command "netsh wlan show profile"
This will bring up an option called User Profiles – they are all Wi-Fi networks that you have connected and saved. Select the one you want to receive the password.
Now, type this command "netsh wlan show profile name="XXXXXXXX" key=clear" (Replace The XXXX with the network name).
Then new data comes in, look under security settings for the contents of the line. The word presented is the Wi-Fi password/key you are missing.
Method 2: Using Revere App
Here I go with our second method of wifi password hacking with Android.
1. First of all, if your Android phone is not rooted, try to root it.
2. Then download and install Bcmon, this is important as it helps in monitoring mode on your Broadcom chipset which helps in pin cracking.
3. After installation, run the application and tap on the "Monitor Mode" option.
4. Download and install the Revere app that helps crack the WPS Pinto that retrieves the WPA2 passphrase.
5. After installing the Reaver app, launch it and perform an on-screen confirmation, which confirms that you are not using it for an illegal purpose, then tap on the APN or access point you want to crack. Most of the time, you may need to verify "monitor mode" to proceed, and this will open BCmon again.
6. Verify your settings and also make sure that you have checked the Automatic Advanced Settings box.
7. Finally, start the cracking process by tapping attack, in this last step, it can take 2-10 hours for WPS cracking to succeed.
Method 3: Using WPS WPA TESTER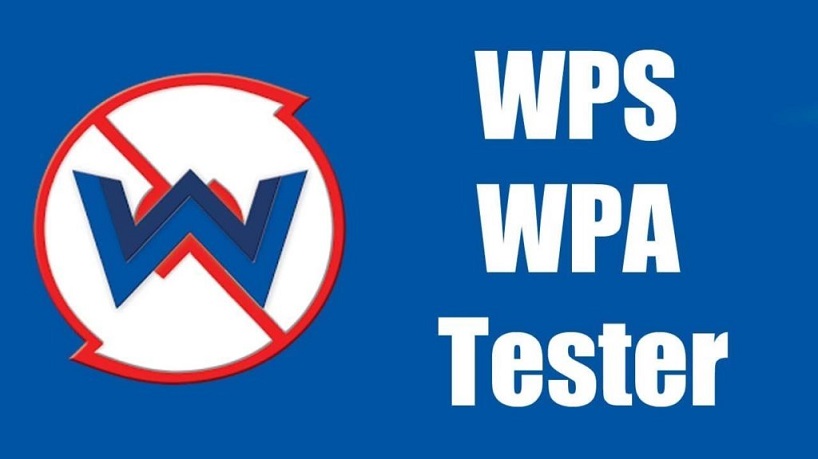 The WPS application hacks the WPS router with only limited features. But it is an advanced app to Hack Wifi From Android mobile without rooting. You can check the wireless security of your router with this Android app.
This wifi hacking tool works in both Rooted And Non-Rooted Android phones. So you can easily crack the wifi password from your Android phone without rooting your Android phone with this app.
Method 4: Hack Wifi On Android Using AndroDumper App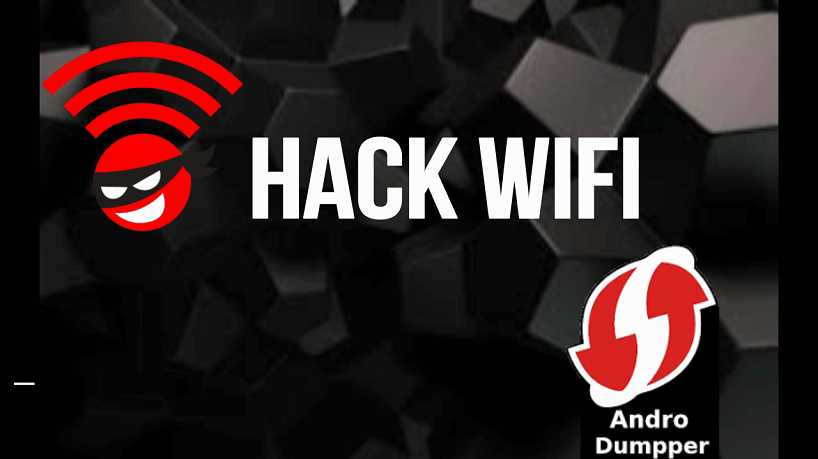 By the way, here is another WiFi hacking app without rooting Android. Andro Dumper App is the best Android application that helps you to Hack Wi-Fi on Android on non-rooted Android devices. Just follow the steps given below to hack wifi password:
1. First of all, You have to download and install the AndroDumper App.
2. After successful installation, open that app on your Android device.
3. Now press the refresh button at the top of the screen in the app.
4. Select the try to connect option from the pop-up and this app finds the wifi password in a few seconds.
Okay, you can try this app, if the above apps are not working properly. Then You Should Try To hack Very Low-Security Wifi.
Method 5:  Hack Wi-Fi Using Routersploit In Termux ( Latest Method )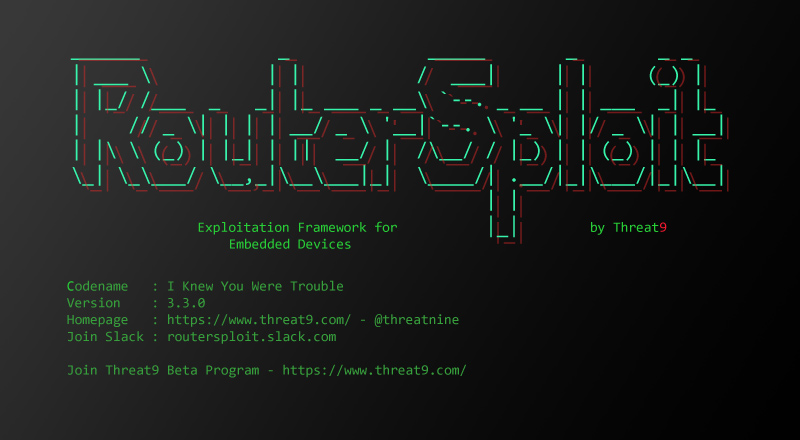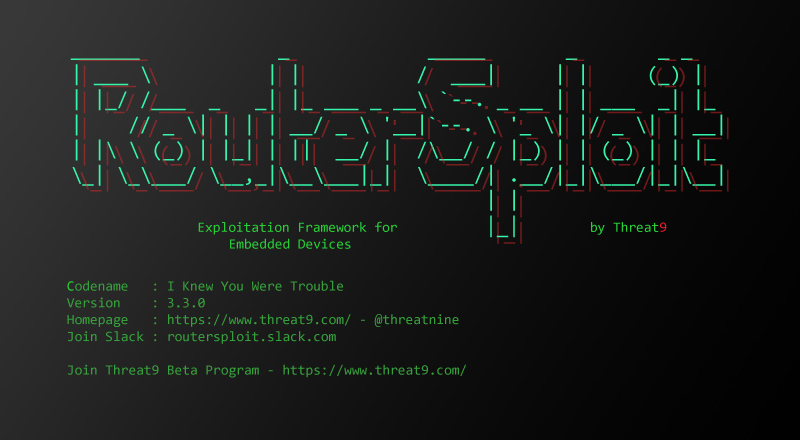 Install Routersploit In Termux
1. Open Termux and type this command
apt update && apt upgrade
2. Now type this command
pkg install python
3. Now Type
pkg install git
4. After That Type this command
git clone https://www.github.com/threat9/routersploit
5. Now Copy Or Type this command
cd routersploit
6. Then type
python3 -m pip install -r requirements.txt
7. Now type or Copy This
python3 rsf.py
That's it. Now Follow Our Below Steps.
How To Use Routersploit In Termux
Step 1. Install Or Clone The Repository:
1. So at first, you have to clone the repository from Github, by typing the following command :
2. Open your Termux App and type It Will Run The Router Sploit
sudo python3 rsf.py
Step 2:
1. So the module you will be using is auto spawn so you can just type
Use scanners/autospawn
and this should put us into the auto-spawn module now you might notice this is somewhat like Metasploit and it works kind of the same way
2. I Am using a scanner module to find vulnerabilities in the router. Now if you are a beginner you can assume one of the most common IP addresses is 192.168.1.0, You can go ahead and try that.. now, in this case, there should be a router there, so you can type :
show options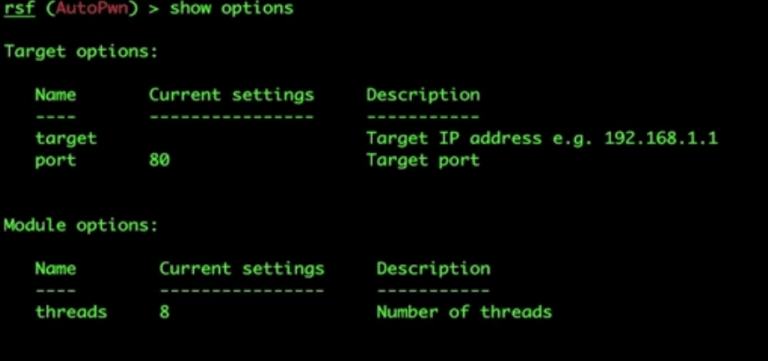 3. So you can see here it is waiting for a target IP address, Now you can go ahead and type :
set target 192.168.1.0

and it will run all the known exploits against the target and see if it is vulnerable to any of them, and if A green sign will appear on the left side of the exploits If there are not any vulnerabilities that means that at least according to what routers
4. Now you can also take router sploit to the next level by using something like Nmap
5. After that, you need to change the target and the port number
set target 192.168.1.1
set port 81
6. You can also run a Nmap scan to scan your network and pass the IP address and the open ports to the router sploit. So now you can hit the run
run
7. Now you just found a vulnerability, and you can use the exploit
8. Now you just have to type:
use exploits/routers/Linksys/eseries_themoon_rce
9. You can check whether the target is vulnerable or not, just by typing the check command

10. You can see here that, the target is vulnerable, to exploit it You just have to run, type
run

11. Now You can see what kind of payloads are available by typing
show payloads


12. Now You can use any payload You want to use,
So that's how a router can be exploited…But in your case, the exploit may be different, So go ahead and try once on your network.
Method 6: Hacking Wi-Fi password in Android using the Wi-Fi WPS Connect app
Using the Wi-Fi WPS Connect app you can hack Wi-Fi passwords on Android. The app runs on both rooted and non-rooted (Lollipop and above) phones. However, it is preferred for rooted devices essentially because of the database data.
If you've got a Wi-Fi network with WPS security on your Android device, you can easily connect to it without entering a password. The WPS Connect app bypasses WPS Wi-Fi security and connects to Wi-Fi without entering a password.
Download and install the Wi-Fi WPS Connect app on your Android device.
Enable the Wi-Fi settings of your phone.
Open the WPS Connect app and click on the scan button to scan all nearby Wi-Fi networks.
It takes a few sec to show all nearby Wi-Fi networks, including their details (such as password security types, signal strength, etc.).
Choose a Wi-Fi network and click on it if you wish to hack. A pop-up screen appears with a pre-defined list of keys (PIN).
Tap on the key to start your hacking process.
The app attempts many times to hack Wi-Fi with default keys and the most generally used Wi-Fi keys.
Wait for a few minutes, and the Wi-Fi password will be hacked successfully.
How to Secure Wi-Fi Networks?
Here's a list of some suggestions that will make your Wifi network secure and better:
Change the default passwords that come with the router.
Grant access to some registered and chosen devices.
Limit the number of devices that can connect at the same time.
Use a mixture of numbers, alphabets, and special characters in your password to protect it from any kind of attack.
Using a Firewall can defend your network from any kind of unofficial attacks.
How To Hack Wifi Password Final Words.
So, After Reading The Article You May Have Now understood How To Hack a Wifi Password By Using The Above Methods. All The methods Which Are Discussed Above Are Working And tested by Many Users. All The Methods Are Easy To Use If You Follow All The Mentioned Steps Properly.
If You Have Any Problem Regarding Any method Feel Free To Comment Here And I Will Try To Solve Your Problem As Soon As Possible.
FAQs:
1. Is it possible to hack WiFi?

Yes, If you want to hack a WiFi password with your Android device without rooting your device. you can simply download Wps Wpa Tester from the play store
2. Is it possible to hack WPA2 WiFi?

It's the only really effective way to restrict access to your home Wi-Fi network. But WPA2 encryption can be cracked, too — here's how. As usual, this isn't a guide to cracking someone's WPA2 encryption. … It works even if you're using WPA2-PSK security with strong AES encryption
3. Is it possible to hack WiFi using Android?

Yes It is possible, You Can Read Our Full Article For Full Details.
4. What is the most common WiFi password?

123456 (Unchanged)
Password (Unchanged)
12345678 (Up 1)
qwerty (Up 2)
12345 (Down 2)
123456789 (New)
letmein (New)
1234567 (Unchanged)
Related Search Terms: