Are You Looking For an Article That Provides The Solution Of This Question How To Stop Sharing Location Without Them Knowing? And You Have Landed On this Article. Then Trust Me this Article is For You. I This Article I Have Provided The Full Infomation on How You Can Stop Sharing locations Without Letting them Know.
After Reading Our Guide, I Am 100% Sure that you will find your answer and you don't have to go anywhere else or read another article. I Have Added the Working Methods that are personally tested by me. So, Now let's get started.
Can We Stop Sharing Our Location Without Anyone Knowing?
Yes, there are several ways to top Sharing Location Without Them Knowing. By disabling various features like "Share my location" or "Find my iPhone", you can easily block people from tracking your location. Another benefit of deactivating them is that nobody will get any sort of notification. Even when you re-enable the feature, there will be no notification.
How To Stop Sharing Locations Without Them Knowing?
There are a few ways you can Stop Sharing your Location Without Anyone Knowing from your friends or family. The methods which I have said in this article are specifically for the iPhone user but you can use the same methods on your android devices also.
Method 1: Turn Off Find My Phone
The first and easiest method is to turn off your "Find My iPhone" option. By turning off this option other people won't be able to see your locations and track you anymore. However, when you lose your device, you won't be able to track it. Hence, you must be careful about turning off this feature. Here's how to turn off "Find My iPhone" on your device:
Go to Settings.
Tap on your name > "Find My" > "Find My iPhone".
Tap the green bar to turn it off.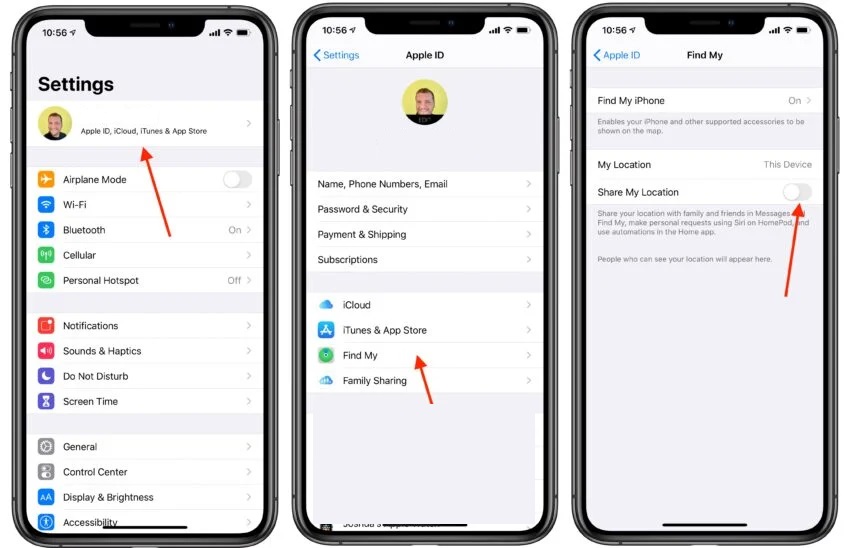 You can also do this on your android device. Simply Download Google Find My device and turn it off.
Method 2. Turn On Airplane Mode
An easy way to temporarily stop Sharing your Location Without Anyone Knowing is to turn on Airplane Mode. It is a built-in feature that is available in almost all types of mobile phones. Note that Airplane Mode will also block notifications and use of cellular networks, phone calls, or messages. When you enable Airplane Mode, the network connection will be disabled which will prevent anyone from seeing your location.
Open the notification center by swiping down from the top or by swiping up from the bottom of the screen according to the model of your smartphone.
Tap the airplane mode option to enable it.
Method 3: Turn Off "Share My Location" on Find My App
Another method is to turn off the Share My Location option on Find My App. In this app, you can stop sharing the location of each individual person also as well as all the people. Here are the steps to do so.
Go to the "Find My" app.
Go to the "People" option.
Tap on the person with whom you want to stop sharing your location.
Scroll up to find "Stop Sharing My Location" and tap on it.
Confirm the prompt by tapping on "Stop Sharing Location".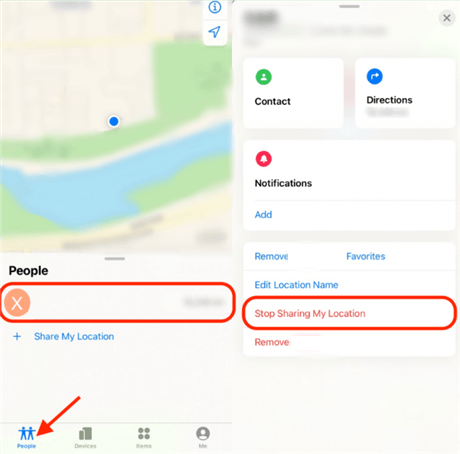 And If you want to stop sharing your location with all people, you can do so with the following steps:
Go to "Settings".
Go to the "Find My" option.
Toggle off "Share My Location" and done!
Method 4: Use Another Device to Change the Location
iPhone comes with a special feature that allows users to share their location using another iPhone. If you have another iPhone, you can use the device to change your location. As long as you're using the same Apple ID for both of your iOS devices, you can switch to another iPhone in the Find My app.
Open the Settings app on your iPhone and go to your profile.
Switch on the "Share My Location" option.
Get another iOS device and open the "Find My" app.
Click on the "Me" icon and go to the "Use this iPhone as My Location" icon.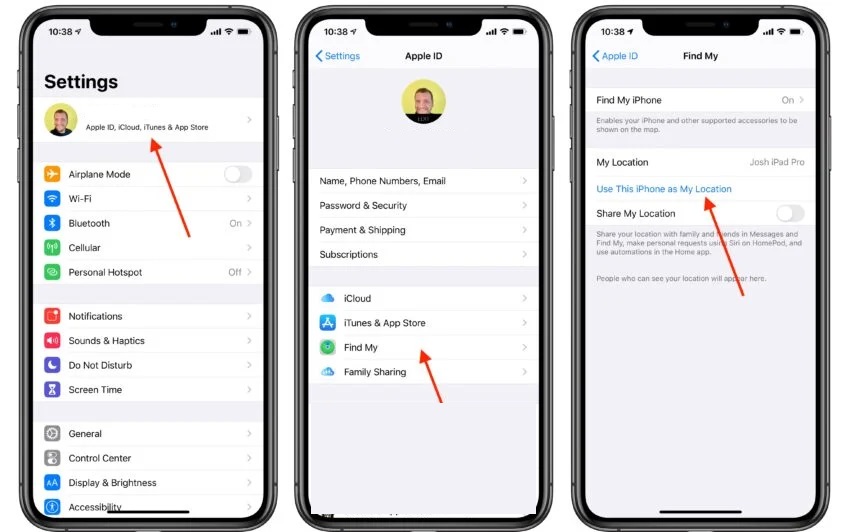 Method 5. Hide The Location from your iMessage
When sending an iMessage, you will automatically share your live location with the receiver. This can be a useful feature but can also be a disadvantage. Luckily, the app has an in-built feature that enables you to hide your location. So, here's How To Stop Sharing Location Without Them Knowing via the Messages App:
First, open the iMessage app.
Select a conversation with the Contact you want to stop sharing your location with.
On the right side of your contact's name or below, you will find the Info icon, tap on it.
Now select the Stop Sharing Location option.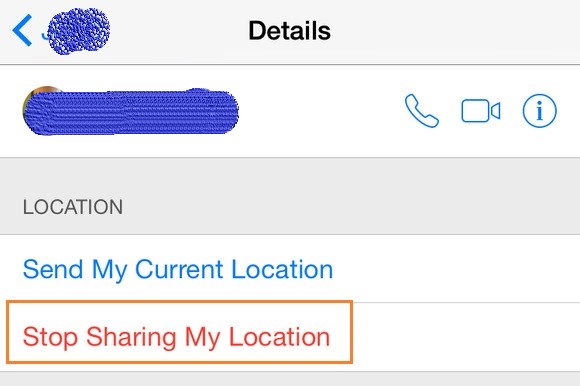 Also, there is an option to set the duration of how long you want to share the location with the selected contact. Keep in mind that this feature will also send the receiver a notification that you have stopped sharing your location.
Method 6: Hide location By Setting A Virtual Location
Many software available on the internet is quite capable of spoofing your current location. These are so high-tech that you can even show off your location as you are walking down the street while actually chilling at home. So, this could be another way through which you can How To Stop Sharing Location Without Them Knowing. One of the most famous and useful of them is iToolab AnyGo.
iToolab AnyGo is one of the famous and trusted apps to use when one needs to fake their location without the need of jailbreaking their device. Also, the app is easy to use and can spoof locations on most apps in the iOS ecosystem, including Pokémon Go and the fitness app.
First, you need to download the iToolab AnyGo tool on your computer.
After the installation is complete, open the software.
Now, connect your iPhone device to the Pc using the Cable as you connect normally.
As you connect the system will fetch your device's current location.
Now, type the fake location on the address/GPS Coordinate search bar or just click on the location on the map where you want to spoof your location.
Finally, you will have to click on Start to Spoof your location.
Conclusion
Privacy has always been a major concern nowadays. Sharing your location can be a good thing for your family members and friends to track you when required. But sometimes due to some personal privacy you just wanted to live alone and don't want to share your location with someone.
So to do so, In this article, I have described the simple and easy steps on How To Stop Sharing Location Without Them Knowing. Also, If you have any questions related to the sharing location then you can contact us, and I will try to solve that problem.
Also, Read Our Other Articles