Whatsapp is an online messenger app. It allows users to send text messages, and voice messages, make voice and video calls, and share images, documents, videos, and other media. It lets you create groups and add members for several purposes.
But when you switch your phone or format it, you will lose all your WhatsApp chats. Losing the chats on WhatsApp can be overwhelming. If you need it back then this post is very useful for you.
In this article, I will show you a step-by-step guide on how to restore WhatsApp chats and ensure that your conversations are always safe.
But you must note that this only works if you have enabled the chat backup option in the settings. To turn on chat backup, open the WhatsApp app, go to Settings > go to Chats > tap Chat backup. Now Here are the 4 Methods to recover WhatsApp chats.
How To Restore WhatsApp Chat From Google Drive
Restoring chats from Google Drive is not a big problem. When you verify your number, WhatsApp will ask you to restore chats and media from a backup. Keep in mind that you need to use the same phone number and Google account that you use before losing the messages or on the mobile that you used earlier.
1. Uninstall WhatsApp, then download WhatsApp again.
2. Install and open WhatsApp and enter & verify your phone number.
3. Now you will see a "Backup Found" screen.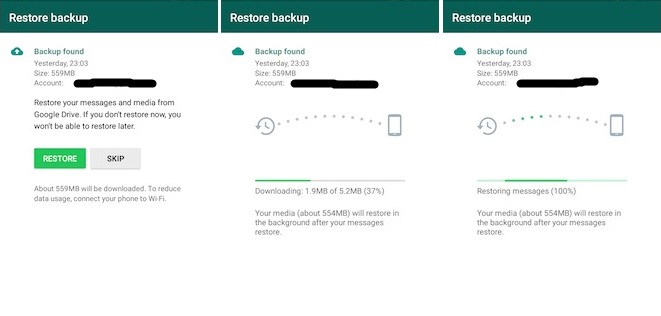 4. Tap on Restore, wait some time, then tap Next.
5. Enter your profile name and tap Next again.
6. Now, Choose the frequency of automatic Google Drive backups.
7. Now, Select the Google account for future backups.
8. Your WhatsApp chat history on WhatsApp should be back now.
How to see backup chat in Google Drive
To see the backup chat in Google Drive you have to follow all the below steps.
Go here and sign in using your Google account email and password. If you are using your Google Drive account from your Android device, tap on the "Menu" button at the top and select "Desktop Version".
Now click on the setting icon at the top corner and then select "Settings" from the options.
Click on "Managing apps" from the left side panel and find the "WhatsApp" folder. Here, you will be able to see all the data that you have backed up.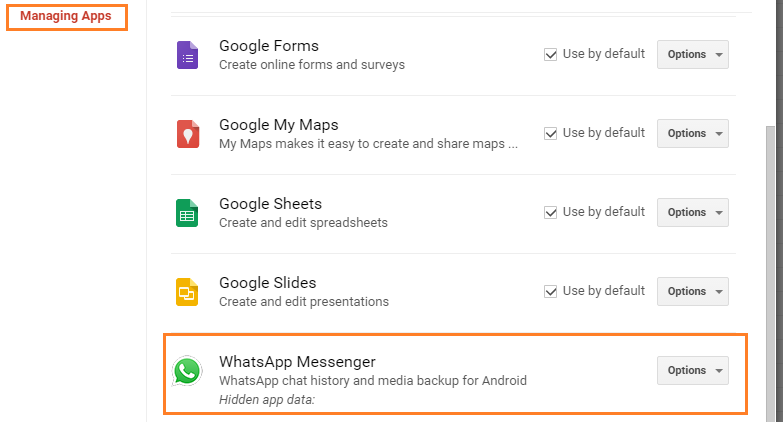 Important Note:
As you can see, the method to see the backup chat on Google Drive will only allow you to back up or delete it. As the WhatsApp data is protected by end-to-end encryption, you won't be able to read your messages or extract them.
How To Restore WhatsApp chat backup from local backup
WhatsApp generates automatic local backup files every day at 2 a.m At any time, you can recover chat from a local backup for the past 7 days. The process is the same as the one above, only this time the Backup Found screen will display a backup from local space rather than Google Drive. Before restoring the backup the first thing you need is to delete the Google Drive backup.
Open WhatsApp, tap on 3 dots and select settings.
Tap on Chats And then tap Chat Backups.
Delete the Google Drive backup if it exists. It has your phone number in the name.
After deleting the Google Drive backup now you have to follow the below steps to restore the WhatsApp chat backup.
1. First, open your file manager or you can download this one.
2. Search for the WhatsApp folder in the internal storage or SD card. Open the folder and then open the Database Folder.
3. Now, There you will see some files named like this: msgstore-2021-06-23.1.db.crypt14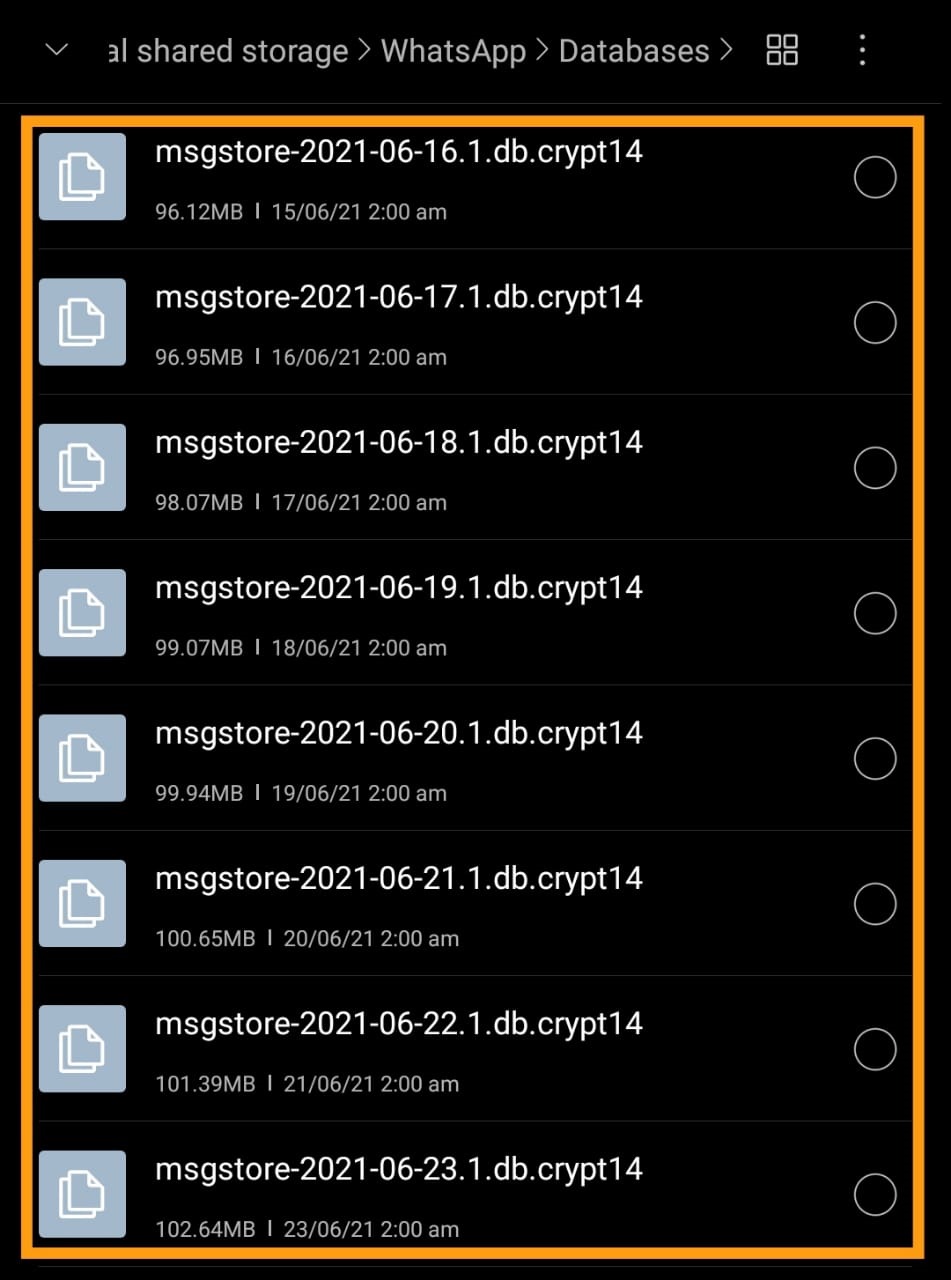 4. Now choose the recent backup which you want to restore from. They're labeled with a date in their name to help you to choose the latest backup.
5. Then, Rename it, for example, msgstore-2021-06-23.1.db.crypt14 to msgstore.db.crypt14.
6. Now reinstall WhatsApp verify your number and Tap "Restore" when asked.
How To Restore WhatsApp Chat On iPhone
If you have an iPhone and you are searching for How To Restore WhatsApp Chat On iPhone then you must follow these steps. You can restore WhatsApp chat only through iCloud, Apple's cloud storage service. All you have to do is follow the below steps.
Restore Whatsapp chats from an iCloud backup
For this to work, you must be signed in to the Apple ID that has the data stored, use and verify the phone number that the chats belong to, and make sure iCloud automatic backup is turned on. Then Log in to the Apple ID, then read these steps to verify iCloud automatic backup was enabled
Tap on the Settings tab at the bottom of the WhatsApp window.
Go to Chats, then Chat Backup.
Check the Auto Backup option. It will show Daily, Weekly, Monthy, or Off next to it.
Now Follow The Below Steps To restore WhatsApp chat.
1. Install and open WhatsApp and enter & verify your phone number.
2. Now you will see a "Backup Found" screen.
3. Tap on Restore, wait some time, then tap Next.
4. Enter your profile name and tap Next again.
That's It, now WhatsApp chat has been restored to your iPhone device.
Restore chat using a local backup On an iPhone
Unlike Android, iOS only saves the latest backup. That indicates there are no straight ways to restore older backups. WhatsApp always gives an advantage to iCloud. Here's what to do to restore chats from a local WhatsApp backup on iOS:
1. First you have to disable the iCloud temporarily.
2. Now Open the Settings app, tap your name or profile icon under Apple ID, and select iCloud.
3. Tap on Manage Storage, Select WhatsApp Messenger, and then tap on Edit.
4. Next, Tap on Delete Data.
5. Now Follow The Steps of the Above Topic How To Restore WhatsApp chat backup from local backup because all the steps are the same from here.
Conclusion
In this post, I have Discussed The Topic On How To Restore WhatsApp Chat. I Have Shared All the Methods Step-By-Step Which is Required To Restore Whatsapp chat Using Google Drive, Local backups, etc.
Backup and restoring WhatsApp chat is very easy. If you know extra methods, please leave a message below, if you find this article good, and helpful please share it with your friends and family. Thanks for your time.
FAQs:
1. Why is my WhatsApp chat history not restored?

Ans. If WhatsApp does not locate the backup, it could be because you are not using the same phone number that was used to create the backup. Your SD card or chat history is corrupt. The backup file does not exist on the Google Drive account or locally on your phone.
2. How can I access WhatsApp backup?

Ans. Go to the app's Settings > Chats > Chat Backup
3. Where is WhatsApp chat history stored?

Ans. By default, WhatsApp for Android automatically generates daily backups of your chats and stores them in the WhatsApp folder on your phone's internal memory or microSD card.
Also, Read Our Other Articles