Whatsapp is not only about texting anymore, some new features like Whatsapp status and display pictures also mean a lot to the users. But sometimes when you see a very funny video or a picture in someone's Whatsapp status, You want to save it But You Don't Know How How To Download Whatsapp.
Of course, you can take a screenshot of the image but what about a video? So, In this Guide, I Will Give Full Information on How To Download Whatsapp Status And Also Give You Some Whatsapp Status Downloader Sites.
Now, Let's jump into this article and see how you can download someone else's Whatsapp status on our Android Phone.
How To Download Whatsapp Status
1. Whatsapp Status Download Without Any App
1. Open Whatsapp and Tap on someone's Whatsapp status of your contact whose status you want to download.
2. Now close the Whatsapp app and open the file manager on your Android device. You can download the file manager from Google Play Store if you do not have it.
3. I am using the default File Manager available on my phone. Open your File Manager and look for the Whatsapp folder and Click on it.
4. Now You Will See A Folder Named Media Click On it.
5. Here begins the trick, you may not be able to see the ".Statuses" folder as it is always hidden. Click on options and look for "Show hidden files." It might display differently in your file manager.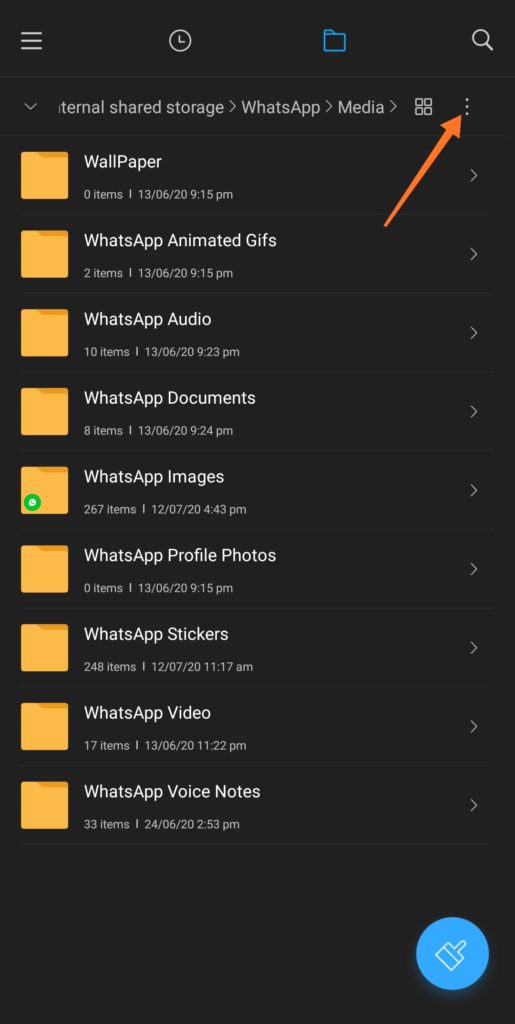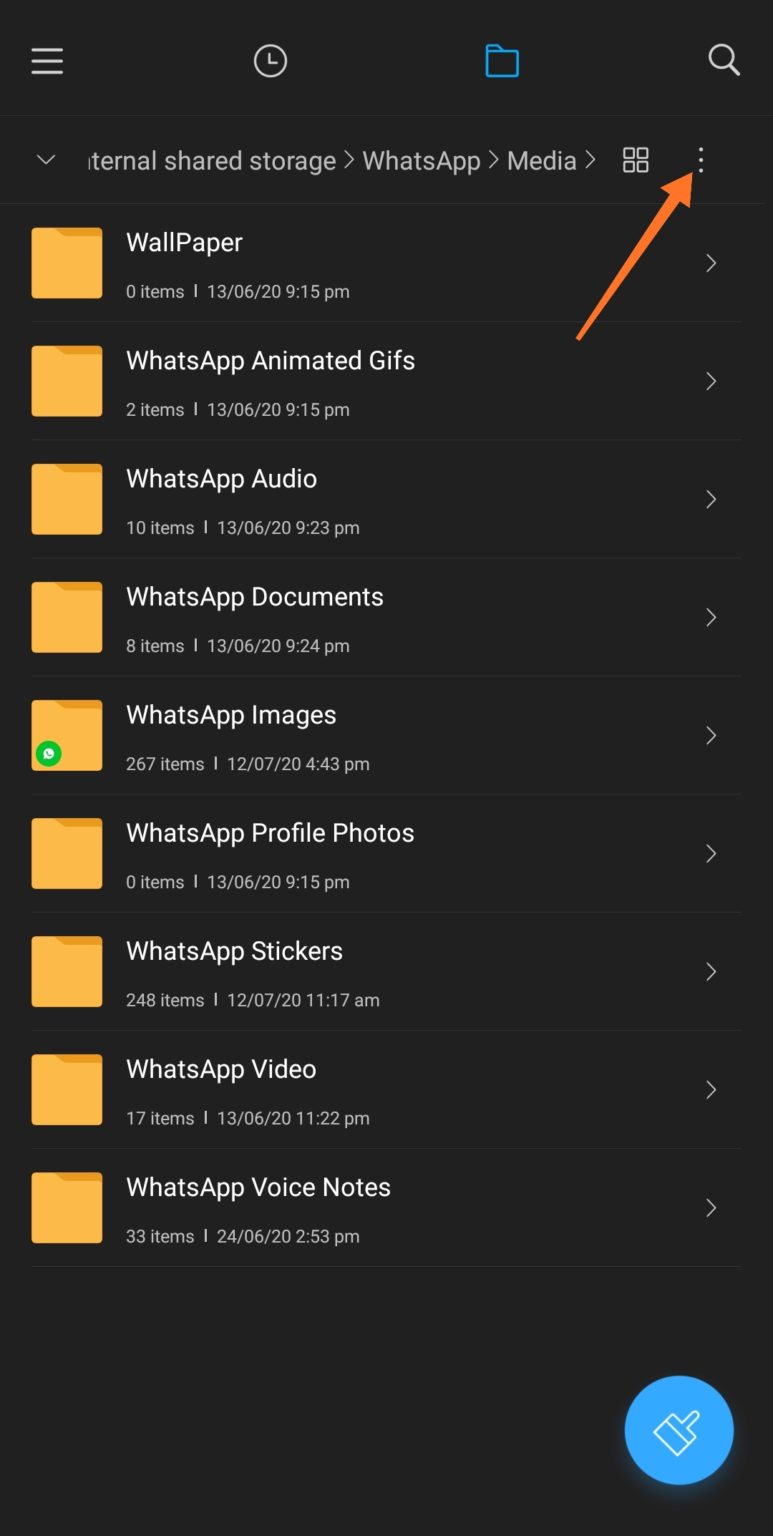 6. Now the ".Statuses" folder will arrive. Click on it and it will display the WhatsApp statuses of your contacts.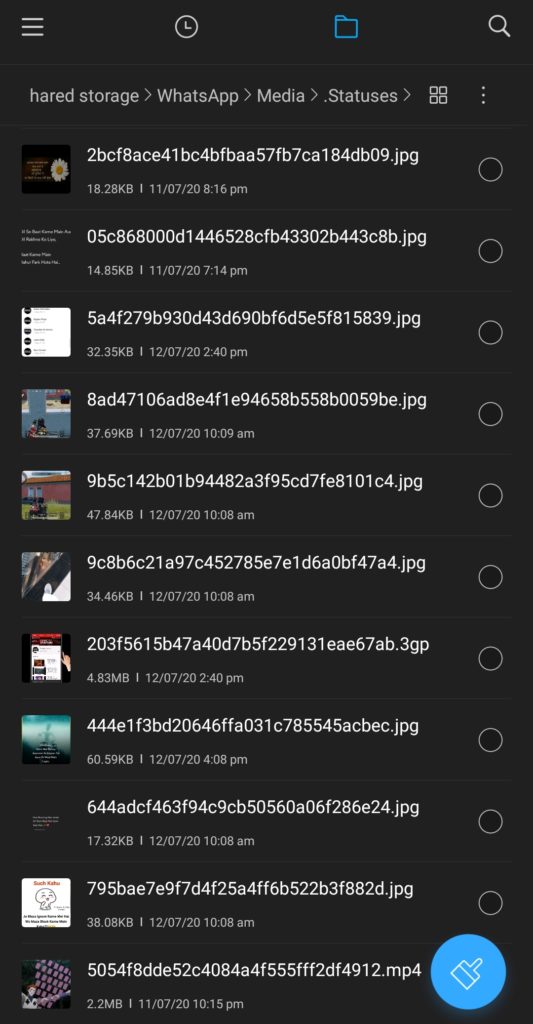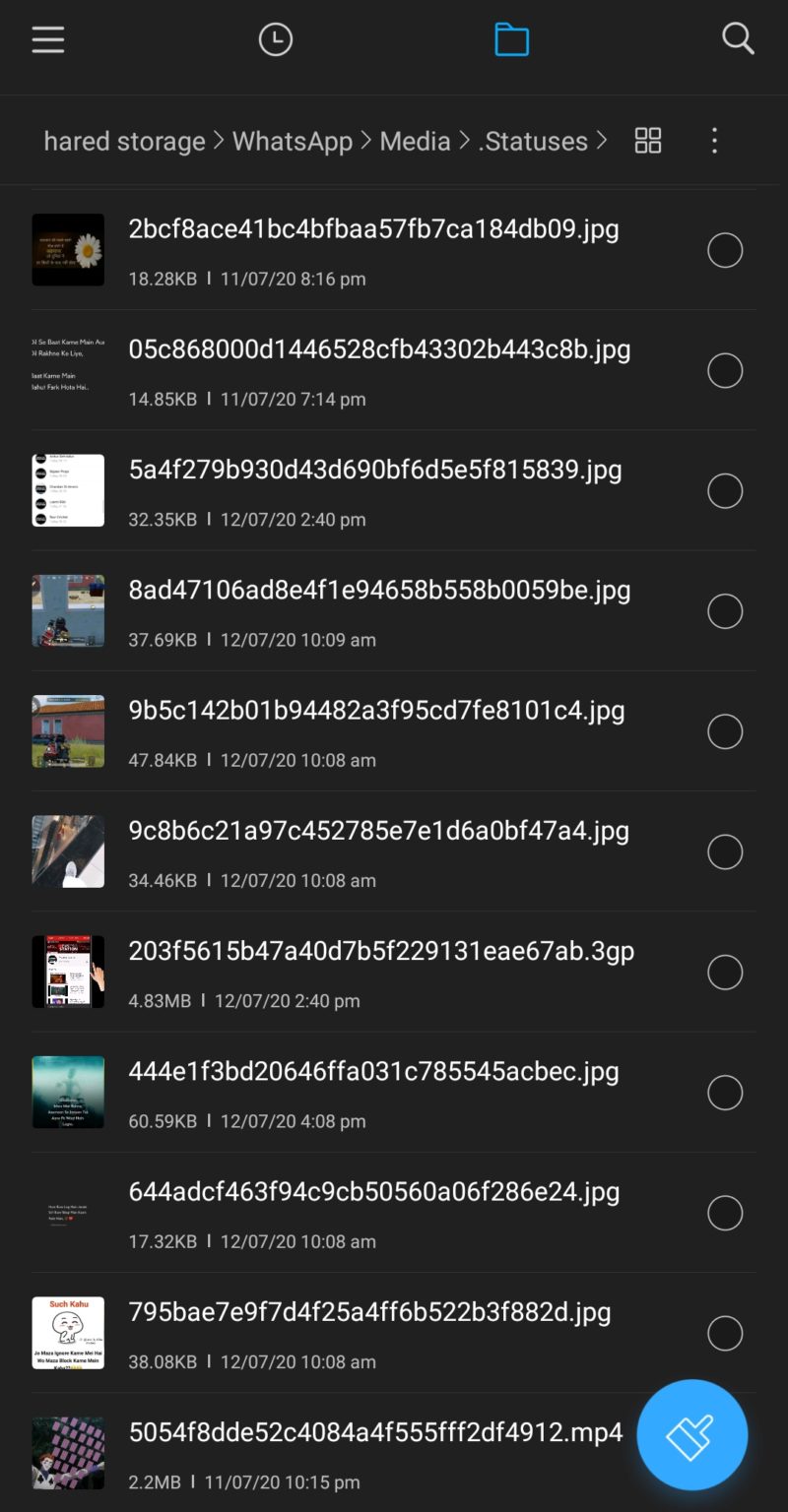 7. Next, you have to transfer this status to your Android device gallery. To do this, long-press on that picture or a video, and a menu of options will arrive. Just click on the copy option.
8. After this go back to the File manager And Paste The Copied Status To The Location Whenever You Want.
9. You can see the downloaded Whatsapp status of your contact.
2. Whatsapp Status Download Using App
There are a lot of apps available to download the Whatsapp status of others effortlessly. These apps are not launched by Whatsapp but are really easy to use and will help you in saving these videos. The most famous app that helps this is the 'Story Saver for Whatsapp' app.
1. Once you have installed it on your phone, Open The App.
2. you will be able to see that the app has automatically combined itself with your Whatsapp account.
3. All you need to do is click on 'Recent Stories' and then click on whichever story you want to download.
4. Next, click on download on the top, right side corner of the app.
Some Whatsapp Status Lines
1. Love Status
You have no idea how quick my heart strikes when I see you.
I won't give up on you… so please don't give up on me.
True love does not have a happy end, because true love doesn't end.
I don't want to be your number one, I want to be your only one.
I do not remember days, I remember moments.
Love when you're ready, not when you are alone.
You never love someone because they're beautiful, they are beautiful because you love them.
Your greatest responsibility is to love yourself and to know you are enough.
Love grows as I choose to act in love toward others.
To love oneself is the beginning of a lifetime of romance.
Every time I see you, I fall in love again.
Me and you. We could make the world jealous.
It was not my lips you kissed but my soul.
And I can't help but stare, 'cause I see truth somewhere in your eyes.
2. Funny Status
I Wonder What Happens When Doctor's Wife Eats An Apple A Day…
Life is Short – Chat Fast!
Doing nothing is a very hard thing to do…you never know when to finish.
People that Change Love status after 30 Sec… GF is the Reason…
A book store is the only piece of evidence I have that people are still thinking.
My biggest concern in life is actually how my online friends can be informed of my death..!!
Mosquitos are like family. Annoying but they carry your blood.
If College has taught us anything, it's texting without looking 🙂
The only time success comes before work is in the dictionary.
Light travels faster than sound…that's why people appear bright until they speak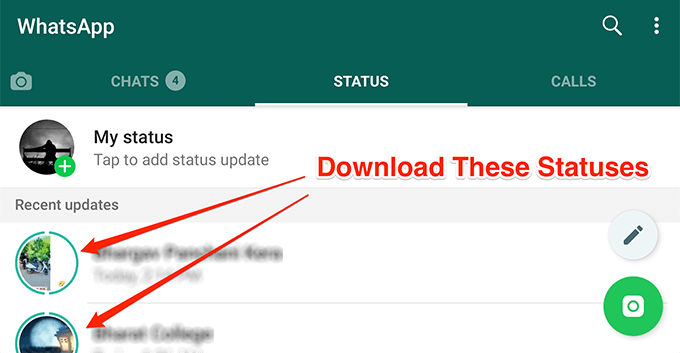 3. Sad Status
Dear heart, please stop getting involved in Everything. Your job is just to pump blood, So stick to it.
Everyone wants to be happy.No one wants to be sad and get pain. But you can't make a rainbow without a little rain.
Sometimes It's better to be alone…No one can hurt you.
Isn't it sad that you are hurt so much that finally, you can say "I'm used to it"
204 countries,805 Islands,7 seas,7+ Billion people, and I'm single!!!
Time doesn't really Heal the heart. It just makes the heart forget all the pain.
The most painful goodbyes are those which were never said and never explained. ……(Best sad status )
Every time I start trusting someone, they show me why I shouldn't.
My silence is just another word for pain
They ignore you until they need you
Have you ever wondered what hurts you most…Saying something that you wished had not or not saying anything and wish you had???
4. Attitude Status
You left without a reason, so please don't come back with an excuse.
I'm born to express, not to impress.
If your ego speaks with me then my attitude replies to you.
Never Love Someone At The Cost Of Your Dignity And Self Respect…!!!
Beauty is only skin deep. Attitude is down to the bone.
Your attitude may hurt me, But mine can Kill You!!
If there is no one to hold your hand put your hands in your pocket and continue your walk.
Choose me or lose me. I am not a backup plan, and definitely not a second choice.