YouTube Shorts is a popular short-form video content platform presented by YouTube in 2020. It has become popular among users who create short-length video content. In a very short span of time, YouTube Shorts have taken place in users' daily lives. It has benefited YouTube by making the platform more engaging.
However, some people might find it distracting or uninteresting in Youtube shorts and want to disable it. And if you are among them and want to know how to turn off YouTube shorts? then you've come to the right place. In this article, we will discuss how to disable YouTube Shorts.
What Are YouTube Shorts?
Before disabling YouTube shorts, let's first discuss what are Youtube shorts. YouTube Shorts is a short-form video platform introduced by YouTube to compete with TikTok and Instagram Reels. It allows users to create a short video of up to 60 seconds with editing tools like music, text, and filters. YouTube Shorts are shown in a different section on the YouTube app.
People who watch your Shorts can share them, comment on them, like or dislike them, or subscribe to your channel while they watch.
Why Would You Want to Disable YouTube Shorts?
While YouTube shorts have become increasingly popular, some users may find them distracting. Maybe they prefer to use YouTube only for longer videos and don't want to see shorts in their feed. Disabling YouTube Shorts can also save data for users who have limited data plans.
How to Disable YouTube Shorts
If you don't like YouTube Shorts and want to turn them off or get rid of them, here are 4 different methods you should try:
Mark the short as not interested.
Hide youtube shorts using youtube in the browser.
Downgrading the app to an Older Version.
Uninstall all the Updates.
Use YouTube Vanced or its Alternatives.
1. Remove YouTube Shorts by Marking them as Not Interested
It is one of the easiest ways to remove YouTube shorts from the app by Marking them as "Not Interested". Doing this will not permanently remove the Shorts videos from the YouTube app, but the Shorts will remain hidden until you reopen the app.
Note: You will need to make every recommended YouTube Shorts "Not interested" to do its work.
Now to Disable YouTube Shorts, follow these simple steps below.
1. First, open the YouTube app on your Android or iPhone.
2. Then, play any video and scroll down. You will see the Shorts section once the video starts playing.
3. Then, you need to tap on the three dots in the top-right corner of the video.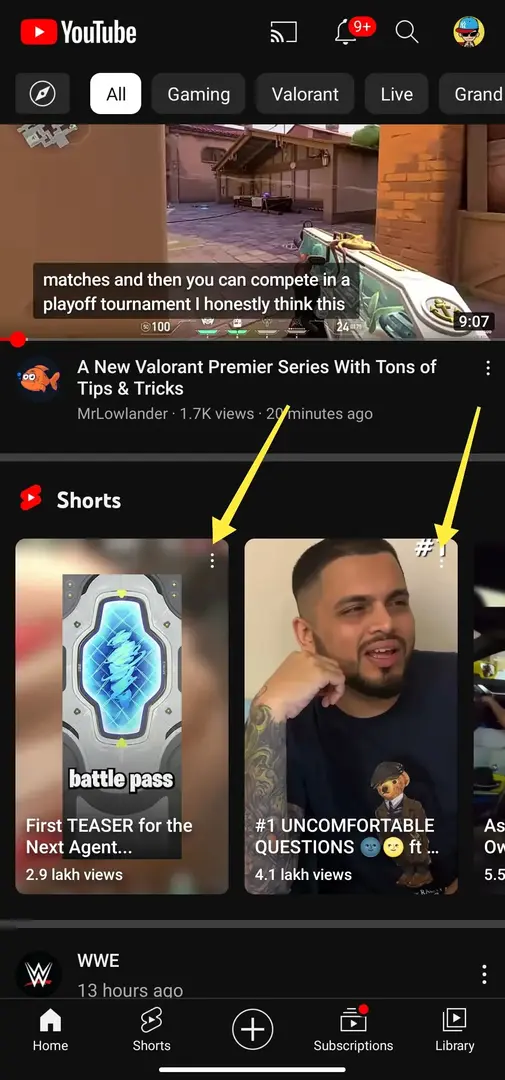 4. From the list of options that appears, select 'Not Interested'.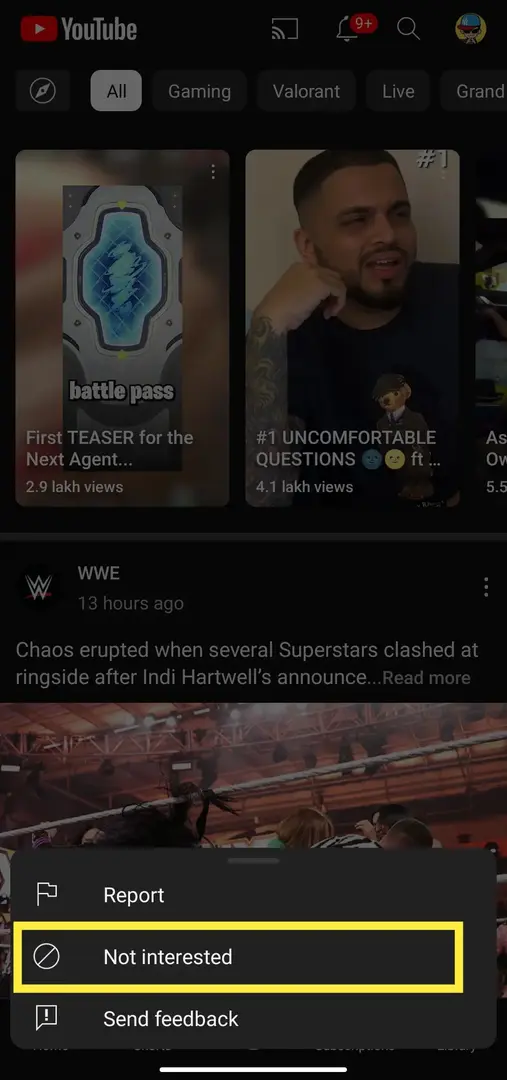 That's it. Now, repeat the same steps for all recommended Shorts videos. This way, at least for some time until you close the app, you'll not see YouTube Shorts recommendations from the YouTube app.
2. Hide youtube shorts using youtube in the browser.
YouTube recently introduced the Shorts tab on the YouTube web version. But by using the youtube web version you can cancel the recommended YouTube Shorts videos. To do so, here are the steps below.
1. First, open any browser on your Android or iOS device and go to YouTube.
2. Once the youtube page is loaded, tap on the three-dot icon at the top right corner of Chrome.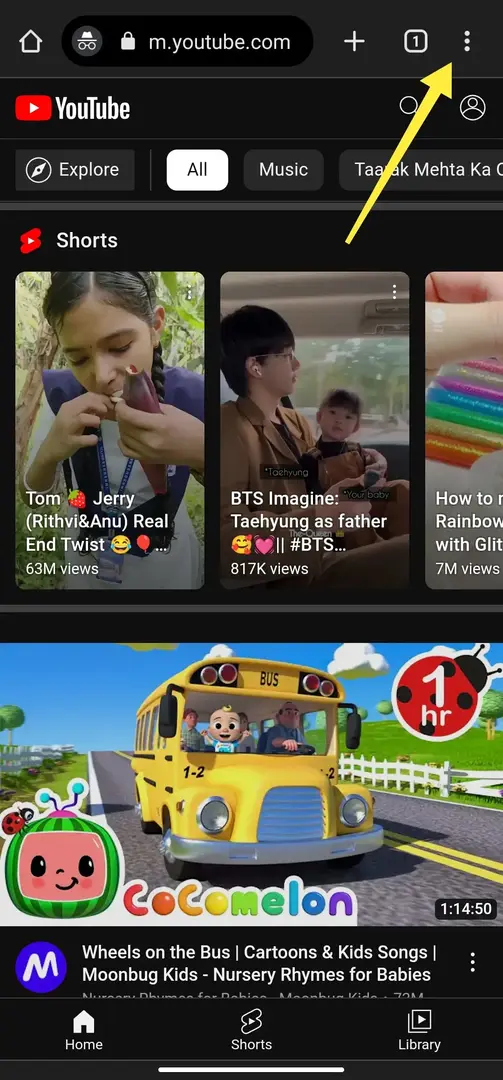 3. Now, from the drop-down menu, select Desktop Site. This will reload Youtube as a desktop site.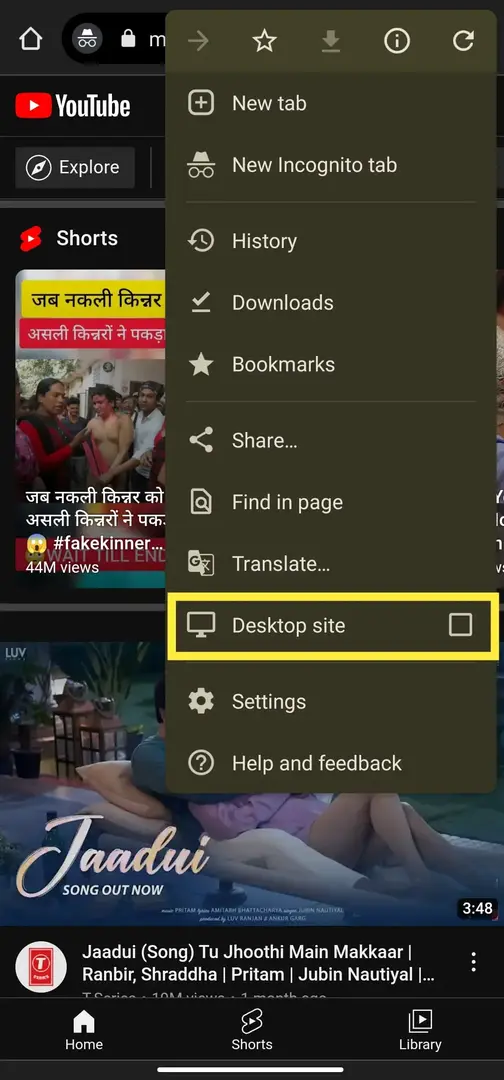 4. Now, from the Youtube home page, tap on the X (cross mark) icon at the corner of the Shorts section.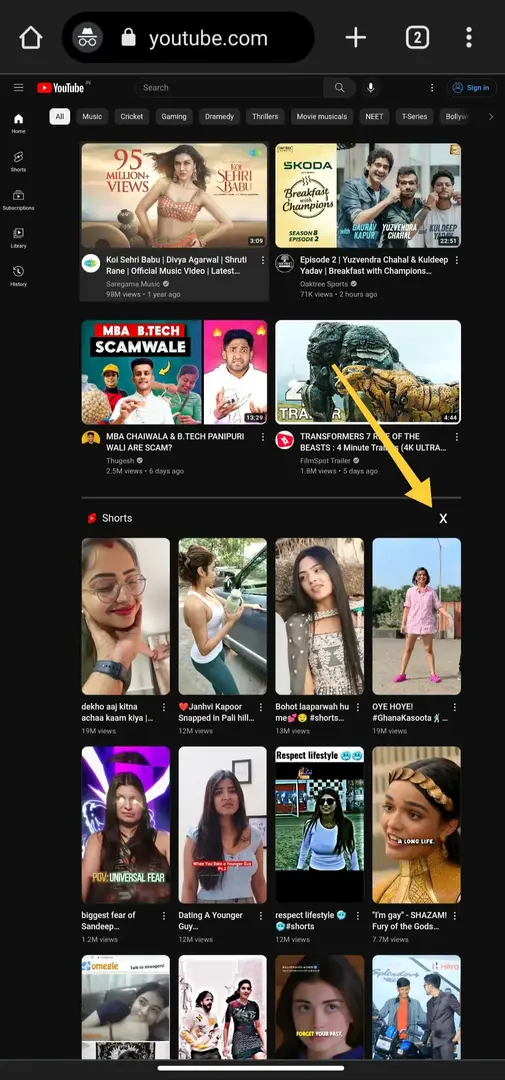 That's it. After you tap on the X (cross mark) icon the Shorts recommendations tab will be closed.
3. Downgrading the app to an Older Version.
YouTube Shorts is a new feature that has recently been rolled out in the YouTube app, which means you can easily get rid of it by downgrading to an older version of the YouTube app. This feature started to roll out from YouTube Version 14.13.54, which means switching to YouTube Version 14.12.56 can easily get you rid away from the YouTube Shorts.
You can download an older YouTube App from this link.
Note: You will have to turn on the "install from unknown resources" option from the device settings before installing the app.
4. Uninstall all the Updates.
This is a good alternative to downgrading the YouTube App Method. Not everyone wants to download an APK and install it on their devices and for those users, this method is best for them. It is much easier than the one we just talked about above. To uninstall the update of the youtube app, follow the steps below.
1. Long-press the YouTube app and select App Info or go to Settings > select Apps or Manage Apps. From there, select the YouTube app.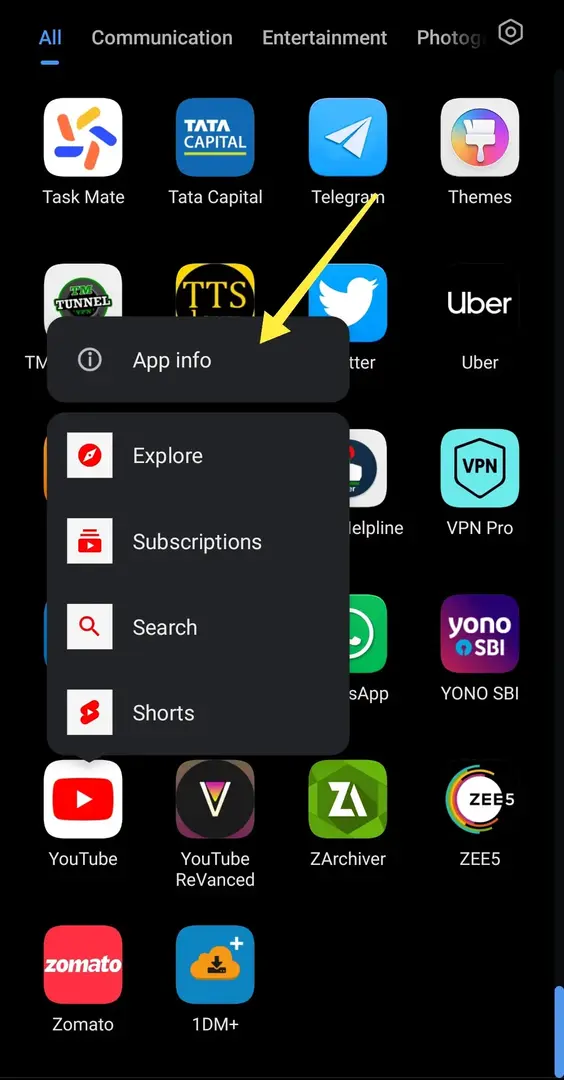 2. In the Youtube App setting, you will find the "Uninstall Updates" option. Tap on it and tap Ok.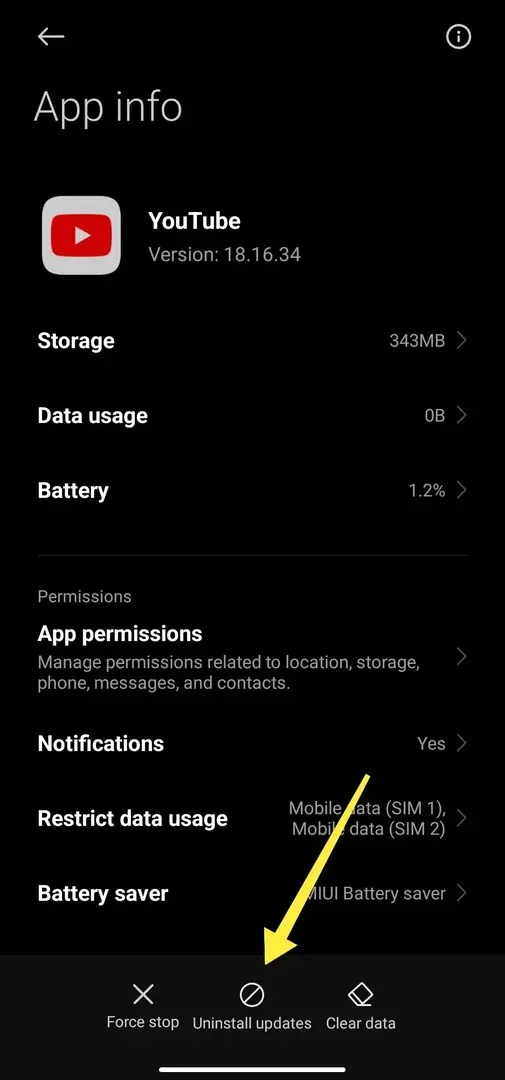 That's it. You have successfully uninstalled the latest version of the Youtube App. Also, Don't forget to turn off auto-updates after this, otherwise, your app will auto-update itself.
5. Use YouTube Vanced or its Alternatives.
Finally, the last method on our list is one of the most useful ways to disable YouTube Shorts. In this method, we are going to use third-party youtube app alternatives and one of the best alternatives is Youtube Vanced. YouTube Vanced is a free alternative to YouTube, which blocks all the ads from your YouTube videos and offers other premium features like background play and sponsorship block and also an option to disable YouTube Shorts.
But, YouTube Vanced has been stopped due to legal threats from Google. Also, we don't recommend using YouTube Vanced. But, if you are desperate to remove Shorts, you can consider using this app. To disable the youtube shorts using youtube advanced follow the steps below.
1. First of all, download the youtube vanced application from here.
2. After downloading the application, install it on your device and open the application.
3. After that, Tap on the profile icon at the top right corner and select Settings.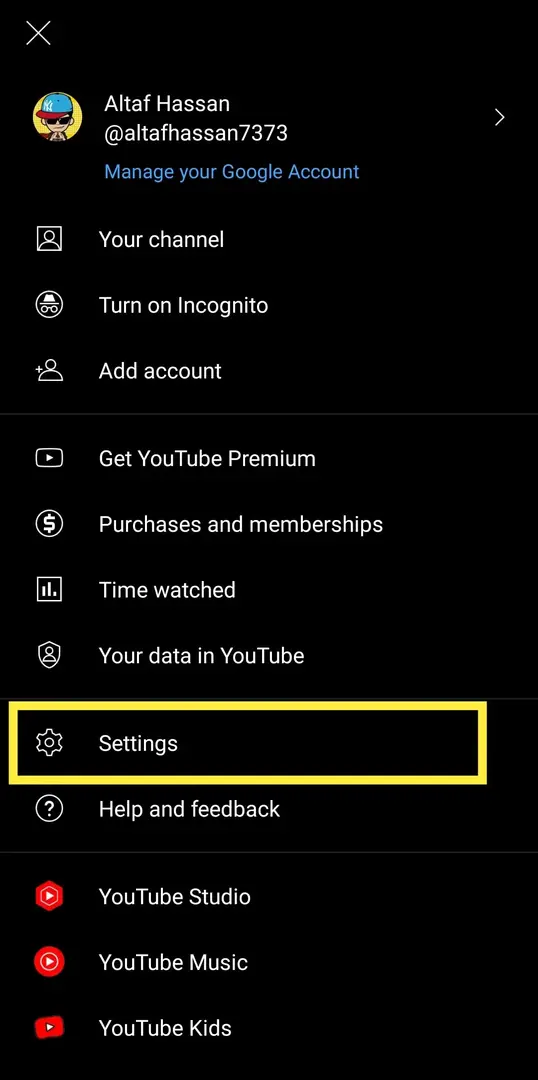 4. Scroll down until you find the "ReVanced" option and click on it.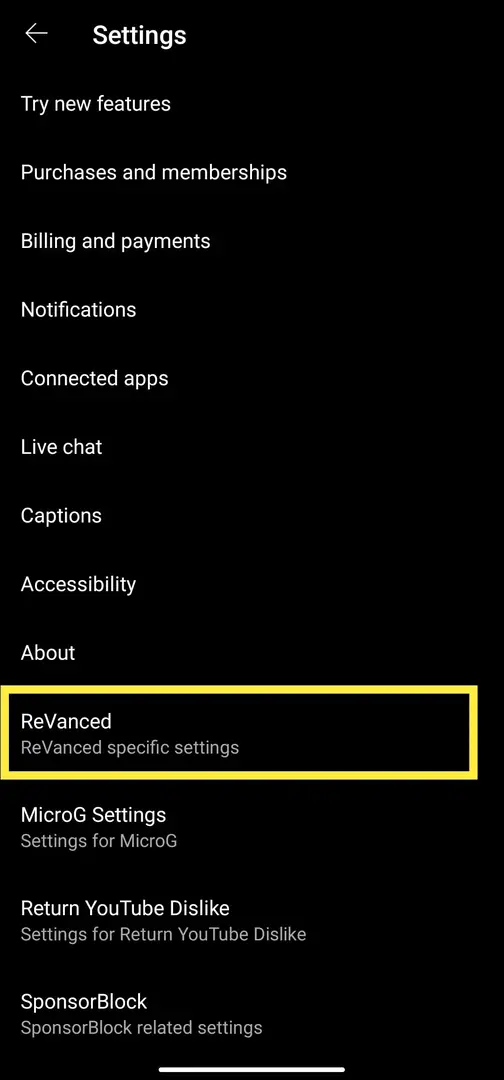 5. Under Vanced settings, click on Layout settings.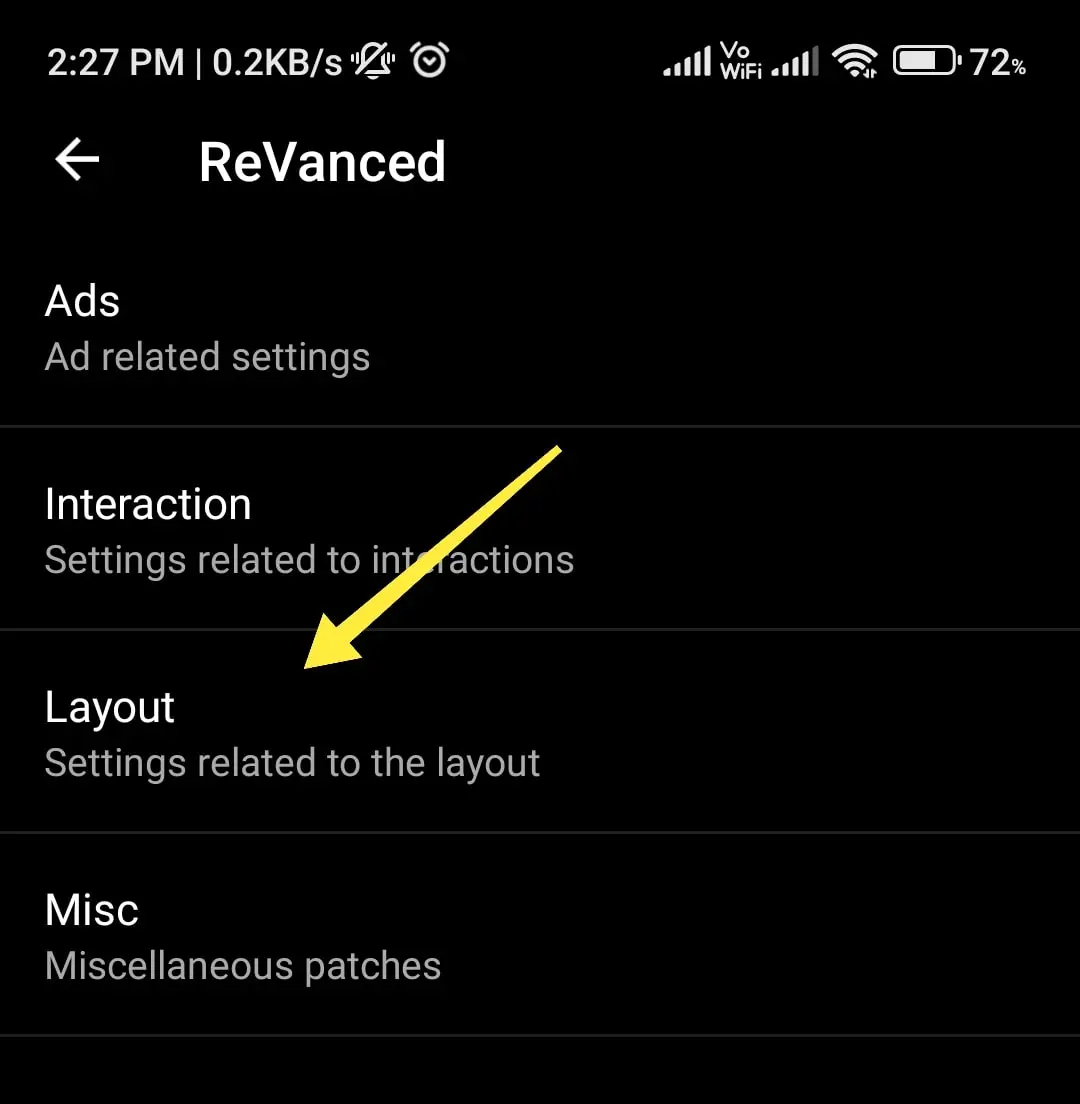 6. In the layout setting, scroll down until you find the "hide shorts" option. Toggle it off, and in the pop-up, select Restart.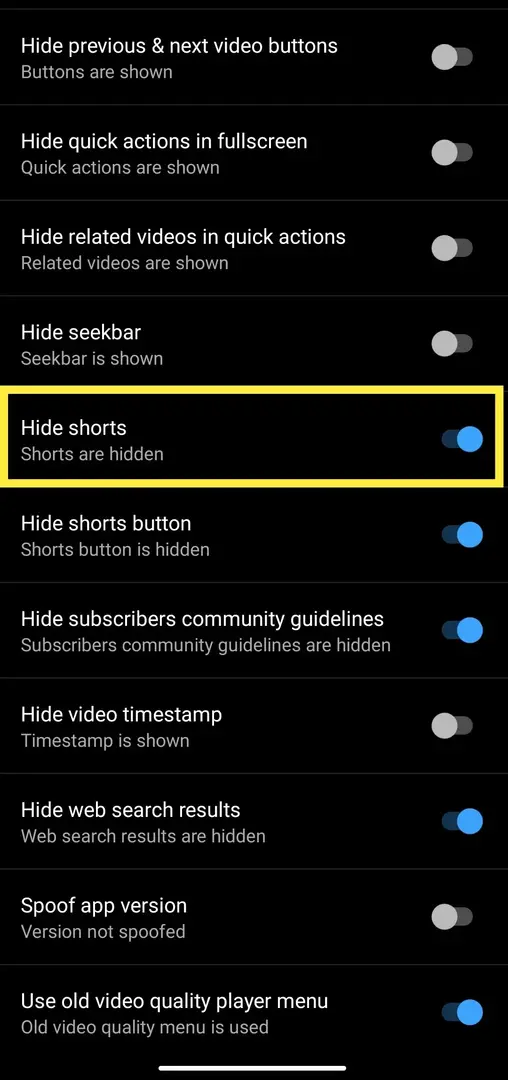 That's how you can completely disable YouTube Shorts permanently using the third-party application.
Conclusion
Disabling YouTube Shorts is a simple process that can help users who find Shorts distracting or uninteresting. By following the methods given in this article, users can choose to Disable YouTube Shorts.
If you find this article helpful, make sure to share your reviews in the comments down below. Also, feel free to drop down your suggestions and queries, I will be happy to help you. Thanks for reading.
FAQs
1. How do I stop YouTube Shorts from showing history?

Ans. To stop YouTube Shorts from appearing in your viewing history, simply follow these steps: Open the YouTube app > tap on your profile picture > select Settings > scroll down to the 'History & privacy' option > tap on History > toggle off the switch next to YouTube Shorts.
2. What is the limit for YouTube shorts?

Ans. YouTube shorts have a maximum length of 60 seconds or less.
3. Can I disable YouTube Shorts on a specific device only?

Ans. Yes, you can disable YouTube Shorts on individual devices by following the same steps mentioned above on this article.
Also, Read Other Articles