If you are looking for some tips and tricks to increase Jio internet speed? But couldn't find any tricks on the internet and now, you have come to this article. So this article is very helpful for you.
In this guide, you will get complete information on how to increase Jio speed. This post is very useful for those people who are suffering from slow internet.
All the methods or tricks shared in this post are 100% working and have been tested by many users and also tested by me personally. All these methods or tricks will definitely be useful for you.
How To Increase Jio Speed?
Before moving on to the solution to increase Jio internet speed, you must first check the maximum internet speed available in your area because in some areas the maximum speed recorded is 740 Mbps, and in some areas, the speed is 5 Mbps.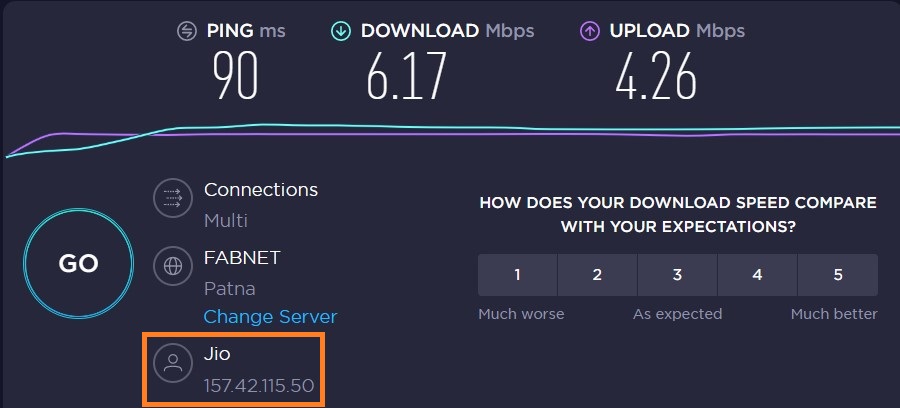 As you Can See Above My Jio Internet Speed is 3 Mbps. To Check The Jio Internet Speed You Can Use the following methods:
1. Using Internet Speed Checker
Go To This Link Internet Speed Checker
Click on Go
Wait Sometimes And It Will Show Your Jio Speed
2. Using the Speed Metre Lite App
Download Speed Metre Lite From Here
Open Any Video From YouTube and Change The Quality To High
Check Your Jio Speed On Top Of Your Mobile Notification Bar
Methods To Increase Jio Speed
Below I have posted 5 possible methods to Increase Jio Internet Speed. Read the complete post, do the required steps, and at the conclusion of the post you can get the highest network speed available in your area.
Trick 1:

Changing APN Settings
You can edit the APN settings to increase the speed of your Jio internet. It is recommended to note down the current settings in case something goes wrong. To Change The APN Settings Try These Below Steps.
1. Go To Setting Option On Your Phone.
2. Then Go To Sim Card & Mobile Networks option.
3. Now, Tap on Your Jio Sim Settings.
4. There You Will See An Option "Access Point Names Or APN", and Click On It.
5. Click on Create New APN settings then enter the following APN as mentioned below.
| | |
| --- | --- |
| Name | RJio |
| APN | jionet |
| Proxy | No Changes |
| Port | No Changes |
| Username | Jio4G |
| Password | No Changes |
| Server | www.google.com |
| MMSC | No Changes |
| MMS Proxy | No Changes |
| MMS Port | No Changes |
| MCC | 405 |
| MNC | Don't change (These are both our area codes so don't change the numbers) |
| Authentication Type | No changed |
| APN Protocol | IPV4 / IPV6 |
6. After Putting These Settings Click On Menu & Then Click On Save. After That Restart Your Device. Now, You Will Notice That your Jio Speed Has Increased.
Trick 2:

Locking Jio 4g Speed To Band 40
The band is a network frequency at which a network service provider gives connections to its users. Several network providers use different bands. Jio offers 4G bands on Band 3, Band 5, and Band 40.
This should give you a short idea of how the band actually works :
Best Speed : Band 5 > Band 3 > Band 40
Best Coverage : Band 40 > Band 3 > Band 5
Follow My Steps To Increase The Jio Speed
1. Open Your Dialpad And Dial *#*#4636#*#*
2. Now, from the given options, Select Phone Information.
3. There You Will See An Option to Select the Preferred Network Type.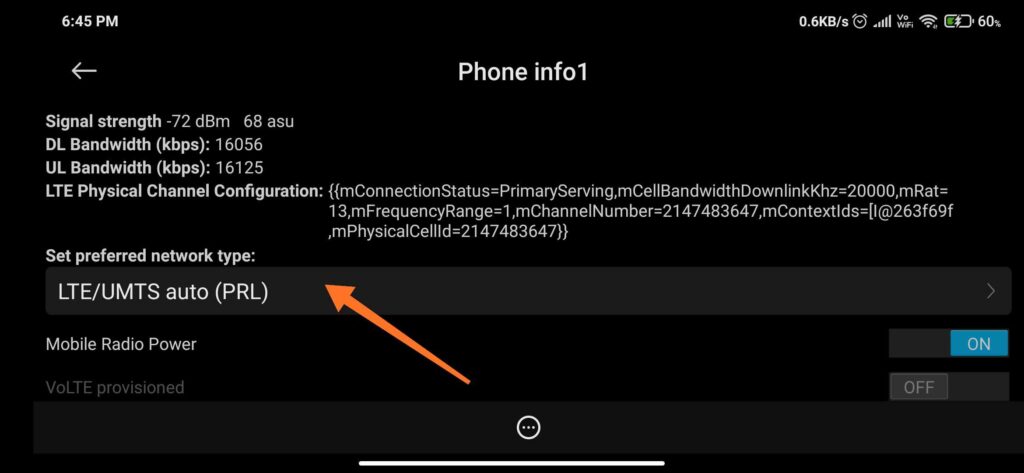 4. In the drop-down list, Select LTE Only.

Now You Have Successfully Change The Network Type. Restart Your Device And Then Check Your Jio Speed.
Steps To Increase Jio Speed For Qualcomm Processor
1. First Of All, Download Shortcut Master (Lite) From Here.
2. After Installing The Application Go To The Menu And Click On the Search Option.
3. Type "Service Menu" or "Engineering Mode" and click search.
4. After Search Opens, Search For Access To Change LTE Bands And Click Save Settings.
Steps To Increase Jio Speed For MediaTek Processor
1. First You Have To Install "MTK Engineering Mode" From Playstore.
2. After Installing Open The App And Go To "MTK Settings".
3. Now Select the "Band Mode" Option And Select The SIM Slot Where You Have to Insert Your Jio SIM.
4. Then Select "LTE Mode" And Select Band 5 For the Best Coverage And Band 40 For the Best Speed.
5. Save the settings and restart your device to activate the changes and increase your Jio internet speed.
Trick 3:

Using Internet Speed Booster And Optimizer App
The Internet Speed Booster and Optimizer app is a helpful app and works on both rooted and non-rooted devices. This app restricts the background data usage of some apps so that you can use the maximum speed possible. This doesn't harm your device. Follow the steps below and increase Internet speed.
1. First Of All Download The Internet Speed Booster & Optimizer App From the Given Link Below.
[ Internet Speed Booster & Optimizer App ]
2. Enable the profile option "Non-Root-User" if your device isn't rooted, and if you're using a rooted device then enable the "Root User" option.
3. Now that you have completed the steps, you don't have to do anything. Simply leave the app running in the background.
4. This App will increase Jio Internet speed in a few seconds and You will get the maximum browsing and downloading speed available in your area.
Trick 4:

Increase Jio Speed Using VPN
VPN Is The Best Option If You Want To Increase Your Jio 4g Internet Speed. Follow My Below Steps To Increase Your Jio Internet Speed.
1. First Of All, Download Any VPN From The Playstore.
2. After Installing Open The Application.
3. Then after opening the app, choose the string signal strength country and and connect to it. It will take up to 10 seconds to connect, sometimes it will connect within 3-4 seconds.
4. After connecting to the server, you will check that the download speed has reached the maximum speed within a few seconds.
[ NOTE ] If The Internet Speed Isn't Improved Then You Can Try Changing The Other Country Servers Like the Netherlands, USA Etc. This Should Definitely Increase Your Jio Speed.
How To Increase Jio Speed? Conclusion
By the end of this post, I hope your Jio 4G speed will improve. I have provided some possible tricks on how to increase Jio speed that I found working and hence sharing them with you.
After using the above tips some users got internet speed up to 100Mbps which is also the highest speed they can get in their area. You can try it yourself and comment which trick worked for you and how much speed you are getting.
Also, Read